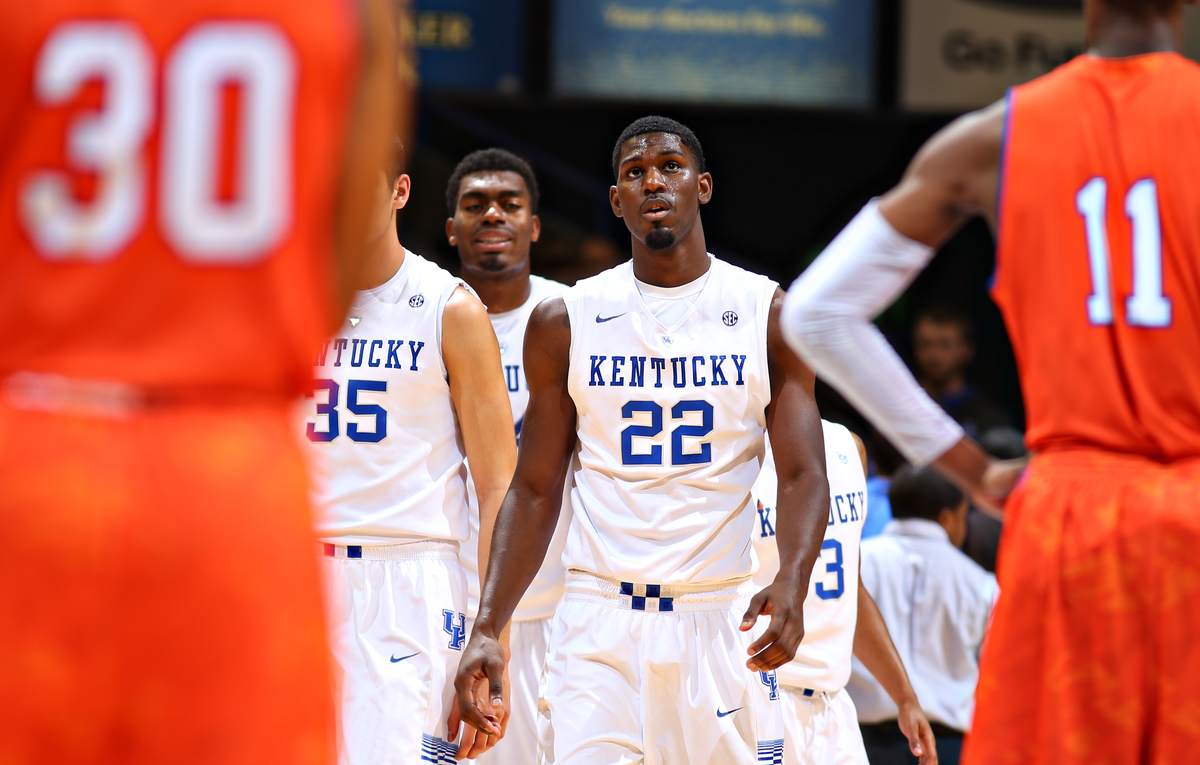 October 1, 2015 - 12:00 AM
The Roar Is Back: Poythress Progressing in Rehab
When the news came out in mid-December that Alex Poythress had torn the ACL in his left knee, the outpouring of support was overwhelming. The soft-spoken forward received words of encouragement from current and former Kentucky athletes, as well as local and national media, among others. His name was trending on Twitter nationally.
Many of the messages included "Courage doesn't always roar," Poythress' favorite passage from author Mary Ann Radmacher. When Kentucky took the floor at Rupp Arena just days later to take on then-No. 18 North Carolina, his teammates wore T-shirts in the warm-up lines that read "Roar 22," in reference to Poythress' passage.
Now approaching 10 months since that fateful practice at the Joe Craft Center, Poythress is getting closer and closer to 100 percent.
"First couple months were tough," Poythress said. "They were probably the most painful. But now it's more of making sure cutting, jumping and all that stuff, making sure I'm landing 100 percent. Right now is the fun part of rehab I guess you'd say, if there is a fun part."
Poythress was a full participant in each of the Wildcats' last two practices on Sept. 25-26, and while he didn't go full speed, he did show that he can still dunk and be a factor on the floor at less than full health. He's already been labeled an X-factor for Kentucky by ESPN's Seth Greenberg, and one of the top 10 "glue guys" to watch by CBS' Jon Rothstein.
"You don't have anybody like him," Kentucky head coach John Calipari said. "You have no one that's that physical, that tough, the ability to just go get balls and make plays. We have no one like that on the team. If he does what he can do, the rest of the guys will kind of fall into what they are."
Poythress, at 6-foot-9, was originally recruited as a small forward, but with the NBA continuing to get smaller, Calipari now says he can play more as a power forward, which suits him even better.
"That's exactly what he can play and play well, and be a skilled four, and be a beast four," Calipari said. "… Why I did what I did three years ago and how I played him and what I tried to do, is because I believed his success was going to be based on being a three-man in that league. They're playing fives at his size now. Who would have ever (thought) that three years ago? Literally, there are five-men and they're his size."
Poythress says he's noticed how positions continue to become more and more meaningless in the NBA, and that many teams simply put their best five players on the floor, which is exactly what he believes should be the case.
"As long as you help your teammates and help them get better and help them compete at a high level, that's what matters," he said.
The elder statesman of the team, Poythress is working on his master's degree in sport leadership after graduating in just three years. Typically a leader by example, Poythress said he is working on leading more vocally as well, which will help the Wildcats, who have eight new players, including six new scholarship players. A defender, rebounder and finisher, his role on the court won't change in 2015-16, but his addition will be a welcome sight.
The Clarksville, Tenn., native with otherworldly athleticism was averaging 5.5 points and 3.8 rebounds in eight games with the first platoon last season before suffering his ACL tear. As a freshman, he put up 11.2 points and 6.0 rebounds per game, with his career averages falling somewhere in between at 8.0 points and 5.1 boards.
Because of all the different things Poythress provides this team, Calipari said he believes what the team does will center around him.
"A lot of what will happen for us and our team is going to be how quickly can he start being who he is?" Coach Cal said. "… Like I said yesterday, he and I sat down, I said, 'This is your time now to go do what you do.' And I think he'll be able to play in a spot, in a position that he'll be comfortably playing, which means he'll be more confident."
One thing Poythress learned from his injury was how quickly everything can be taken away. Had he enjoyed a healthy season last year, Calipari believes he would have been the eighth Wildcat on that stage in April declaring for the NBA Draft. He certainly could have helped against Wisconsin in the Final Four after scoring eight points and grabbing seven rebounds against the Badgers as a sophomore.
But more than anything, Poythress says he can't wait to just get back out on the court again in a game at full strength. He's not there yet, but the roar is certainly coming back. He can see the light at the end of the rehab tunnel and the goal remains the same as it's always been during his time in Lexington, which is to raise banner No. 9.
"Everybody is trying to compete," Poythress said. "That's why you come here. That's why what we do in practice, pick-up games, weight room, running, we're always trying to compete. Got to push so you can be a better player and better person at the end of the day."