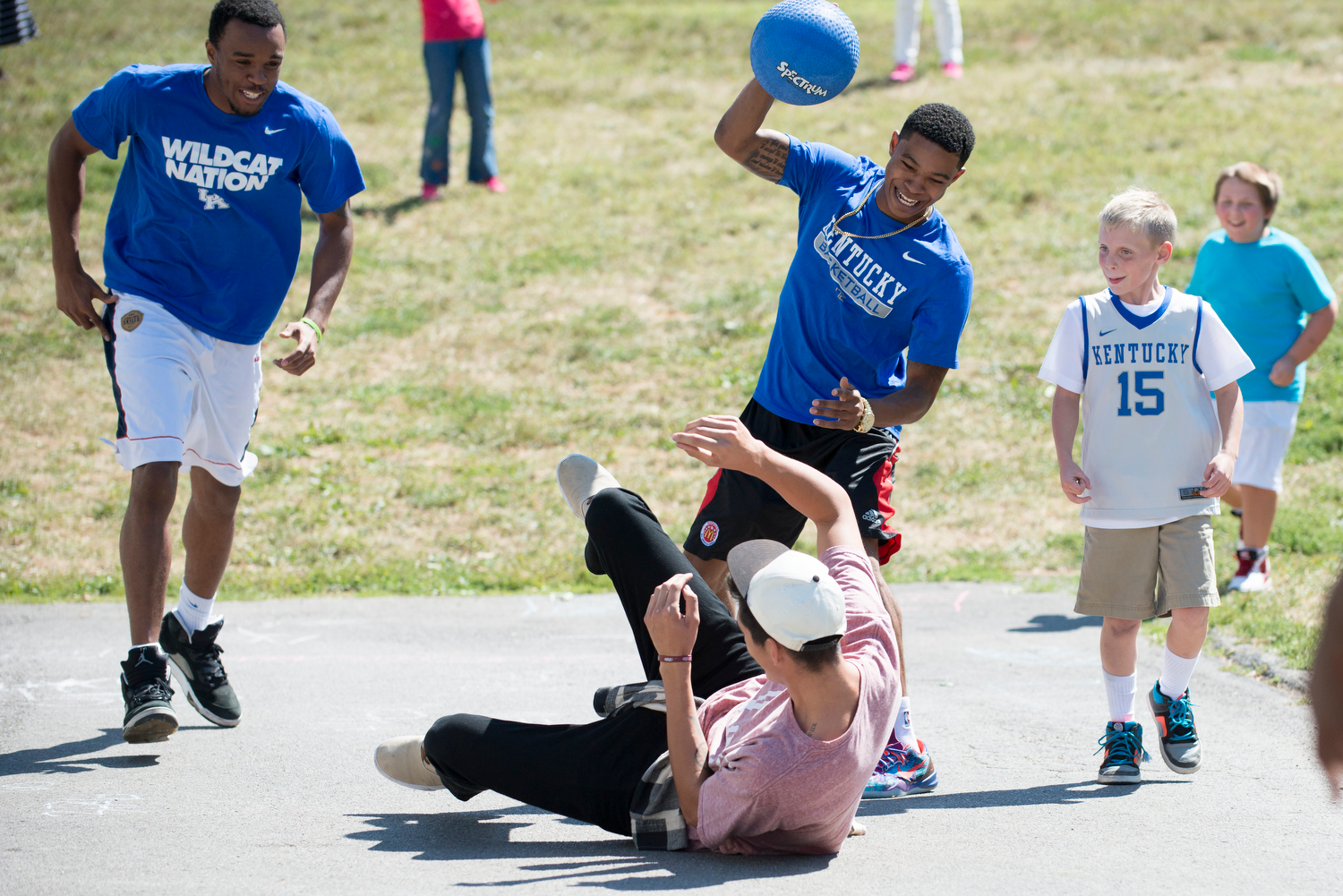 October 1, 2015 - 01:32 PM
His Team Now: Ulis Returns as Sophomore Leader
Tyler Ulis sat in his locker at Lucas Oil Stadium with his head down and a white towel draped over his head and shoulders. The historic season was over.
It was the first loss of the 5-foot-9 point guard's collegiate career, and you could understand if he wanted to crawl as deep into that locker as he could. It wasn't just that Kentucky, 38-0 at the time, had lost to Wisconsin in the Final Four. The loss was bad enough. But Ulis knew something else was going to happen too: many of his friends, teammates and brothers were about to go pro. This team would never be together again.
"It really means nothing," Ulis said at the time in regards to the Cats' historic record. "We lost today. Fell short. Our goal wasn't to go 40-1. We could have been 38-2, 39-1 and won the national title and I'd feel a lot better."
Five days later, seven Wildcats stood up on a stage wearing matching blue polos declaring that they were submitting their names into the 2015 NBA Draft. Ulis was not among them. He was not ready, he said.
Now a sophomore, and the first game of the 2015-16 season just over six weeks away, Ulis stands as one of the leaders of the Wildcats, ready to write a new chapter in his career's story.
"I expect to take on a bigger leadership role, obviously, and do a lot more than I did last year on the court. Lead these guys on and off the court," Ulis said. "Then as a team, I expect to win a national title. That's what I want to do, that's what we all want to do as a team. I don't know if we can do what we did last year, but if we can that's great, if not then if we win the national title that's even better. That's what we want to do."
Despite having never started a game last year, Ulis logged the fourth most minutes on the team, thanks, in part, to his exceptional decision making and ability to make the players around him better. The Lima, Ohio, native turned the ball over just 0.04 times per minute, or 1.7 times every 40 minutes. He logged the third best assist-to-turnover ratio (3.55) in the country, and hit a team-high 42.9 percent of his 77 attempted 3-pointers.
"I have a lot of faith in him," Kentucky head coach John Calipari said. "The last time we went through this where we lost this many guys, the issue we had was we didn't have any guards. You come back and you're trying to figure this out with all guys who have no experience. Well, we've got a couple with experience, and we have a couple really skilled guards that are there. I feel pretty comfortable because of that. And I think that Tyler should be that guy."
Over the summer, Ulis worked on his body, getting stronger, gaining weight and increasing his flexibility. After dealing with pain in his shins throughout his rookie campaign, Ulis wants to make sure his body can withstand the rigors his sophomore season is sure to produce.
In August, a video came out of Ulis' performance at the Nike Chi League Pro Am where he averaged 18.3 points, 3.7 assists, 3.0 rebounds and 1.3 steals over the three games he played. More than the stats though, Ulis appeared to simply be on another level.
"I was having a lot of fun getting to play in front of that type of crowd with the guys from Chicago, from the neighborhood and stuff like that," Ulis said. "It was just a lot of fun playing with former MeanStreets players and my old coaches. I had a ball.
"I feel like I'm the same player. I've just gotten a lot stronger and I'm shooting the ball more and my confidence is at an all-time high."
Ulis, along with Alex Poythress, Marcus Lee and others, will be looked at to lead a Kentucky team that features eight new faces, including six new scholarship players. Among the newcomers are two point guards in Isaiah Briscoe from Newark, N.J., and Jamal Murray from Kitchener, Ontario. Both were consensus five-star, top-15 players coming out of high school, and with Ulis they combine a triumvirate sure to give any opposing defense a migraine trying to defend.
"The good news is that we have guards that are positionless," Coach Cal said. "Look, either one of those other two guards could be on the ball with Tyler away from the ball. And he's going to make shots, and still make plays and be fine. He can be on the ball, they can be away from the ball, and they'd be fine."
With so many guards battling for minutes though, many outside the program say there could be a rift, and that each of the players is going to want the ball in their hands. Calipari, fresh off a season in which he had 10 NBA-caliber players on one team that didn't experience any such problems, isn't worried about having so many guards because he says they're all different players and they each bring different pieces to the table.
"Guys like Tyler and Isaiah and Jamal, and those kids who are comfortable in their own skin, they're not in competition with the guy on their team," Calipari said. "They are, but they're not. Good kids like that, they're not worried about the other guy. They're comfortable in how good they are."
Nearly six months removed from that fateful night in Indianapolis, Ulis admits he still thinks about that game at some point almost every day. Now in his second year, he's ready to step into his new role and take on a sense of ownership.
Being the backup point guard last year, Ulis wasn't expected to lead. Now, Ulis is the first returning point guard Coach Cal has had who has played significant minutes in his system since he was the head coach at Memphis. His plan is to both talk to his teammates and show them what is expected.
"You can't lead vocally if you're not leading by example because you can't go out here and tell somebody to do something and you can't do it yourself," Ulis said. "It's just like, I have to try to lead both vocally and by example. That's what you have to do as a point guard."
There will be no learning curve this preseason. Instead, Ulis will be expected to teach, lead and help guide the 2015-16 Wildcats into, and throughout, the season from day one. And Calipari thinks he has the guy to do just that.
"You know, he's got a toughness about him," Calipari said of Ulis. "He wants to win and he makes everybody better. Like, he's going to get you – you want a general out there that you can follow. And they want to follow him."