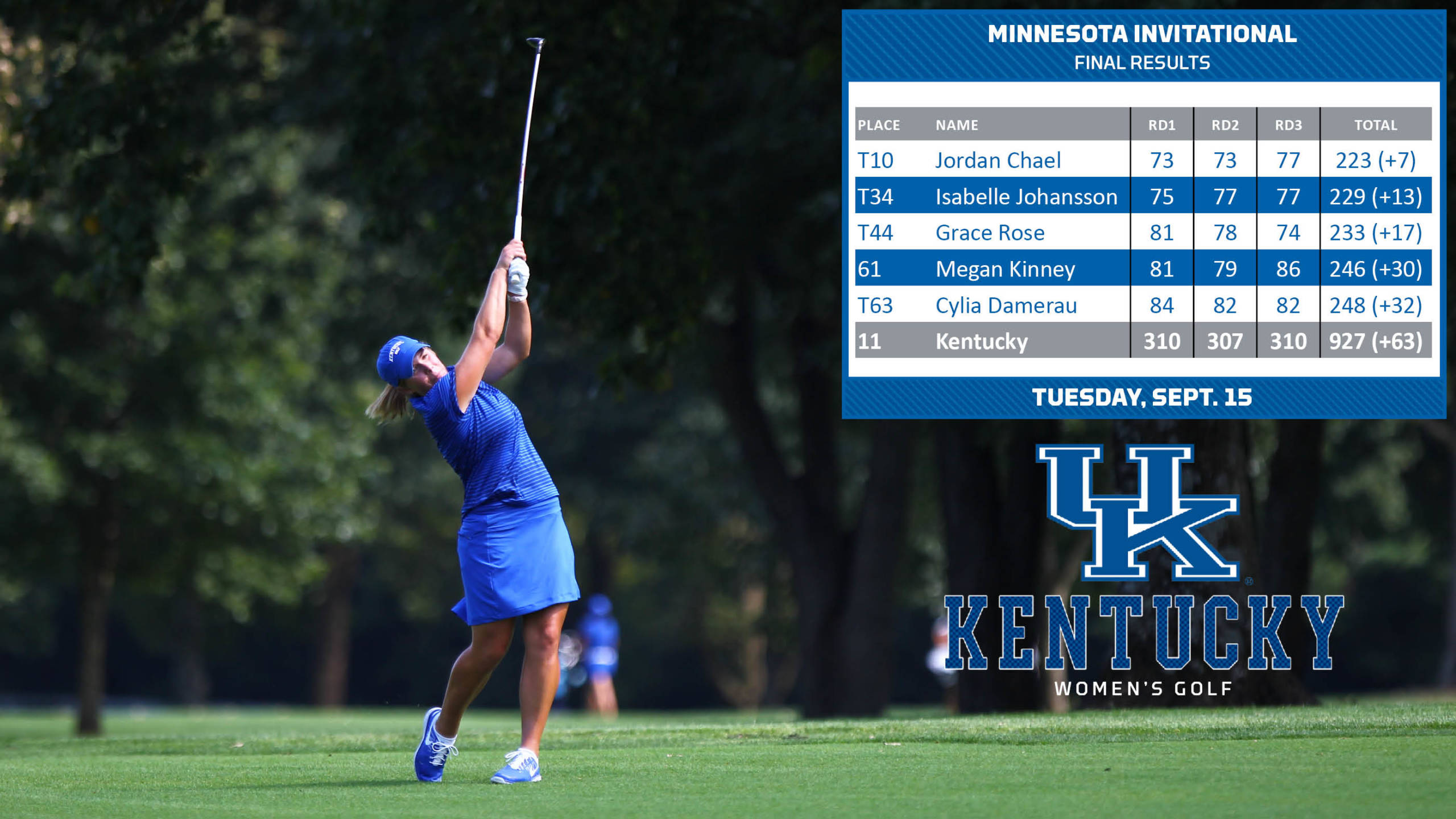 September 15, 2015 - 05:44 PM
Chael Posts Top-10 Finish in UK Debut at Minnesota Invitational
LEXINGTON, Ky. – Jordan Chael made an immediate impact in her Kentucky debut with a top-10 finish at the Minnesota Invitational, the 2015-16 season opener for the UK women's golf team.
Chael, a junior transfer from Nebraska, tied for 10th place with a 54-hole score of 7-over par. Chael led Kentucky from start to finish at the Minikahda Club in Minneapolis, Minn., where the Wildcats finished in 11th place with a three-round score of 63-over par. UK posted a final-day score of 310.
Purdue edged defending champion East Carolina by two strokes with a winning score of 20-over par. Seven of the 12 teams in the field made NCAA regionals a season ago.
"We had another rough day on the course and are disappointed with how we played in our season opener," head coach Golda Johansson Borst said. "Our girls want to play so well that they tense up and that hurts them on the course. We simply need to figure out how to get out of our own way. We will go home, regroup and focus on our next tournament in Knoxville. Again, we have moments of greatness that we can build on and it's still so very early in the season that we just need to dig in and get after it at practice." 
After posting back-to-back rounds of 1-over par on Monday, Chael capped a solid start to her Kentucky career with a 5-over 77 in Tuesday's final round. For Chael, who finished 10 strokes behind individual champion Celia Kuenster from Minnesota, it marked her fifth career top-10 finish. She recorded three of them a season ago.
Chael, who started on the 13th hole, got off to a bit of a rough start with a triple bogey on 16, but she recovered nicely with a birdie on 17 and only three bogeys the rest of the round. She was 1-under on par 3s for the week, one of only two players in red numbers, and she carded eight birdies in 54 holes.
"I am so proud of Jordan for finishing in the top 10 in her first tournament as a Wildcat," Borst said. "She had one big setback today early in her round but she didn't let that get to her and battled the rest of the way. We couldn't be happier to have her be a part of our team." 
Sophomore Grace Rose, who finished the 2014-15 season with top-50 finishes in three of her last four finishes, posted another one this week with a strong third round. The Nicholasville, Ky., native fired a 2-over 74, the best round of any Wildcat on Tuesday, to finish in a tie for 44th.
Included in Rose's final were two birdies, 12 pars and four bogeys.
Sophomore Isabelle Johansson, who was in the top 15 for much of the tournament, ended up in 34th place with a 5-over-par 77 on Tuesday. 
The Wildcats are back in action Monday at the Mercedes-Benz Championship in Knoxville, Tenn.
Kentucky, which returned all but one of its players from a year ago, is coming off a school-record five straight NCAA regional appearances. The Wildcats posted the second-best stroke average in school history during the 2014-15 season.
Minnesota Invitational
The Minikahda Club
Minneapolis, Minn.
Sept. 14-15
Par: 72
Yardage: 6,119