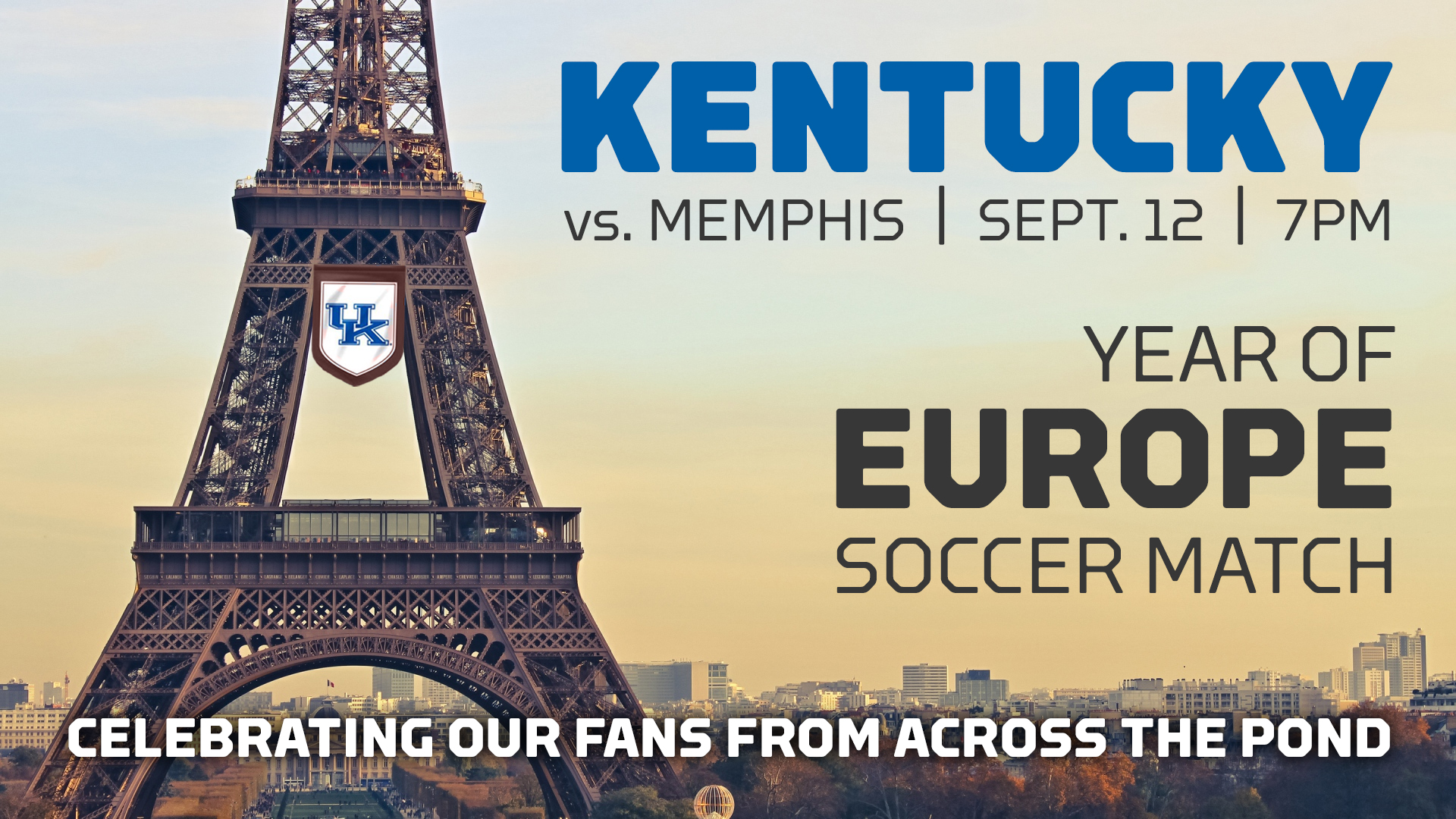 September 11, 2015 - 12:03 PM
No. 11/15 UK Returns to The Bell, Faces Memphis
LEXINGTON, Ky.  – The No. 11/15 Kentucky men's soccer team will look to rebound when it welcomes Memphis for a Saturday night matchup.
Saturday's fixture has been dubbed "The Year of Europe Match." Kentucky men's soccer is partnering with the UK College of Arts and Sciences, which has adopted a "European" theme to some curriculum this year including a film series and the like. 
Kentucky's roster features four European-born players, in addition to head coach Johan Cedergren, who is from Sweden.
Those who bring the official prescribed flyer to the UK ticket window at the entrance to the Bell can receive free admission.
Kickoff is scheduled for 7 p.m. at the Bell Soccer Complex. The match will be broadcast on SEC Network+/WatchESPN.
The setup
Kentucky enters the match with a record of 2-1-0 (W-L-D). Memphis is 0-4-0 this year.
The Wildcats will look to rebound from a 2-0 loss on the road on Tuesday. 
Despite dropping their first road test of the year, the Wildcats will look to continue their strong string of results at The Bell. The Wildcats are 2-0 at home, having fought back from a goal down to win 2-1 in both of its home matches this season.
The Wildcats are averaging 2,754 fans in attendance per home game this season, which ranks 11th nationally. 
The Wildcats will look to get back to scoring ways after being held goalless midweek. Additionally, the Wildcats – who kept 10 clean sheets a year ago – will look to turn in a more focused defensive effort than they have in three previous matches this season. 
The opponent
Memphis enters Saturday's matchup winless, including a loss at No. 14 St. Louis last week. 
But Memphis has by no means been a pushover this year. The Tigers have been tied at half in all four of their matches. 
A former Conference USA member (now in the American Conference), Memphis and Kentucky have met on multiple previous occasions.
Kentucky is 5-4-3 against Memphis all-time, including a 1-0-1 record against the Tigers when they faced off twice in 2012. UK defeated Memphis in the C-USA Tournament that year, after drawing 1-1 at home earlier in the 2012 campaign. 
The Wildcats are 2-1-3 against the Tigers in Lexington all-time.
Match logistics
Gates will open at 6 p.m.
Tickets are $5 for the general public and $2 for youth and seniors. Fans can call (800) 928-2287 for tickets, or purchase at the ticket window at The Bell. 
Kentucky's 500-plus season ticket holders can wear their 2015 Kentucky Soccer scarves to gain admission.
Parking for the match is first come first served located outside the stadium's main entrance. Overflow parking will be available above the practice field as directed by UK event staff.