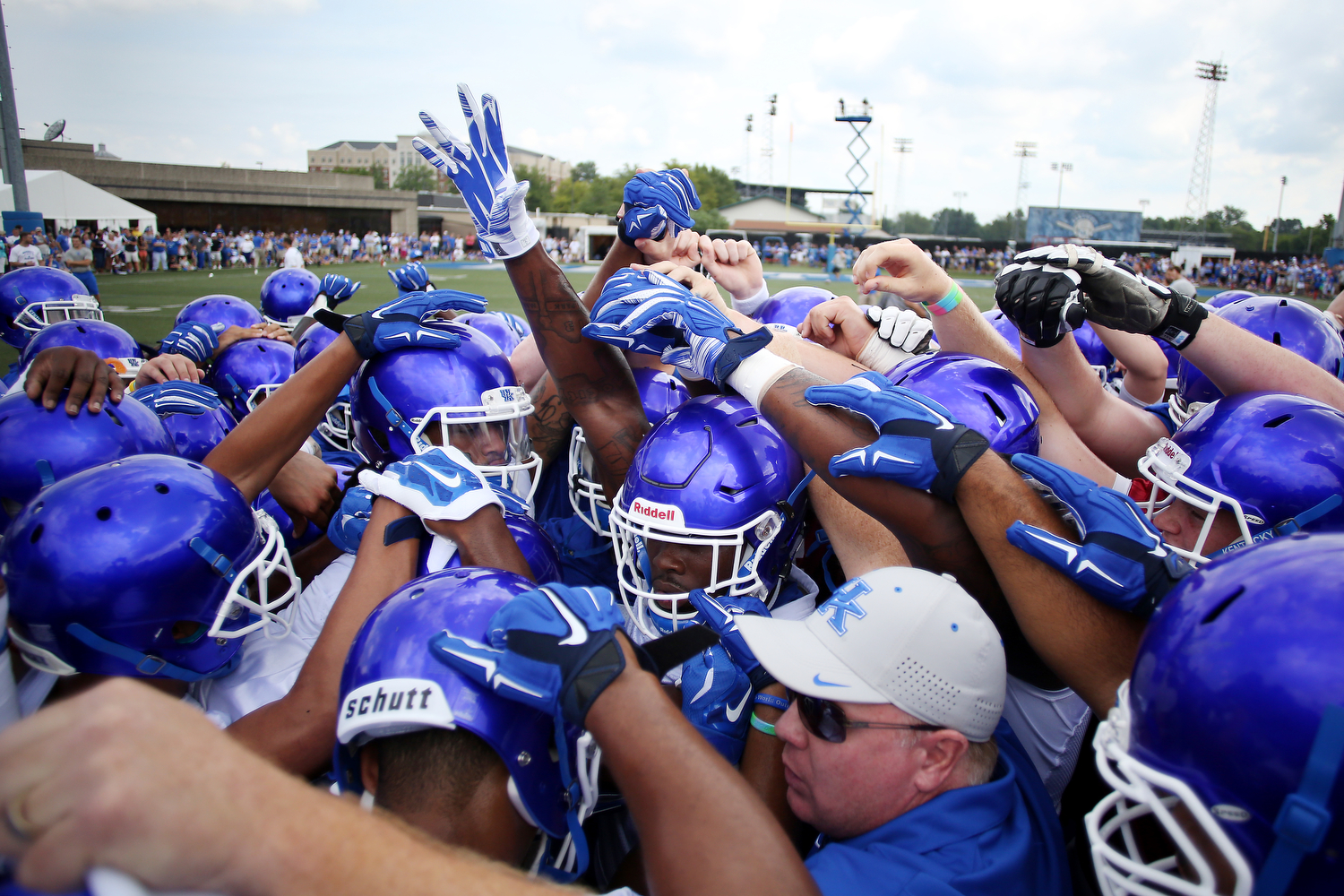 It's difficult to imagine a busier August for a college football program.
At Nutter Training Facility, Kentucky's players and coaches have been hard at work ahead of the 2015 season. The Wildcats had a productive fall camp and have moved seamlessly into preparation for their season-opening opponent, UL Lafayette.
Down the street, construction workers and UK Athletics volunteers have been toiling just as diligently to make sure Commonwealth Stadium – undergoing a $126 million renovation – is ready to host that game.
Come Saturday at 7 p.m., the pre-work will be at its end for both the team and the stadium crew.
"Excited to get the season going, it feels like it's been a long summer," head coach Mark Stoops said. "The players have worked extremely hard, the coaches have worked hard, so we are anxious to get going.
"We want to have some fun. First time we've done this in 40 years; we ought to enjoy it," Athletics Director Mitch Barnhart said of the renovation. "So I'm hopeful everybody will come in with a smile on their face and go, 'Wow, this is cool.' "
With its concourse space doubled, new concessions and restrooms, a $2.3 million signage package, new premium areas, and a striking exterior, Commonwealth Stadium figures to get that reaction. The stadium, however, will not be a finished product for the season opener.
"Our fans, I want them to say, 'You know what? We've been waiting to feel like we belong in the Southeastern Conference (and now) we've got something we can all reach out and feel good about, look up and feel like we're a part of it," Barnhart said. "There's still some things we're working on, as has been said, (but) this is not something we're building for today, for one game. We're building it for generations."
The finishing touches will come after the season opener and in the weeks to follow, though Barnhart said a timeline for completion is a "moving target." The good news on that front is the focus is likely to shift squarely to the action on the field come kickoff. There, UK will be facing a team worthy of its undivided attention.
"We have a great opponent in Louisiana Lafayette, who won nine games so we'll have our hands full, but optimistic and excited to get going," Stoops said.
UL Lafayette won those nine games largely on the strength of its offense, and especially its run game. The Ragin' Cajuns rushed for better than 225 yards per game in 2014, led by running back Elijah McGuire. Now a junior, McGuire rushed for 1,264 yards and 14 touchdowns on just 166 carries.
"He's a fantastic player, I tell you," Stoops said. "He's just a very dynamic player. He gets an awful lot of yards."
McGuire will be taking handoffs from a new signal-caller this season, but head coach Mark Hudspeth's dynamic offensive system remains in place.
"I think they do a nice job creating space," Stoops said. "Their offense creates some problems. Obviously they'll be breaking in a new quarterback, but I think what they do and the pressure they put on you, with some of the quarterback run game and creating some space with (McGuire), puts some problems on you. He's just a very good player. They've done a nice job. They win a bunch of football games, play very hard."
In spite of UL Lafayette's recent success, the Ragin' Cajuns have a revamped defensive coaching staff, with defensive coordinator and defensive backs coach Melvin Smith and two other assistants in their first season after tenures at Auburn.
In the absence of a detailed scouting report, the Cats will instead focus on themselves offensively under first-year offensive coordinator Shannon Dawson. The schemes remain much the same as they were with his predecessor, Neal Brown, but Stoops expects to see his team take a step forward in terms of physical play.
"It's nice to be able to practice a little more physical and have a little bit of depth and have those practices where you can really work it and you feel like you have a good chance because you've got some guys who are strong enough to move some people when they have to, and defensively stop them as well," Stoops said. "We're by no means perfect and we need to continue to improve, as you know, throughout this season we play some very physical teams, but I think we're getting to the point where we're more comfortable with the way we run the ball."
That comfort comes from an emphasis on running the ball and the depth that's allowed that emphasis. The excitement that's come with the development of UK's roster has led to a sense of confidence permeating the program, confidence that has manifested itself in talk about bowls and competing for an SEC East title.
Stoops likes the confidence, but he isn't into long-term forecasting.
"I think improvement, just improvement across the board," Stoops said when asked to define success this season. "I'm not going to fall into that trap that some of our players have and I have let them. If they want to talk about a bowl game and all that then fine, but we've got one game next week, can't win two. We've got to take care of business one week at a time, one day at a time."