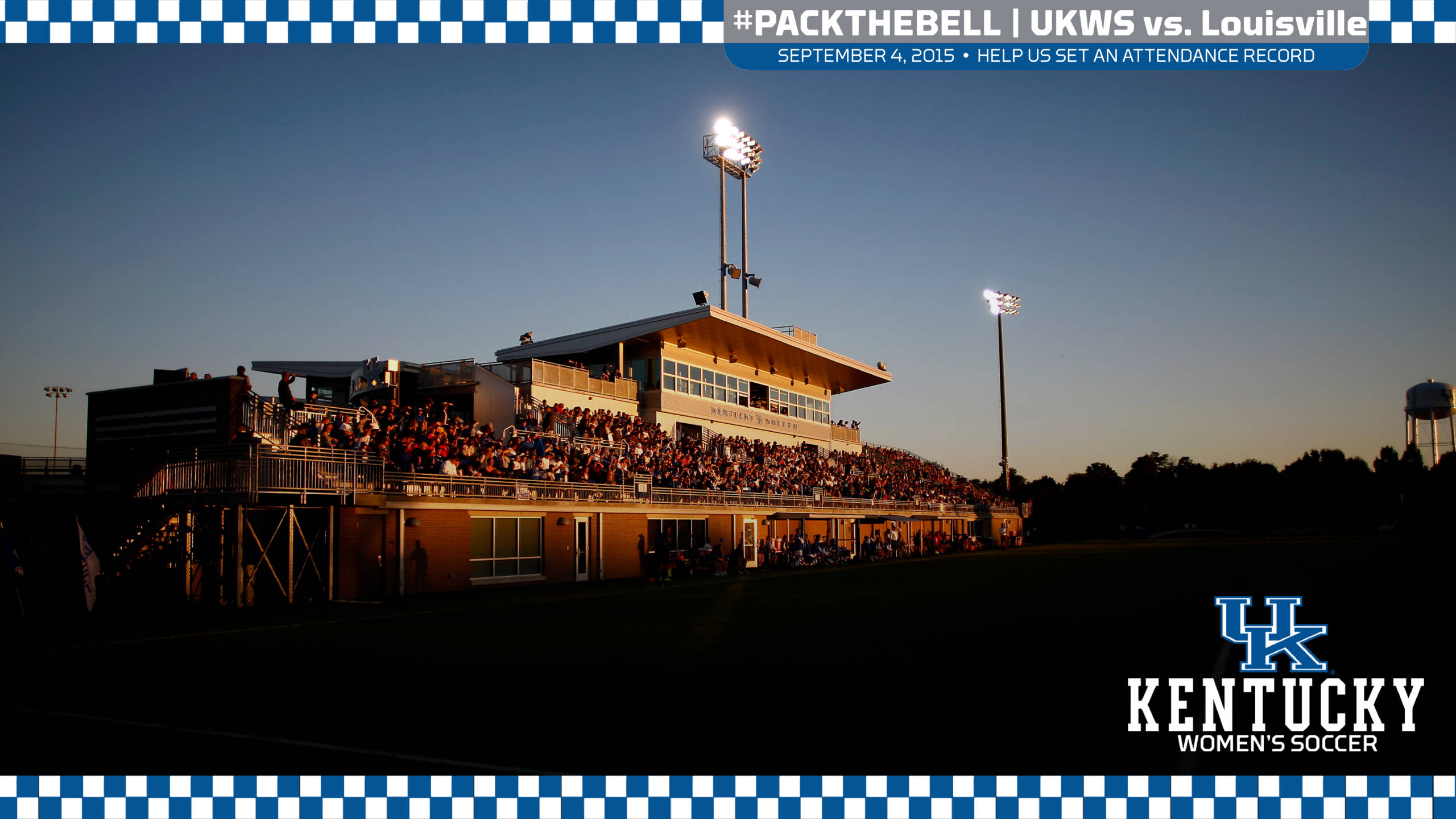 September 2, 2015 - 09:44 AM
UKWS Hosts Annual "Battle of the Bluegrass" on Friday, OU Sunday
TICKET INFORMATION | LIVE STATS | SEC NETWORK+ BROADCAST | MATCH NOTES
LEXINGTON, Ky. – The University of
Kentucky women's soccer team will be looking to break a Bell Soccer Complex
attendance record on Friday night, as the Wildcats host the annual "Battle of
the Bluegrass"  against the Louisville
Cardinals at 7:30 p.m. ET.
All fans who wear blue will be
admitted for just $1, and also receive free rally towels upon admittance into
the match. Fans will also be treated to free UK soccer trading cards as UKWS looks
to break an attendance record. For any youth teams interested in attending,
email Alyx Ayer of the UK marketing department at Alexandra.ayer@uky.edu.
Kentucky is coming off of a two-shutout weekend, in which the Wildcats
blanked UNC Greensboro 3-0 on Friday night, before an offensive explosion in a
7-0 win over Toledo. Michaela Dooley netted her first-career hat trick on
Sunday night, as part of her eight-point match, which included three goals and
two assists.
UK has won its last four meetings with Louisville, all by the count of
2-0, with three different goalkeepers (Kayla Price, Kayla King, Taylor Braun).
The Wildcats are 10-2-1 all-time against the Cards and have won the last three
meetings contested in Lexington.
This weekend's matchup marks 14th all-time soccer match between the
Wildcats and Cardinals. UK has won the last four meetings, all by a score of
2-0, and leads the overall series by a count of 10-2-1. Kentucky has won the
last three meetings played at the Bell Soccer Complex between the two sides and
leads the all-time goals count 27-6 in their 14 meetings.
Louisville enters this weekend's slate of matches 1-1-1 on the season,
coming off a 2-2 draw with Kent State on Friday night. The Cards were idle on
Sunday. UL opened its season with a win over Wright State, and in the two
team's only common opponent, UL lost a 2-1 match to Washington on opening weekend
in Louisville. The Cards are led in scoring by five different players who have
all scored one goal this season. Casey Whitfield leads the Cards attack with 12
shots and six on goal.
Kentucky will close out this weekend's action on Sunday against the Ohio
Bobcats at 6 p.m. ET on Sunday. Both matches this weekend will be available on
the SEC Network+, WatchESPN, the WatchESPN app, and ESPN3.
Aaron Rodgers, Ohio's head coach returns to Lexington for the second
time this weekend after being named OU's head coach. Rodgers was an assistant
coach for Jon Lipsitz from his first year in 2009 up until the end of the 2012 season,
when he went to Athens. In his time at UK, he led the Wildcats to their first
NCAA Tournament win in 2012 over UT Martin in a 1-0 overtime decision.
The Bobcats enter Sunday's match 0-3-0 overall on the year with losses
to Purdue, Detroit and Cleveland State. The Bobcats have yet to score a goal
this season, having been shutout 3-0, 2-0 and 3-0 in their first three matches.
This weekend's matchup marks the sixth all-time matchup with the Bobcats for
UK. Kentucky leads the all-time series with OU 5-0-0. Including last year's 3-0
win for UK, which was the side's first meeting since 20011, UK leads the
all-time goals count 16-4 with two shutouts in series history.
For the latest on the Kentucky women's soccer team, follow @UKWomensSoccer on Twitter,
Instagram and Facebook, as well as on the web at UKathletics.com.