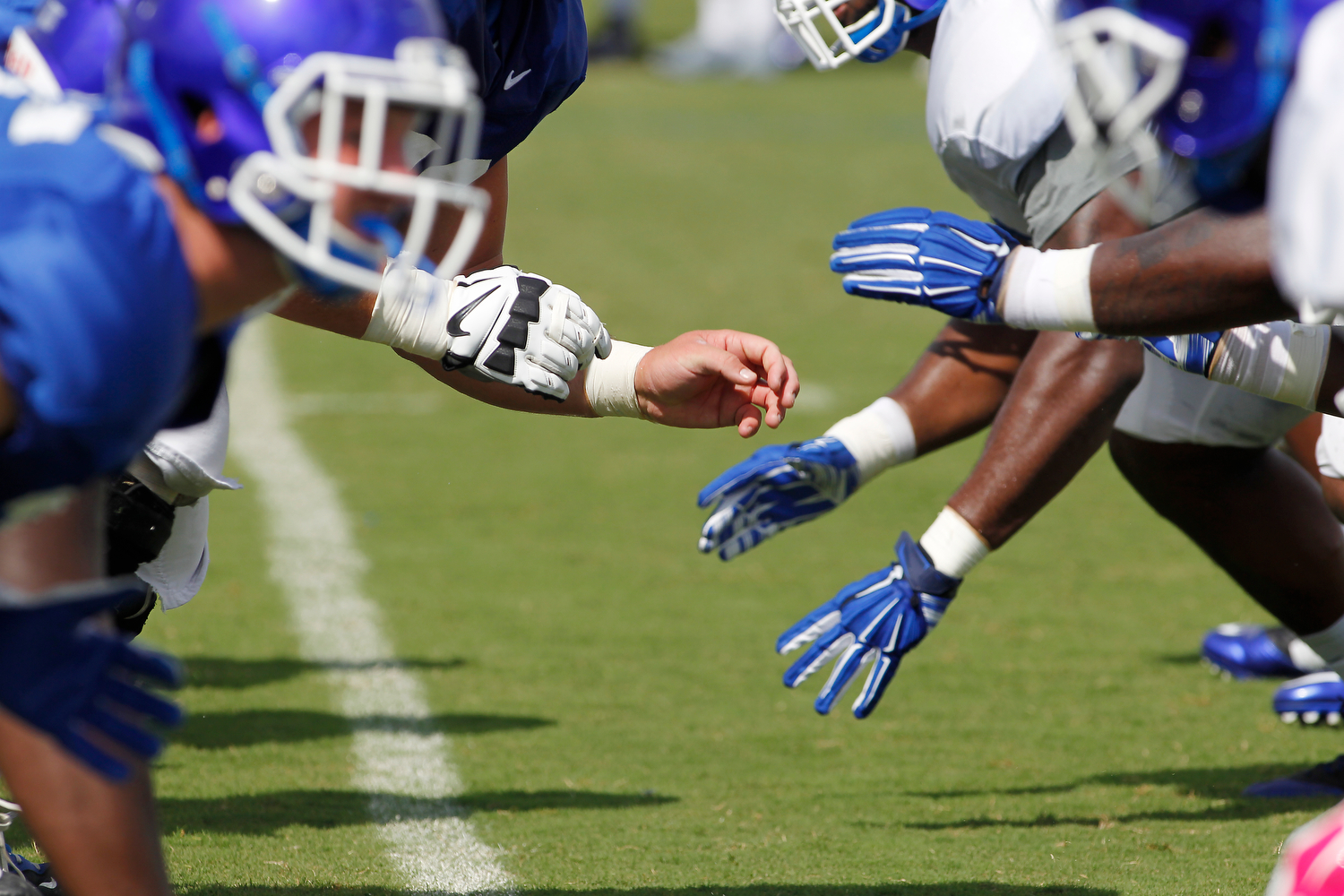 Mark Stoops has spoken with relative certainly about his team's improvement through fall camp.
Leading up to his third season as Kentucky head coach, Stoops believes he has a roster with a new level of talent and depth. The Wildcats, in his mind, have matched that talent and depth with a sound work ethic.
There's still no knowing.
"Any opener you're not totally sure what you have until you see your team play," Stoops said.
On Saturday when UK starts 2015 against Louisiana Lafayette, Stoops will finally have a known quantity on his hands.
"The players have worked extremely hard," Stoops said. "The coaches have worked hard. So we're anxious to get going. We have a great opponent, Louisiana Lafayette. Won nine games (last season), so we'll have our hands full."
UL Lafayette won those nine games largely on the strength of its offense, and especially its run game. The Ragin' Cajuns rushed for better than 225 yards per game in 2014, led by running back Elijah McGuire. Now a junior, McGuire rushed for 1,264 yards and 14 touchdowns on just 166 carries.
"He's a fantastic player, I tell you," Stoops said. "He's just a very dynamic player. He gets an awful lot of yards."
McGuire will be taking handoffs from a new signal-caller this season, but head coach Mark Hudspeth's dynamic offensive system remains in place.
"I think they do a nice job creating space," Stoops said. "Their offense creates some problems. Obviously they'll be breaking in a new quarterback, but I think what they do and the pressure they put on you, with some of the quarterback run game and creating some space with (McGuire), puts some problems on you. He's just a very good player. They've done a nice job. They win a bunch of football games, play very hard."
In spite of UL Lafayette's recent success, the Ragin' Cajuns have a revamped defensive coaching staff, with defensive coordinator and defensive backs coach Melvin Smith and two other assistants in their first season after tenures at Auburn. UK has spent time scouring Auburn's game tape from a season ago, but Stoops again knows he can't predict everything.
Luckily, the UK offense sees a variety of looks from its defensive counterpart.
"The good thing about our offense is they see quite a bit from our defense, whether it's three-down or four-down (linemen), they get to see quite a bit of that," Stoops said.
Practices and games, however, are very different things.
"You have a pretty good feel for what you have but until you get out there and play you never really truly know," Stoops said. "So, I think it's exciting: that anticipation and getting ready to watch this team play. I feel good about them. I feel like we're a better football team, and I'm anxious to watch them play."
'One opportunity for a first impression'
As if the excitement to start the 2015 season weren't enough, UK will also be playing its first game in The New Commonwealth Stadium after a $126 million renovation.
"I think if you just look back to really the time I arrived and you look at the three years of building this program, of building this stadium, the anticipation for this day, it is an exciting time to open this stadium," Stoops said. "We get one opportunity for a first impression."
With all that, Stoops is having to consider the possibility of reining in his team's emotion. That's far better than the alternative.
"I think the guys will be extremely excited. I'd be completely shocked if we're not very excited to come into the new renovated stadium," Stoops said. "The guys have worked hard. The anticipation for a new season — we better have to tell them 'whoa.' I'd rather tell them 'whoa' than 'giddy up.' I think they'll be ready to go and anxious, but that's where it's gotta come one play at a time."
Flannigan 'very close' to return; Johnson, Meadows suspended
Linebacker Ryan Flannigan was limited throughout camp by a shoulder injury sustained in a practice collision with defensive lineman-turned-fullback Jacob Hyde. Flannigan, however, is now "very close" to returning. If the senior practices early in the week, he will play Saturday. If not, he's likely out.
Certainly out are defensive tackle C.J. Johnson and offensive lineman Kyle Meadows. Both have been suspended for the opener for a violation of team rules.