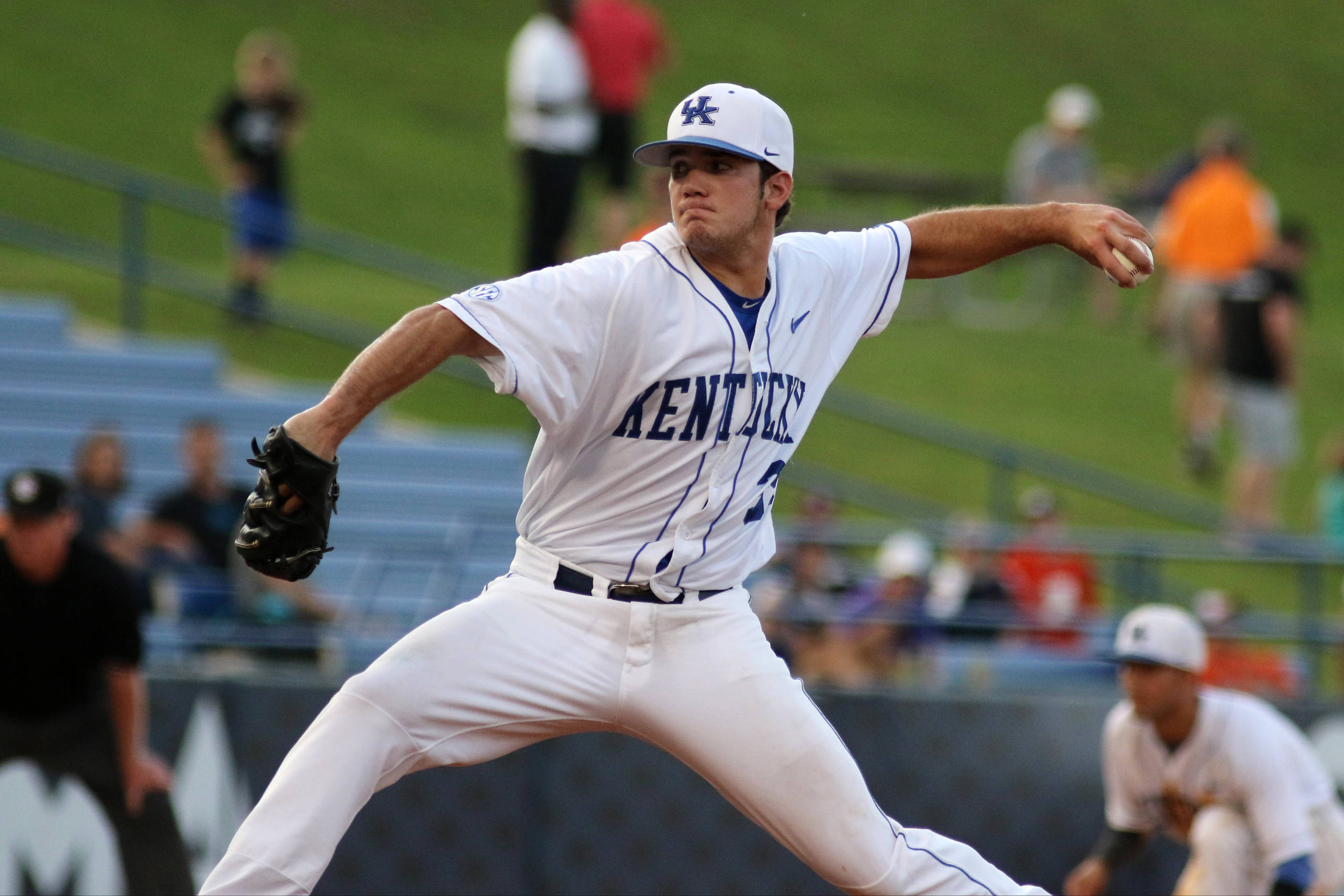 LEXINGTON, Ky. — Kentucky rising sophomore southpaw Zach Logue has been named the Perfect Game Collegiate League Pitcher of the Year, after sporting an 8-0 record and a 2.21 ERA in 10 starts, it was announced by the circuit on Thursday morning.
Logue, a native of Mason, Ohio, had a dominating summer in the PGCBL for the Amsterdam Mohawks. Logue is the second Kentucky star to earn PGCBL Pitcher of the Year accolades, joining Chandler Shepherd, who went 7-0 with a 1.31 ERA in 2012.
During his 10-start summer, Logue went 8-0 with a 2.21 ERA in 57 innings. The six-foot, 185-pound product of Cincinnati's Moeller High School worked 57 innings, allowing only 14 walks and 45 hits, striking out 55. His last seven starts were all quality outings and he allowed only four earned runs over his final 24 innings. In a win on July 8, Logue totaled 10 strikeouts and didn't issue a walk, allowing just one run.
During his freshman season in 2015, Logue appeared in 19 games with three starts, owning a 2-2 mark and a 5.18 ERA with one save. He hurled 33 innings, allowing 38 hits and seven walks, striking ut 24.
Logue joined UK teammates Brad Schaenzer and Riley Mahan on the Mohawks during the summer. Schaenzer went 5-1 with a 3.17 ERA in 10 starts during the regular season, working 51 innings, allowing 23 walks and 40 hits, striking out 31. Schaenzer worked in 14 games with one start during his freshman season with the Wildcats, with a 1-0 record and a 4.50 ERA in 24 inning, walking eight and striking out 18.
A teammate of Logue's at Moeller, Mahan earned the all-star starting gig at shortstop during the summer, batting .300 (51-for-170) in 50 games, with 12 doubles, one triple, three homers and 21 RBI, stealing 14 bases and owning a 29-27 walk-strikeout ratio. During his freshman season, Mahan played in 39 games with 22 starts, batting .232 (22-for-95) with 15 runs, five doubles, one triple, one homer and eight RBI.