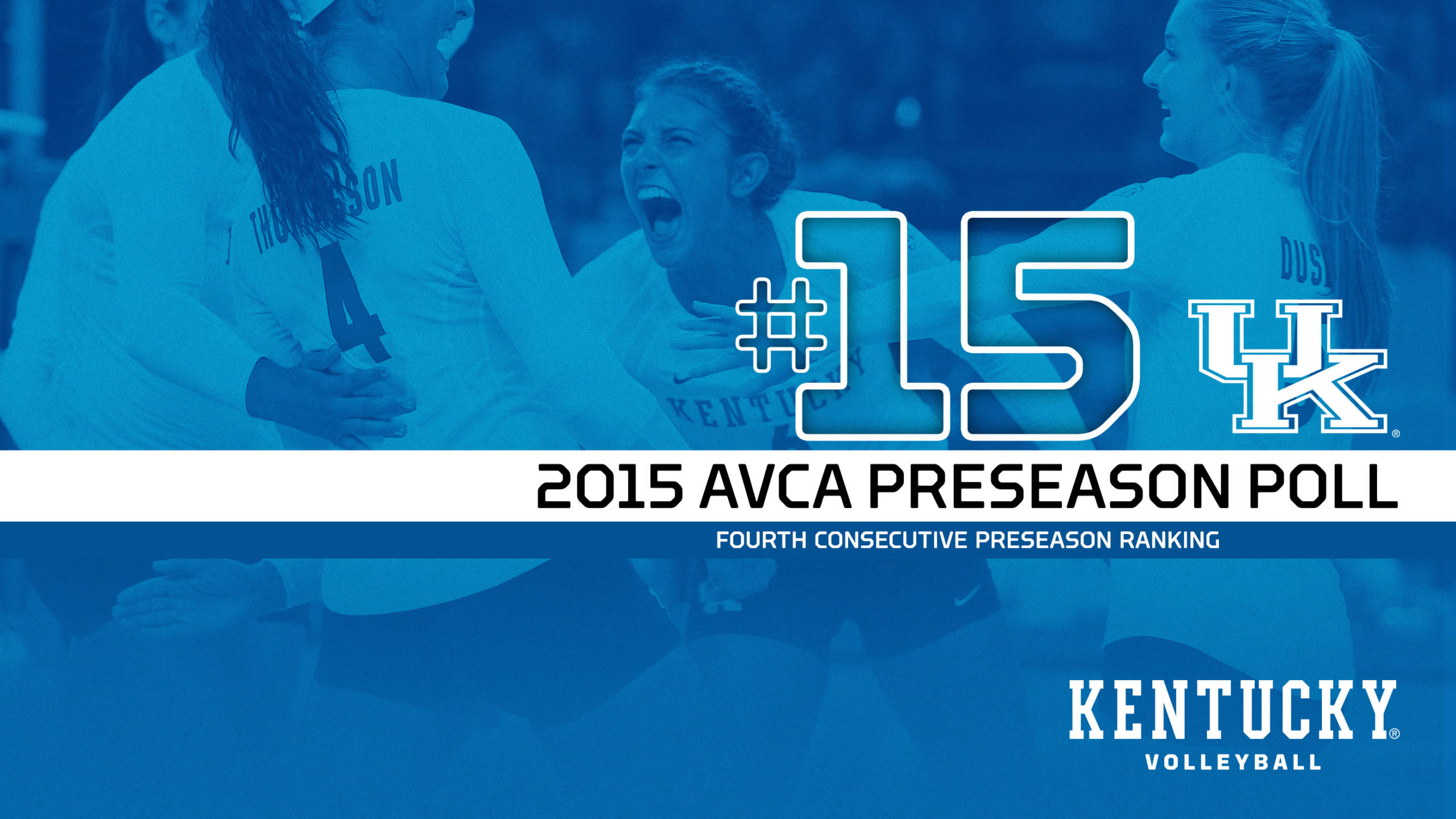 August 12, 2015 - 04:20 PM
UK Ranked in Preseason Poll for Fourth Consecutive Year
LEXINGTON, Ky. – For a program-record fourth consecutive year, the Kentucky volleyball team will begin the season ranked in the American Volleyball Coaches Association's preseason top-25 after the Wildcats earned a No. 15 ranking in the poll released on Wednesday. 
UK's spot in the top 25 poll marks the sixth time in the last seven years in which the Wildcats have earned a place in the preseason poll, all under 11th-year head coach, Craig Skinner. 
The preseason ranking marks the 77th time under Skinner the Wildcats have been ranked in the preseason, weekly or final poll by the AVCA. Kentucky debuted at No. 17 in 2013 and has been ranked in the top 25 every week since then.
The poll features four teams UK will face in 2015. Kentucky will open the 2015 campaign at home against No. 19 Michigan State on Aug. 28 at 7:30 p.m. Other ranked squads the Wildcats will face this season include: Florida (4), Illinois (8) and Southern California (22). Texas A&M, Little Rock, Alabama, Creighton, Wichita State and LSU are all receiving votes and opponents of the Cats in 2015.
The Wildcats are coming off a school-record 10th consecutive trip to the NCAA Tournament and a fourth consecutive 20-plus win campaign. UK will face nine teams and have 12 matches against teams that advanced to the NCAA Tournament a season ago, host a non-conference tournament and rival Louisville and play host to the NCAA Regionals for the third time in five seasons (rounds of 16 and 8) Dec. 11-12 in Memorial Coliseum to highlight another .
Single-match and season tickets for the 2015 campaign are on sale now. Season tickets begin at $35, and single-game ticket information can be found
here
. Or you can call the UK Ticket Office at 800-928-CATS.
Kentucky's Memorial Coliseum will play host to the NCAA Regionals Dec. 11-12. UK is one of four sites selected for the Sweet 16 and Elite Eight matchups with one team advancing to the Final Four in Omaha, Neb., from the Lexington Region. This marks the third time in five seasons Memorial Coliseum will host this premier volleyball event.