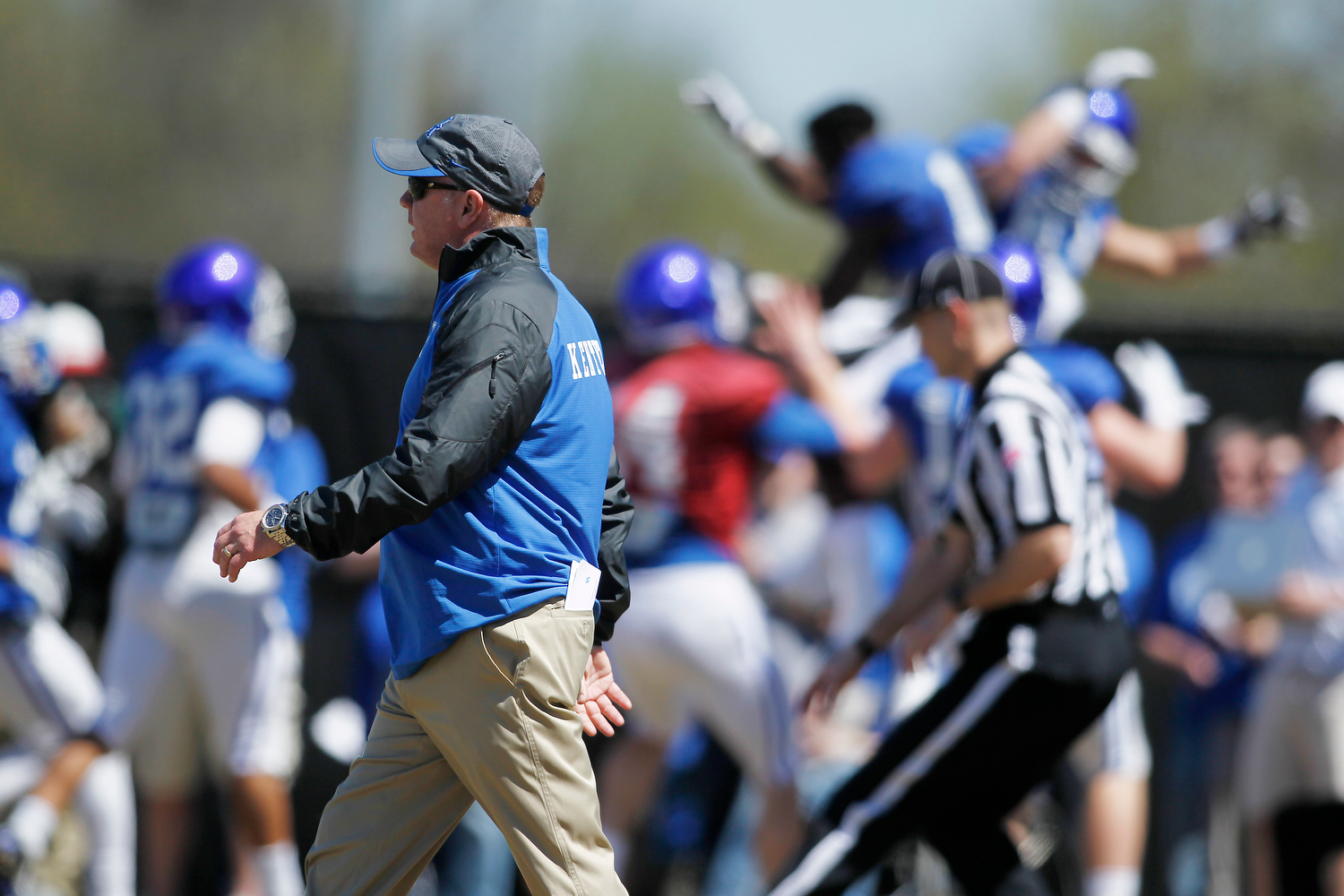 LOUISVILLE — Mark Stoops is a man of constant motion.
He bounces from task to task, managing responsibilities as a recruiter, coach and face of the Kentucky football program.
But for a week this summer, he forced himself to stop. Stoops made time for a trip to the beach with his family.
"I took those seven days and even put my phone up for a while," Stoops said, "so I had some missed recruiting calls and some people reaching out to me and later I said, 'I was at the beach and put my phone up,' and everybody was good with that."
Stoops, addressing the media prior to his appearance at Greater Louisville UK Alumni Club Wildcat Kickoff Luncheon, almost sounded as if he pressed pause on his job altogether, but UK fans should know him better than that by now.
"I say I put it away for a few days, it's maybe when I'm at the beach for four or five hours but it's never truly away," Stoops said. "You always have to stay on it."
Nonetheless, Stoops' willingness to take a breather speaks to his confidence. Two years ago or maybe even last summer, holstering his phone for any period of time might have been impossible. There was just too much to be done.
Now, he finally has created enough momentum around his program that it won't slow even if he takes a brief step back.
"I think as things come together and the team gets better, your staff understands what's expected of them and where I'm at, and the comfort level, it certainly gets better as it goes on," Stoops said.
Stoops' confidence was plain to see later on Friday as he spoke to a sellout crowd of 700 at the Galt House in downtown Louisville. Optimistic about his team and pleased with its developing talent and depth heading into the 2015 season, Stoops seemed at ease in a way he hasn't been previously in his three years at Kentucky.
"Any time you put the amount of work in that we put in, then you expect to be more confident," Stoops said. "You expect that to be more confident. You expect it to be more positive because you know you're better. I always use the adage about being sharper. We're sharper. We have sharper tools. Guys, the players, have worked hard. Our coaches have worked hard. You're going into Year Three, we should be better; we expect to be better."
How much better won't be clear until after the season begins on Sept. 5 in The New CWS against UL Lafayette.
"Nothing's going to be given to us," Stoops said. "Just because we're better doesn't mean we're going to win any more games. We've got to go to work and see what happens."
That work begins when the Cats report for fall camp on Thursday.
"It's exciting," Stoops said. "The players have worked really hard. They're bigger, they're stronger, they're anxious to get done with the lifting and running and get on with football."
The time away from football, whether it was spent working out, recruiting or resting, was productive, but Stoops is ready for it to be over.
"It was a good summer," Stoops said. "I feel good. I feel like we made a lot of progress. I feel like our staff has done a nice job of getting some time away but also, as you can tell by some results, by the way our players look and recruiting we don't ever step away from it too far. Guys are anxious and refreshed and rejuvenated and ready to go."