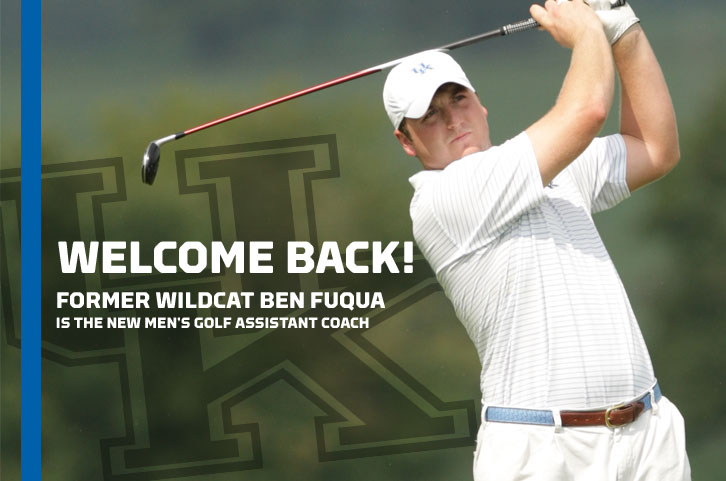 Former Wildcat Fuqua Named Assistant Coach
LEXINGTON, Ky. – Former Wildcat great
Ben Fuqua will return to the Big Blue Nation as an assistant coach for the
Kentucky men's golf team, head coach Brian Craig announced on Monday. Fuqua is
a former captain and four-year letterwinner for the Wildcats from 2005-09.
"It is with great
enthusiasm that I announce Ben Fuqua as our new assistant coach," Craig said.
"Ben played for us and was an exceptional player and a true servant leader as
team captain. He has tremendous integrity and a passion for mentoring young
people. Throw in the fact that he can flat-out teach putting and loves the
University of Kentucky and we have a perfect match. I can't wait for Coach
Fuqua to get started helping us pursue our goal of winning SEC and NCAA
Championships."
Fuqua (pronounced FEW-kway)
began his career at Kentucky as a member of the 2005 SEC Championship squad. In
all, he served as team captain for his final two seasons and appeared in 24
tournaments throughout his career. He claimed four top-five performances, which
included one victory.
"I am honored to once again be a part of the UK golf
program," Fuqua said. "I thoroughly enjoyed my time here as a player. I am
excited to help Coach Craig continue his success and represent the Big Blue
Nation at the highest level."
Following his playing career, Fuqua played professional golf
for three years before moving into the coaching ranks.
Fuqua served as the head coach at Asbury University and
Lexington Catholic High School from 2013-14 before serving as a volunteer
assistant at Kentucky during the 2014-15 season. At Asbury, Fuqua helped direct
Steven Brooks to the 2013 Kentucky Intercollegiate Athletic Conference Individual
Championship. During his rise up the coaching ranks, Fuqua also served as a
private golf instructor.
The former 2003 Kentucky Mr. Golf and the 2003 KHSAA State
Champion captured three United States Golf Association medals during his
amateur career. He holds the UK record for a 54-hole tournament score (198) and
was a two-time All-SEC Academic team member. Furthermore, he rose to a top-10
ranking in the GolfWeek Individual College Rankings during his junior season.
A
native of Danville, Ky., Fuqua earned a bachelor of arts in communications from
Kentucky in 2010.
Fuqua replaces Jessie Mudd who was named the head coach at
Lamar University. Mudd served as an assistant for the Wildcats for four seasons
and helped UK to an NCAA Tournament appearance in 2014 and 10 top-three
finishes during his tenure.
"What a great opportunity
for Coach Mudd at Lamar," Craig said. "He did a tremendous job for us and will
do a great job leading his new program. We all appreciate his efforts to help
our guys get better during his four years in Lexington and wish him the best of
luck in this new chapter in his coaching career."
For the latest on the Kentucky men's golf team, follow @UKMensGolf on Twitter and on the web at UKathletics.com.