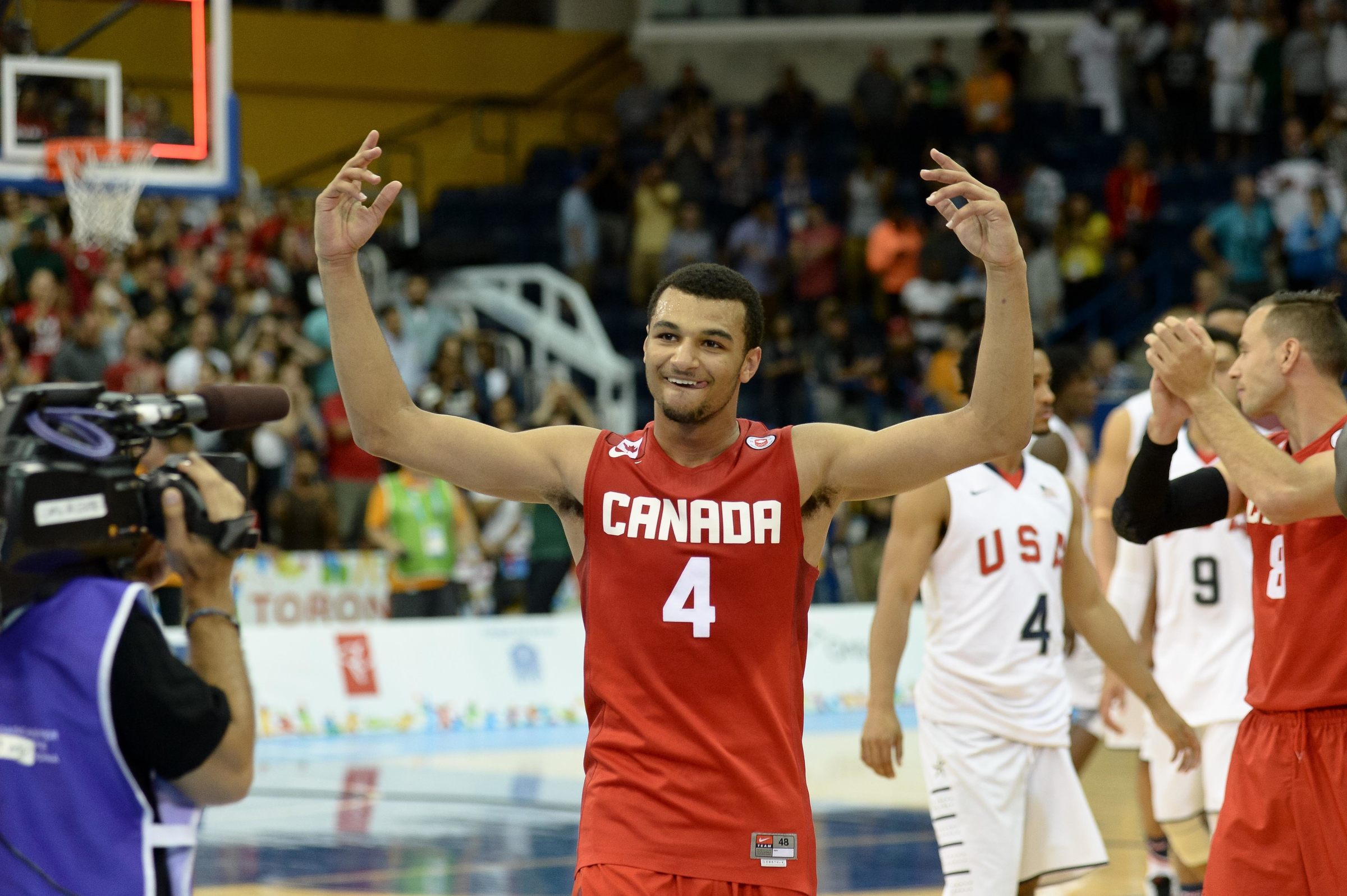 UK Signee Jamal Murray Propels Canada to Pan Am Finals
TORONTO – Step-back 3-pointers with the clock winding down. Key assists in crunch time. A block to ensure at least overtime. Jamal Murray even grabbed the game-clinching rebound.
You name it, Murray did it in leading the Canadian National Team to the championship game of the Pan American Games in Toronto. The Kentucky signee made seemingly every clutch play down the stretch in Canada's thrilling 111-108 overtime victory over the United States in the semifinals of the Pan Am Games on Friday.
The UK signee scored all 22 of his points in the fourth quarter and was undeniably vital in leading Canada to the Pan Am finals. With Murray leading the way, Canada will vie for the gold medal on Saturday vs. Brazil at 4:30 p.m. ET. That game will be available on the WatchESPN app.
"I couldn't be more proud of Jamal's performance," Kentucky head coach John Calipari said. "For someone his age to do what he did shows how good he is and why we wanted him in the worst way to be on this team."
Leadership, fearlessness and a never-say-die attitude were just a few of the qualities that made Murray so attractive to Kentucky, all three of which were on display Friday night on a national stage.
Murray shocked the United States with an all-around dizzying display. He made 8 of 18 shots, including 4 of 8 from 3-point range. The future Wildcat, who will enroll at UK in the fall, entered the fourth quarter scoreless but ended the game with 22 points.
No matter what the Canadians do in Saturday's championship game, Murray has already led Canada to its best-ever finish at the Pan Am Games.
"It means everything to be out here," Murray said after the game on ESPN2. "Playing on the two highest stages (for Canada and Kentucky) at this age is just incredible. To have my great teammates and amazing NBA coaches aside me along the way is a learning experience for me."
Trailing in the fourth quarter, Murray reeled off nine of 11 points for Canada to give the Canadians the lead and set the stage for a dramatic finish. In overtime, trailing by one with less than two minutes remaining, Murray scored eight straight points, including a step-back 3-pointer.
But Murray's point production only told half the story. He also dished out a team-high six assists and four rebounds, most of which seemed to come at the most important times.
Among the highlights for Murray was a block at the end of regulation that ensured Canada would do no worse than go to overtime. He also grabbed the game-clinching rebound.
Against some of the world's best players from North, South and Central America, Murray has averaged 17.0 points, 3.3 rebounds and 2.4 assists while shooting 51.0 percent from the floor in four wins. 
| | | | | |
| --- | --- | --- | --- | --- |
| Game | Points | Rebounds | Assists | FGs |
| vs. Dominican Republic (W, 105-88) | 12 | 2 | 2 | 5-7 |
| vs. Argentina (W, 88-83) | 20 | 2 | 1 | 6-15 |
| vs. Mexico (W, 96-76) | 14 | 5 | 2 | 6-9 |
| vs. United States (W, 111-108) | 22 | 4 | 6 | 8-18 |
| Averages | 17.0 | 3.3 | 2.4 | 51.0 pct.  |
Murray's résumé was already mighty impressive before the Pan Am Games began. As one of only three collegians on Canada's roster, Murray is the only player on his team who has never played a minute of college basketball.
A 6-foot-5 guard from Kitchener, Ontario, Murray was originally a member of the 2016 recruiting class but recently reclassified to the 2015 class. As a member of the 2016 class, Murray was rated a top-15 prospect by nearly every recruiting service and tabbed a consensus five-star recruit.
A big-time playmaker with great size, good ball-handling skills and a penchant for scoring in bunches, Murray is ranked the No. 10 overall player in the updated 2015 247Sports rankings and No. 12 in the 2015 Scout rankings.
Playing for Team Canada at the Nike Hoop Summit in Portland, Ore., Murray teamed up with fellow UK signee Skal Labissiere to lead the World Selects to a two-point win over a USA team filled with McDonald's All-Americans. In that game, Murray scored a game-high 30 points and dished out five assists.
Murray made Canada's 12-man Pan Am Games roster after participating in a six-day tryout and training camp earlier this month.
The Pan Am Games is a sporting event in the Americas held every four years in the year before the Summer Olympic Games. The competition is held among athletes from nations of the Americas.
For the latest on the Kentucky men's basketball team, follow @KentuckyMBB on Twitter, Facebook and Instagram, and on the web at UKathletics.com.