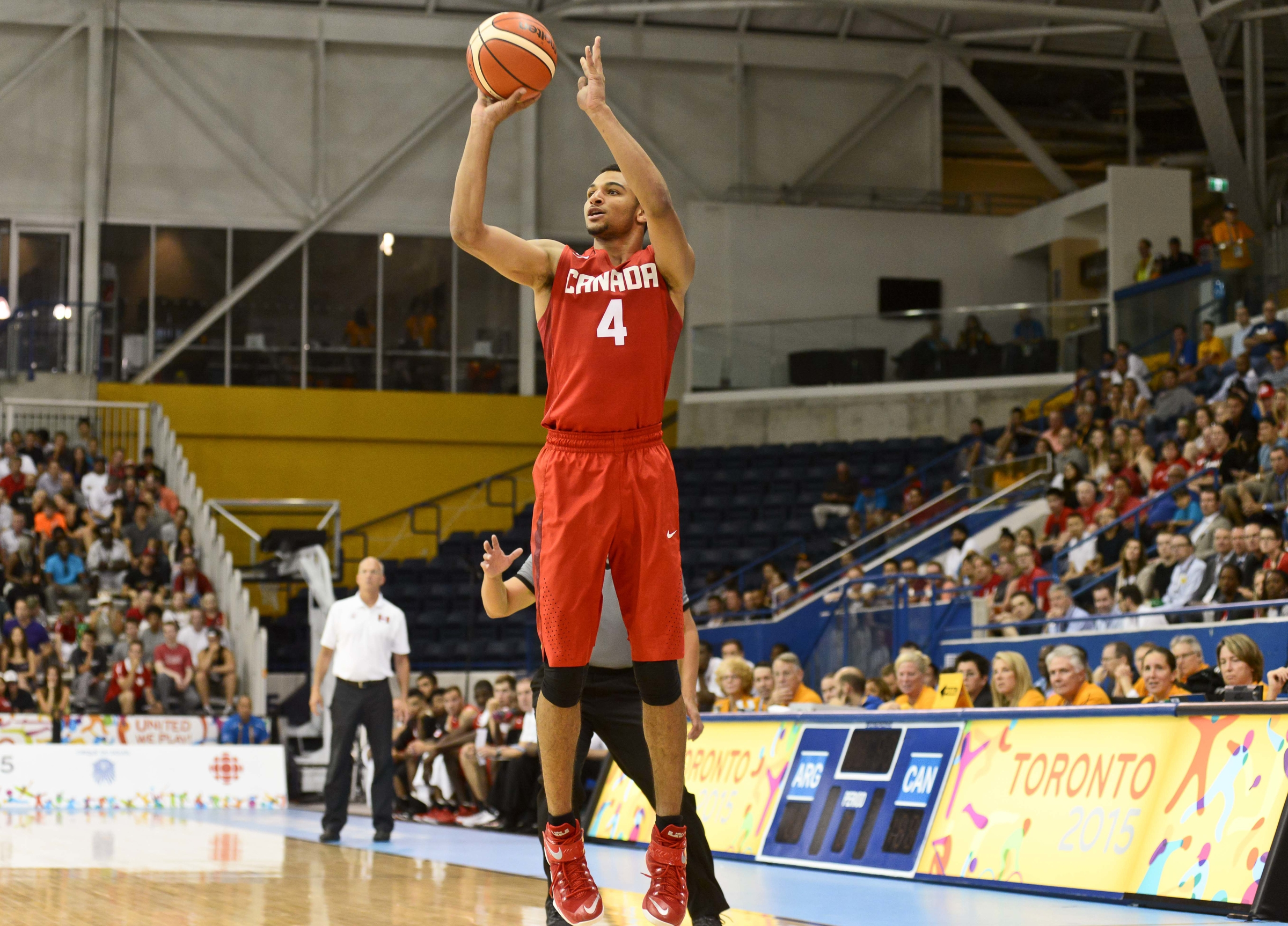 UK Signee Jamal Murray Leads Team Canada to Pan Am Semifinals
LEXINGTON, Ky. – Already billed as one of the top players in the country in the 2015 recruiting class, Jamal Murray's stock has done nothing but rise in his three games with the Canadian National Team at the 2015 Pan American Games in Toronto.
Murray, one of only three college players on Canada's roster, has helped lead the Canadians to the semifinals of the Pan Am Games. Murray and Team Canada will play the United States on Friday at 6 p.m. for the right to play in the Pan Am championship game.
Though Murray is the only player on his team who has never played a minute of college basketball before, he has more than held his own against some of the world's best players, including professionals, collegians, and up-and-coming talent from North, South and Central America.
In three contests at the Pan Am Games – all victories for Team Canada – Murray has averaged 15.3 points, 3.0 rebounds and 1.7 assists per game. He's made 17 of his 31 shots for a 54.8-percent clip.
Murray has done all that damage in just over 24 minutes per game.
| | | | | |
| --- | --- | --- | --- | --- |
| Game | Points | Rebounds | Assists | FGs |
| vs. Dominican Republic (W, 105-88) | 12 | 2 | 2 | 5-7 |
| vs. Argentina (W, 88-83) | 20 | 2 | 1 | 6-15 |
| vs. Mexico (W, 96-76) | 14 | 5 | 2 | 6-9 |
| Averages | 15.3 | 3.0 | 1.7 | 54.8 pct.     |
The national basketball community has raved about Murray's current ability and potential to get even better at Kentucky after watching him play at the Pan Am Games. Analyst Fran Fraschilla, commentating during Canada's Wednesday win vs. Argentina, said, "He doesn't seem to be rattled by big moments."
"He plays the game in slow motion," Fran Fraschilla added on Thursday night during Canada's victory over Mexico. "He's never out of control."
Murray, a 6-foot-5 guard from Kitchener, Ontario, was originally a member of the 2016 recruiting class but recently reclassified to the 2015 class. As a member of the 2016 class, Murray was rated a top-15 prospect by nearly every recruiting service and tabbed a consensus five-star recruit.
A big-time playmaker with great size, good ball-handling skills and a penchant for scoring in bunches, Murray is ranked the No. 10 overall player in the updated 2015 247Sports rankings and No. 12 in the 2015 Scout rankings.
Playing for Team Canada at the Nike Hoop Summit in Portland, Ore., Murray teamed up with fellow UK signee Skal Labissiere to lead the World Selects to a two-point win over a USA team filled with McDonald's All-Americans. In that game, Murray scored a game-high 30 points and dished out five assists.
Murray made Canada's 12-man Pan Am Games roster after participating in a six-day tryout and training camp earlier this month.
The Pan Am Games is a sporting event in the Americas held every four years in the year before the Summer Olympic Games. The competition is held among athletes from nations of the Americas.
For the latest on the Kentucky men's basketball team, follow @KentuckyMBB on Twitter, Facebook and Instagram, and on the web at UKathletics.com.