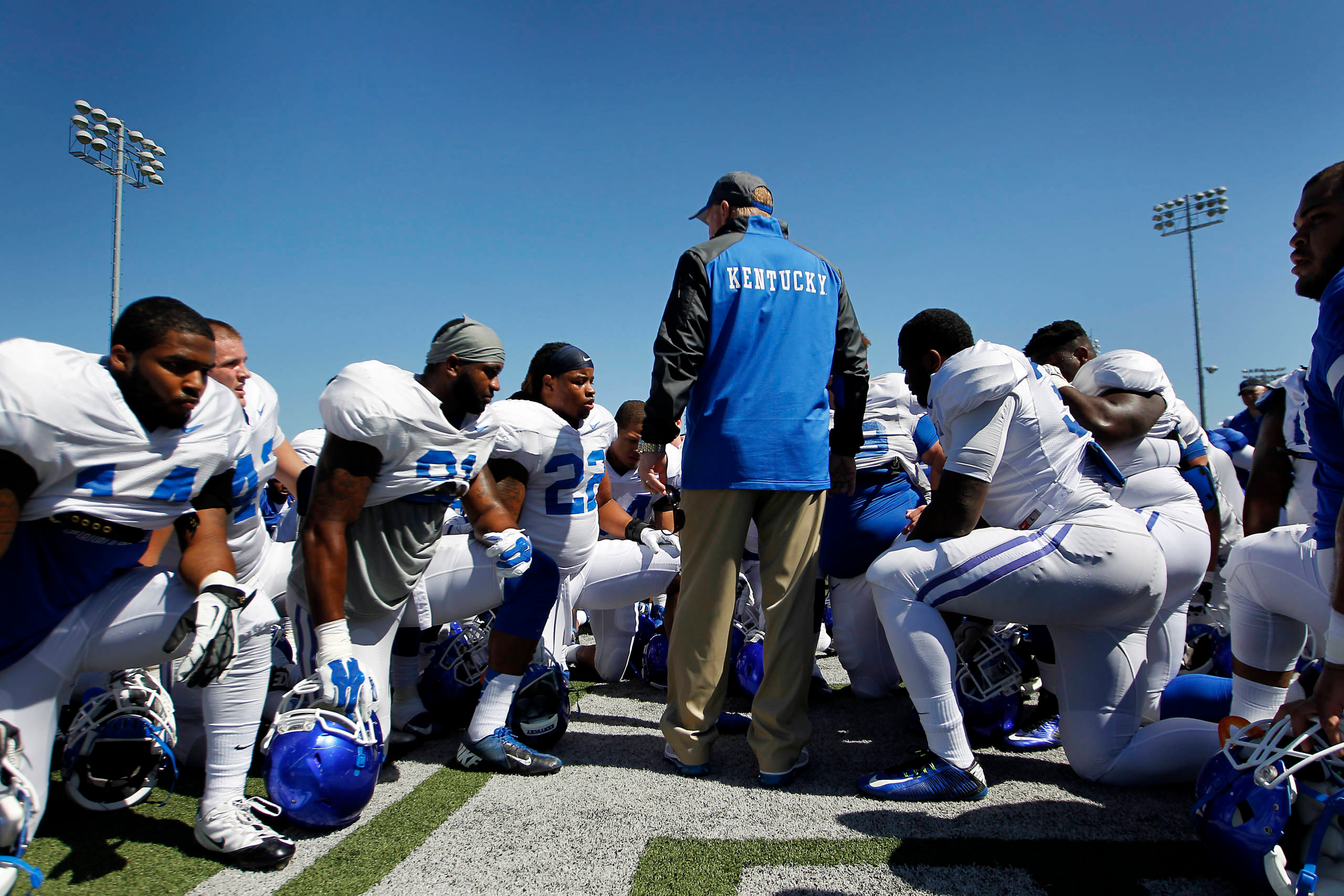 It's that time of year, when Mark Stoops spends more time behind a microphone wearing a suit and tie than on the football field carrying a whistle.
In less than two weeks, that all changes.
Sharing the stage with D.J. Eliot, Shannon Dawson and Vince Marrow at Friday's Kentucky Football Kickoff Luncheon, Stoops didn't hide that he's eager to spend his time in more comfortable surroundings.
"We were joking before we got on camera here that after each one of these events it's kind of nice because it moves us one step closer to getting on the field," Stoops said. "I enjoy this, but there comes a point when the talking season's got to end and you've got to get on the field and get going."
Fans filling up the Hyatt ballroom for the Kickoff Luncheon. pic.twitter.com/Z7GyCCkZls

— Kentucky Football (@UKFootball) July 24, 2015

That will happen on Aug. 6, when the 2015 Kentucky Wildcats report for fall camp. Stoops already knows what he'll be expecting of his team.
"I want to see us have some poise and execute, so the effort's going to be there," Stoops said. "I think the first practice, they're always geared up. We only have helmets on the first practice, so you can't get super physical or you're going to get guys injured. So, really, we've got to execute. We've got to be a better football team. The broad strokes are there. Now we've gotta refine our skills and get more detailed and make plays when games are on the line."
Games will be on the line starting Sept. 5 when UK opens the season and The New Commonwealth Stadium against UL Lafayette. Stoops will make no promises about bowls, wins or losses, but he can tell fans about the kind of team they'll watch.
"They've bought into everything we're selling," Stoops said. "They're working extremely hard. Everybody's all in and you're going to see a passionate, fun, exciting group come this fall, I promise you that."
Cats coming along in terms of accountability
Stoops and his staff hammer home the importance of good decision-making and responsibility with their team, but it never hurts to have a powerful outside voice reinforce it.
This week, the Wildcats got just that.
Maurice Clarett, who led 2002 national champion Ohio State in rushing as a freshman, spoke to the team on that exact subject on Thursday evening. Clarett's NFL career ended before it started and he was eventually imprisoned for three-and-a-half years, but has since turned his life around and now serves as a motivational speaker.
"There's a guy that's showing great humility coming back," Stoops said. "He was on top, lost it all, and has come back and has been very successful in his life. And just the outside influences that were part of his demise, I think it's real important to hear that directly from individuals."
Stoops has a long-standing relationship with Clarett having recruited him while at Miami as an assistant and sharing his high school alma mater with Clarett's father. Marrow is even closer with Clarett, making the speaking engagement a natural fit.
Clarett's visit is the latest example of the coaching staff working to develop players as people, not just athletes. That's an unceasing endeavor, but Stoops ultimately has to rely on players to put the lessons into action.
"We work extremely hard to develop these players in every area of their life," Stoops said. "But that can all be ruined in five minutes when they're out, when they're downtown. There has to be that peer pressure within the team to keep these players accountable when they're off campus."
Dawson enjoying fruits of staff's labor
Shannon Dawson likes what he sees when he looks around Kentucky's offensive meeting room.
The faces might be young, but the offensive coordinator believes he has a roster he can do some damage with after he came to UK from West Virginia.
"It's the most depth that I've had as a coach, which is good," Dawson said. "We always struggled with that at the last place I was at. Coming in here, there's a bunch of young, talented kids."
That wasn't the case for most of his fellow UK coaches. Dawson is an exception on this coaching staff in that he hasn't been around since day one, a fact Stoops enjoyed giving Dawson a hard time about on stage at the Kickoff Luncheon.
"You've been blessed to not be here the first two years as we were building that depth," Stoops said, laughing.
Even so, Dawson's job won't be easy. The Cats might be talented and deep, but they're still young.
"The biggest deal with those guys is they haven't had a lot of experience," Dawson said. "And so when you gotta play with young kids…typically you're gonna have some bruises along the way."