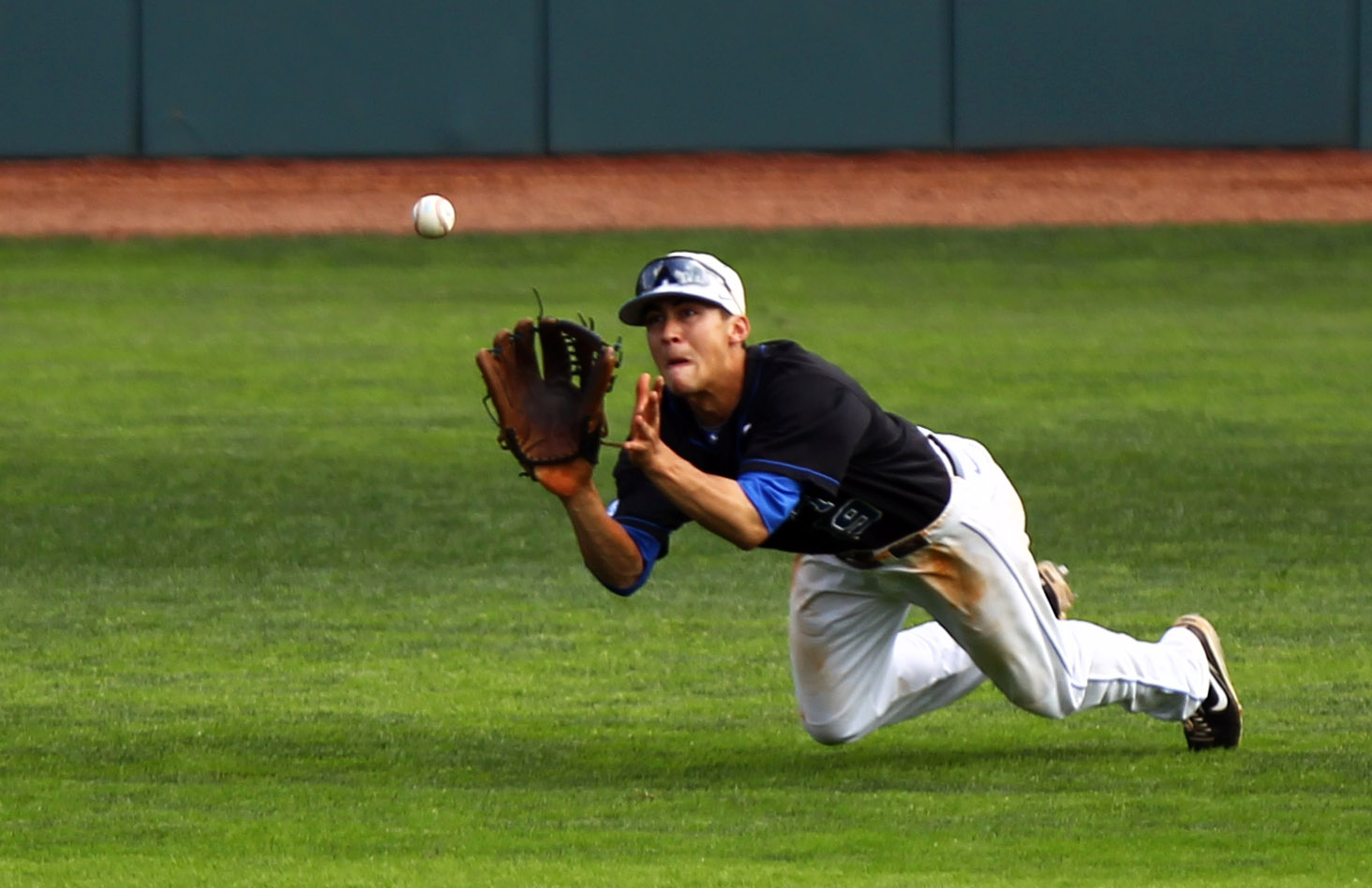 LEXINGTON, Ky. — Former Kentucky southpaw Andrew Albers worked 6.1 innings in three games in relief to help push the Team Canada to a Gold Medal win over Team USA in the 2015 Pan American Games.
Albers, a UK star from 2005-08, has been a fixture with the Canadian National Team, helping Team Canada to a pair of Gold medals. Over three relief appearances in the Pan America Games in Toronto, Albers worked 6.1 innings, allowing just three hits and three walks, striking out 11. He worked in Canada's Gold Medal win over the U.S. Pan American Men's Baseball Team, a 7-6 win in extra innings.
BARRETT, TOM MAKE PROFESSIONAL DEBUTS
Kentucky 2015 draftees Kyle Barrett and Ka'ai Tom have made their professional debuts.
Tom, playing with the Mahoning Valley Scrappers in the New York-Penn League, has collected 21 hits in his first 24 professional games. He has ripped three doubles and driven in five runs, while stealing 10-of-11 bases. Tom, a third-round pick of the Cleveland Indians in 2015, owns a 18-14 walk-strikeout ratio. Tom hit .352 (148-for-420) in his two-year Kentucky career, scoring 81 runs, ripping 29 doubles, one triple and eight homers, driving in 92 runs and stealing 29 bases.
A native of Douglasville, Ga., Barrett is also in the NY-Penn League but has been limited to four games and 11 at-bats.  A 15th-round pick in the 2015 MLB Draft, Barrett completed his Kentucky career with a .324 average (174-for-537) with 106 runs, 22 doubles, four triples, two homers and 59 RBI. Barrett stole 21 bases, playing in 145 games in his career.
Andrew Albers, LHP (2005-08) – Triple-A (Buffalo), MLB (Toronto), Pan-Am Games (Canada)
2015 (Triple-A): 2-9, 4.40 ERA, 16 APP, 12 GS, 73.2 IP, 83 H, 36 ER, 21 BB, 47 SO
2015 (MLB): 0-0, 3.38 ERA, 2.2 IP, H, ER, 2 BB, SO
2015 (Team Canada): 0-0, 3 APP, 6.1 IP, 3 H, 4 ER, 3 BB, 11 SO
Kyle Barrett, OF (2013-15) – Rookie League (NY-Penn League)
2015: .167 (1-for-11)
Austin Cousino, CF (2012-14) – Rookie League (AZL), Low Class-A (Clinton)
2015 (AZL): .429 (9-for-21), 3B, 4 RBI, 2-3 SB
2015 (Low-A): .188 (13-for-69), 3 2B, 3 RBI, 5-5 SB
Collin Cowgill, OF (2005-08) – MLB (Angels)
2015: .180 (11-for-61), 2 2B, 3B, HR, 2 RBI, 1-2 SB
Logan Darnell, LHP (2008-10) – Triple-A (Rochester)
2015: 2-0, 3.28 ERA, 26 APP, 2 GS, 35.2 IP, 40 H, 13 ER, 16 BB, 34 SO
Cameron Flynn, OF (2011-12) – High Class-A (Jupiter)
2015: .191 (38-for-199), 3 2B, HR, 11 RBI
Trevor Gott, RHP (2011-13) – Double-A (Arkansas), Triple-A (Salt Lake), MLB (Los Angeles)
2015 (Double-A): 1-0, 3.20 ERA, 18 APP, 8 SV, 19.2 IP, 19 H, 7 ER, 7 BB, 20 SO
2015 (Triple-A): 0-0, 0.00 ERA, 7 APP, 8.1 IP, 7 H, 0 ER, 5 BB, 10 SO)
2015 (MLB): 1-0, 3.07 ERA, 15 APP, 14 H, 5 ER, 4 BB, 7 SO
Jerad Grundy, LHP (2012-13) – Low Class-A (Beloit)
2015: 0-1, 5.25 ERA, 21 APP, 1 GS, 1 SV, 36 IP, 43 H, 21 ER, 19 BB, 32 SO
Max Kuhn, C/IF (2012-14) – Low Class-A (Beloit)
2015: .215 (70-for-325), 17 2B, 2 3B, 4 HR, 35 RBI
Corey Littrell, LHP (2011-13) – High Class-A (Palm Beach)
2015: 5-6, 3.01 ERA, 20 APP, 10 GS, 83.2 IP, 87 H, 28 ER, 11 BB, 66 SO
Luke Maile, C (2010-12) – Triple-A (Durham)
2015: .193 (39-for-202), 7 2B, 3B, 4 HR, 17 RBI
Alex Meyer, (2009-11) – Triple-A (Rochester), MLB (Minnesota)
2015 (Triple-A): 3-5, 5.51 ERA, 24 APP, 8 GS, 65.1 IP, 78 H, 40 ER, 34 BB, 72 SO
2015 (MLB): 0-0, 16.88 ERA, 2 APP, 2.2 IP, 4 H, 5 ER, 3 BB, 3 SO
James Paxton, LHP (2007-09) – MLB (Seattle)
2015: 3-3, 3.70 ERA, 10 GS, 58.1 IP, 54 H, 22 BB, 45 SO
Tim Peterson, RHP (2012) – Low Class-A (Savannah)
2015: 1-0, 1.13 ERA, 6 APP, 8 IP, 7 H, 1 ER, 3 BB, 6 SO
AJ Reed, 1B (2012-14) – High-A (Lancaster), Double-A (Corpus Christi)
2015 (High-A): .348 (121-for-348), 19 2B, 5 3B, 24 HR, 90 RBI
2015 (Double-A): .367 (11-for-30), 3 2B, 3B, HR, 9 RBI
Taylor Rogers, LHP (2010-12) – Triple-A (Rochester)
2015: 7-7, 3.46 ERA, 19 APP, 18 GS, 122.1 IP, 125 H, 32 BB, 85 SO
J.T. Riddle, SS (2011-13) – High Class-A (Jupiter), Double-A (Jacksonville)
2015 (High-A): .270 (50-for-185), 6 2B, 3B, 9 RBI, 7-10 SB
2015 (Double-A): .298 (25-for-84), 3 2B, 3B, 2 HR, 10 RBI
Chris Rusin, LHP (2006-09) – Triple-A (Albuquerque), MLB (Colorado)
2015 (Triple-A): 3-2, 6.29 ERA, 7 APP, 6 GS, 34.1 IP, 47 H, 24 ER, 11 BB, 18 SO
2015 (MLB): 3-3, 3.88 ERA, 11 APP, 9 GS, 60.1 IP, 72 H, 36 ER, 18 BB, 40 SO
Chandler Shepherd, RHP (2012-14) – Low Class-A (Greenville), High Class-A (Salem)
2015 (Low-A): 3-0, 1.23 ERA, 7 APP, 1 SV, 14.2 IP, 2 ER, 3 BB, 16 SO
2015 (High-A): 0-2, 3.86 ERA, 16 APP, 2 SV, 35 IP, 31 H, 15 ER, 5 BB, 28 SO
Micheal Thomas, C (2010-14) – Rookie League (GCL), Rookie League (NY-Penn League)
2015 (GCL): .182 (4-for-22), 2B
2015 (NY-P): .000 (0-for-2)
Ka'ai Tom, OF (2014-15) – Rookie League (NY-Penn League)
2015: .226 (21-for-93), 3 2B, 5 RBI, 10-11 SB