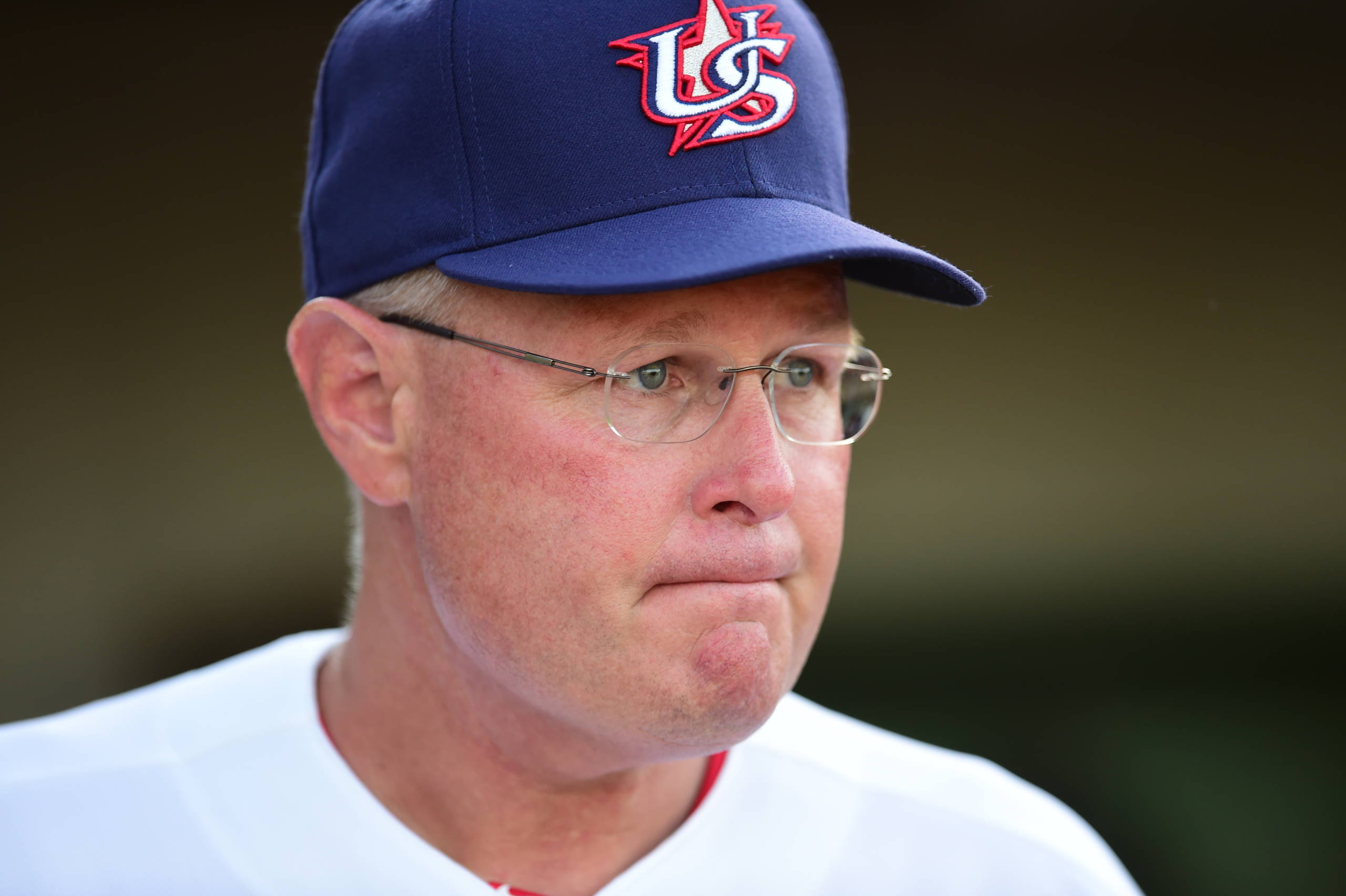 LEXINGTON, Ky. — Kentucky head coach Gary Henderson completed a historic summer tour with the USA Baseball Collegiate National Team, as the pitching coach, helping direct Team USA to series wins over Cuba and Chinese Taipei.
"I loved it. I really, really enjoyed it," Henderson said. "It was great to be with Ed, Rich, Paul and Elliot. I really enjoyed the kids as well. Winning the series vs. Taiwan and Cuba was a great experience."
Henderson, in his eighth season at the helm of the Kentucky Wildcats, joined the Team USA coaching staff that featured St. John's head coach Ed Blankmeyer as the manager, Henderson as the pitching coach, LSU coach Paul Mainieri as the bench coach, San Diego coach Rich Hill as the third base/hitting coach, and N.C. State's Elliot Avent as the first-base coach. Henderson and Hill played together at San Diego State during their collegiate careers.
"It is great when you know someone when they are 18-20 years old and now you get to hang around them when they are 52, 54 years old," Henderson said about spending time with Hill. "It is just a different time of life. I really enjoyed being with Rich. Really enjoyed Ed's leadership, he did a great job."
During the summer tour, Team USA posted a historic no-hitter in a 2-0 win over the Cuban Senior National Team to open the series. Team USA then blanked Cuba in the second game, marking the first time Cuba had ever been shutout in two games in the same summer tour. Cuba had only been shut out by Team USA three times before the 2015 pitching staff's heroics. Team USA was on the verge of shutting out Cuba in the series clincher in Charlotte on July 4, but a two-out double put the final score at 11-1 – equaling the largest defeat of Cuba in series history.
During the series with Cuba, Team USA had a 1.40 ERA, allowing only five walks and 32 hits in 45 innings, limiting Cuba to a .195 team average.
Henderson was charged with directing a pitching staff that featured 18 of the top arms in college baseball. He worked directly with Southeastern Conference standouts Robert Tyler (Georgia), Tanner Houck (Missouri), A.J. Puk (Florida), Zach Jackson (Arkansas), Ryan Hendrix (Texas A&M) and Logan Shore (Florida).  In addition, Louisville standouts Brendan McKay and Zack Burdi helped complete the bullpen, along with fellow college stars Stephen Nogosek (Oregon), Daulton Jefferies (Cal) and Mike Shawaryn (Maryland).
Team USA Pitching Notes
On the mound, had a 3.54 team ERA with three shutouts in 17 games, owning six saves. Team USA walked only 42 in 145 innings, striking out 153, with opponents hitting .242.
Team USA's battery allowed only 16 steals, throwing out 14 base runners.

Team USA lefty Seth Romero (Houston) picked off three runners.

Team USA's bullpen was 9-1 when leading after six innings, 8-0 when leading after seven and 7-0 when leading after eight innings.

Overall, the bullpen had a 3.67 ERA with six saves in 88.1 innings, striking out 99.
The Team USA bullpen inherited 31 runners, allowing only 10 to score.

Righty Stephen Nogosek (Oregon) inherited a team-high six runners, allowing only two to score.
Bailey Clark (Duke) inherited five runners, with one scoring.

The starting pitching for Team USA totaled a 3.34 ERA in 56.2 innings, allowing only 42 hits and 16 walks, striking out 54, with opponents hitting .207.