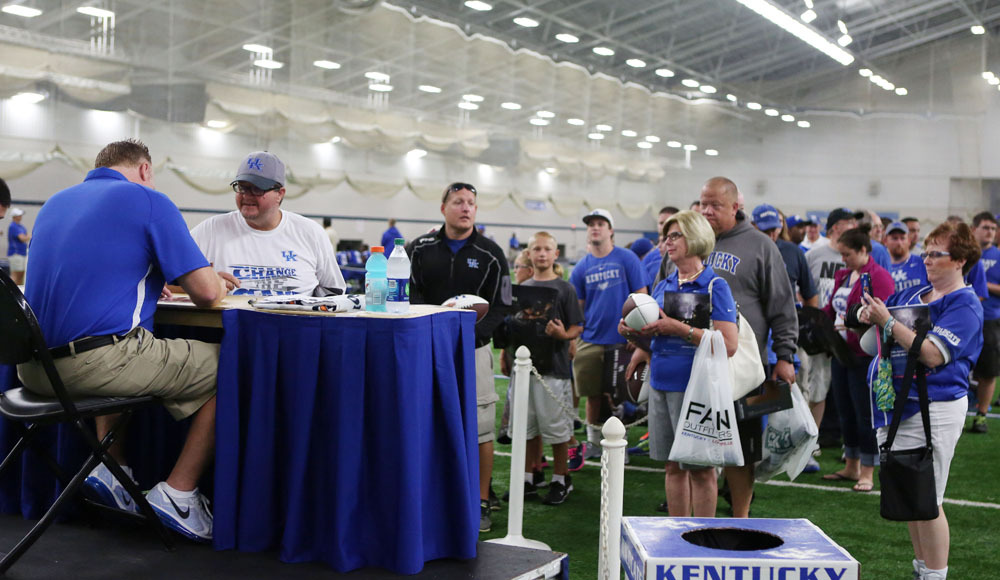 LEXINGTON, Ky. — Kentucky football Fan Day will be held Saturday,
Aug. 8 at 9 a.m. inside Nutter Field House, followed by an open
practice at approximately 10:45 a.m. at the Tim Couch Practice Fields at
the Nutter Training Center. Admission and parking for the event are
free of charge.
Kentucky student-athletes and coaches will sign
autographs at the annual event from 9-10:15 a.m. New 2015 posters and
schedule cards will also be available for pickup. Please note that UK
Athletics is requesting autographed items be limited to one per fan.
At
the conclusion of the autograph session, fans are invited to attend an
open practice at the Tim Coach Practice Fields at the Nutter Training
Center that will last from approximately 10:45 a.m.-12:15 p.m.
Parking
and admission for both portions of the event are free. Parking will be
available in the Glenn Nissan Red Lot, Glenn Infiniti of Lexington Green
Lot and Glenn Hyundai Blue Lot adjacent to The New CWS and Nutter Field
House. Fans may either walk to the open practice or park near the Tim
Couch Practice Fields, in the C8 lot behind the right-field fence of
Cliff Hagan Stadium, or the three (3) designated Employee lots on Sports
Center Drive, north of Cooper.
The event will be part of the
opening week of fall camp for the 2015 Kentucky Wildcats, who are
scheduled to arrive for camp on Aug. 6 and will participate in UK's
annual media day on Aug. 7. The Wildcats will be preparing for the 2015
season, which opens vs. UL Lafayette at 7 p.m. on Sept. 5 at The New
CWS, which will be hosting its first game after a $120 million
renovation.
Fans can purchase season tickets, single-game tickets for home and away games, and 2015 mini-packs by visiting ukfootballtix.com.
For more information on Kentucky football, follow @UKFootball or @UKCoachStoops on Twitter.