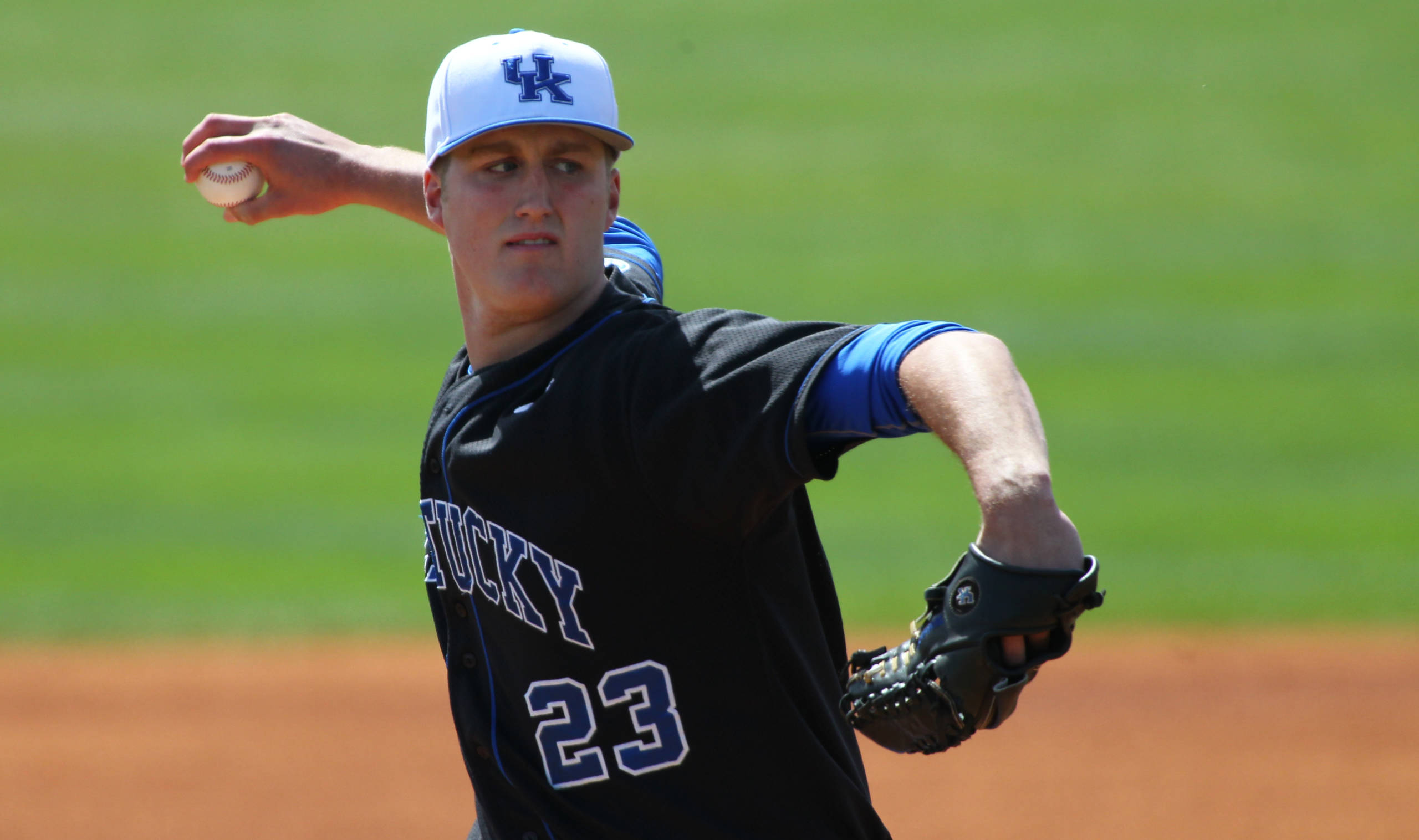 DESTIN, Fla. — A second-round pick of the Minnesota Twins in the 2015 MLB Draft, right-handed pitcher Kyle Cody has elected to return to Kentucky for his senior season, he announced on Friday evening.
Cody, selected No. 73 overall by the Twins in the 2015 MLB Draft, joins Kentucky righty Dustin Beggs as weekend starting pitchers to elect to return to UK for the 2016 season on Friday. Beggs, a 32nd round pick, led UK in wins, innings pitched and strikeouts after transferring to Kentucky in 2015 out of junior college.
A 6-foot-7, 245-pound native of Chippewa Falls, Wis., Cody appeared in 14 games with 12 starts for Kentucky in 2015, owning a 4-4 mark in 66 innings, allowing 63 hits and only 17 walks, striking out 63. Cody has appeared in 47 games in his career with 28 starts, sporting an 11-7 mark and a 4.40 ERA with five saves. The starting pitcher in the 2014 Cape Cod League All-Star Game, Cody has worked 161.2 innings in his career, allowing only 156 hits and 50 walks, striking out 130.
As a sophomore in 2014, Cody had a 2-0 record and a 2.84 ERA with five saves. During his freshman season, Cody shined late in the year in the weekend rotation, owning 47 strikeouts in 57.2 innings.
Cody and Beggs make 11 Wildcats to be drafted out of UK as a junior to elect to return to school for their senior seasons in the last seven years. Among the players who have improved their draft positions by returning to UK include MLB outfielder Collin Cowgill (29th round in 2007, fifth round in 2008), Sawyer Carroll (18th round in 2007, third round in 2008), Scott Green (15th round in 2007, third round in 2008), Jerad Grundy (27th round in 2012, 10th round in 2013), Taylor Black (28th round in 2010, 16th round in 2011), Chris Rusin (23rd round in 2008, fourth round in 2009), Michael Williams (37th round in 2011, 30th round in 2012) and Sean Coughlin (42nd round in 2006, 13th round in 2007).