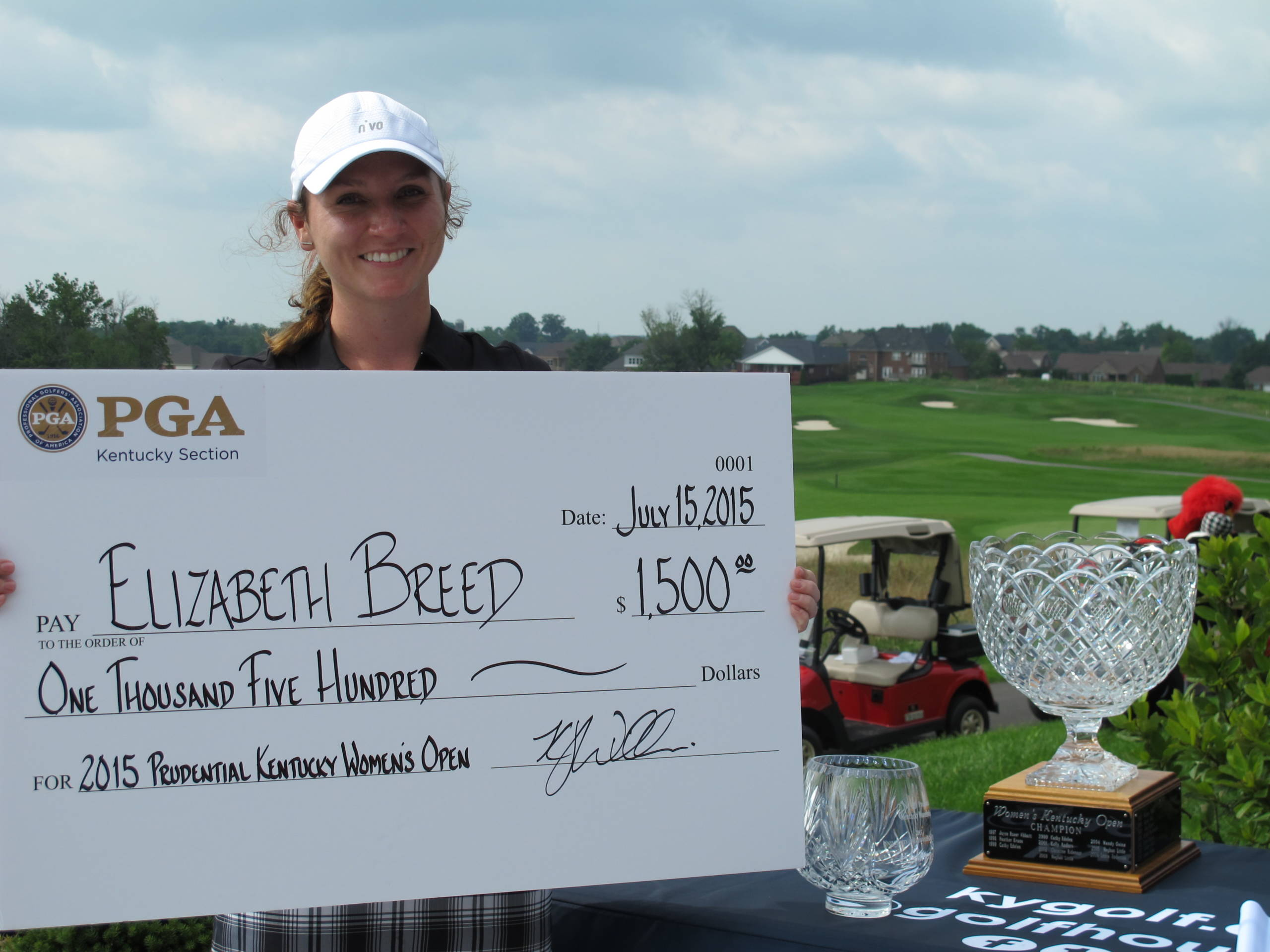 Former, Future Cats Win Respective State Tournaments
LEXINGTON, Ky. – Liz Breed, a former Kentucky women's golfer, and Jordan Chael, a UK women's golf newcomer, won their respective state tournaments on Wednesday.
Breed, who starred at UK from 2010 to 2014, fired a final-round 67 to come from behind and win the Kentucky Open at the University of Louisville Golf Club on Wednesday. Meanwhile in Missouri, junior Chael capped a spectacular 54-hole run Wednesday with the Missouri Women's Golf Association Amateur Championship at the Country Club of St. Albans.
"I am so very proud of both Liz and Jordan," head coach Golda Johansson Borst said. "They both stepped up and played some great golf to win those events. I couldn't be happier for Liz. She did so much for our program and really helped turn it around. It's also really exciting that she got her first win as a professional in the state of Kentucky.
"Jordan's win was also very impressive and she is continuing to show her toughness. I can't wait to have her join us on campus in August and have her be a part of our team. All of our girls are putting in a lot of hard work this summer and I'm looking forward to seeing the improvements of our team in the fall."
Breed came from behind in the second and final round to win the annual Kentucky Women's Open, her first victory as a professional. Three shots behind the first-round leaders to start Wednesday's final 18 holes – including current Wildcat Grace Rose, who shared the first-day lead at even par – Breed carded a tournament-low 67 (5-under par) to get to 2-under par overall and win the tournament by a stroke.
In Breed's sensational final round, she carded six birdies overall with just one bogey. At one point she recorded four birdies in a five-hole stretch.
Breed was a key cog in the start of the successful Golda Johansson Borst era, which has included a school-record five straight NCAA regional appearances. Owner of the lowest single-season stroke average in school history (73.87 in 2013-14), Breed captured five career top-10 finishes, including two apiece in her junior and senior seasons. Breed ranks second in school history with 17 even- or under-par rounds, and her 64 in the final round of the Schooner Fall Classic in 2013 is the lowest round in program annals.
Grace, who will be a sophomore in the fall, shot a final-round 73 on Wednesday and finished in sixth place at the Kentucky Open at 1-over par overall.
A decorated player at the amateur level, Chael won her first career Missouri Women's Golf Association Amateur Championship with a solid three rounds of golf. Chael shot even par in the opening round, 1-under par in the second round and a tournament-best 68 (4-under par) in the final 18 holes to pull away from the field. Chael finished at 5-under par overall in the 54-hole tournament, the only player in red numbers and five shots ahead of the second-place finisher.
Chael had won 21 of 27 tournaments as a high-school amateur, including the Kansas 5A individual state championship, three straight Class 5A state team titles and the Missouri Women's Golf Association Junior Championship in 2012, but she told the St. Louis Post-Dispatch her championship this week was her "biggest win" because of how well she played on the final day. Chael recorded at least four birdies in all three rounds, including six each in the final two rounds.
Chael will join Kentucky in the fall as a junior after transferring from Nebraska. With a 76.48 career scoring average that ranks second all-time in the Nebraska record books, Chael collected four top-10 finishes in her two-year career as a Cornhusker, including three last season. She led Nebraska last season with a 75.30 stroke average.
For the latest on the Kentucky women's golf team, follow the team on Twitter, Facebook and Instagram, as well as on the web at UKathletics.com.