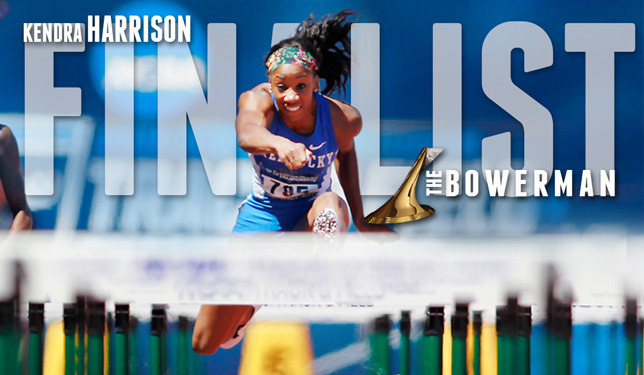 Kendra Harrison a Finalist for the Bowerman Award
By Jacob Most

July 9, 2015
LEXINGTON. Ky. – Kendra Harrison was named one of three finalists for the 2015 Bowerman Award, college track and field's top individual honor, on Thursday.
Harrison went undefeated in short hurdles races (60-meter hurdles indoors and 100m hurdles outdoors) throughout the 2015 collegiate season. She won two NCAA Championships, two Southeastern Conference titles in addition to the NCAA and SEC Silver Medals in the 400m hurdles this season.
Harrison was named USTFCCCA National Outdoor Track Athlete of the Year, as voted upon by college coaches, last month.
The other finalists are Jenna Prandini (Oregon) and Demi Payne (Steven F. Austin).
Voting to determine the winner begins July 27 and concludes August 11.
Fan voting will take place simultaneously on TheBowerman.org. The results will collectively count as one ballot alongside those cast by media members, statisticians, USTFCCCA member coaches and other experts from around the nation.
Finalists were chosen by The Bowerman Advisory Board, a ten-person panel of track & field experts from around the country, based on performances recorded during the 2014 indoor and outdoor track & field seasons. Only performances through the conclusion of the NCAA Outdoor Track & Field Championships are eligible for consideration.
Harrison will take part in the Bowerman Trophy presentation ceremony on December 17 in a live-streamed award show as part of the U.S. Track & Field and Cross Country Coachesa Association convention in San Antonio.
The case for Harrison
Harrison, a senior, won the NCAA Championships in the 60-meter hurdles indoors, the 100m hurdles outdoors, and took second in the 400m hurdles outdoors.
Her times in the 100m hurdles (12.50) and 60m hurdles (7.87) make her the third fastest college woman ever, trailing only Ginnie Powell and 2013 Bowerman winner Brianna Rollins in both events. She is the fifth-fastest collegian ever in the 400m hurdles.
Her times are all the more impressive considering they came within 35 minutes of one another. For context, Harrison's NCAA-winning 100m hurdles time of 12.55 (making her the No. 2 performer in the world this year) would have equaled the Bronze Medal performance at the 2013 IAAF World Championships, while her 400m hurdles time (also ranked No. 2 in the world this year) would have equaled the Silver Medal Performance as the last World Championships, and none of the women in that 2013 World Championship Final had run a race earlier that day or the day prior.
As mentioned earlier, the Bowerman Award does not take into account performances that occur outside the collegiate season. Harrison's Silver Medal at the USA Track & Field Championships will not be considered, nor will the fact that she made the U.S. World Championships team.
An in-depth breakdown of the selection process is available at TheBowerman.org.