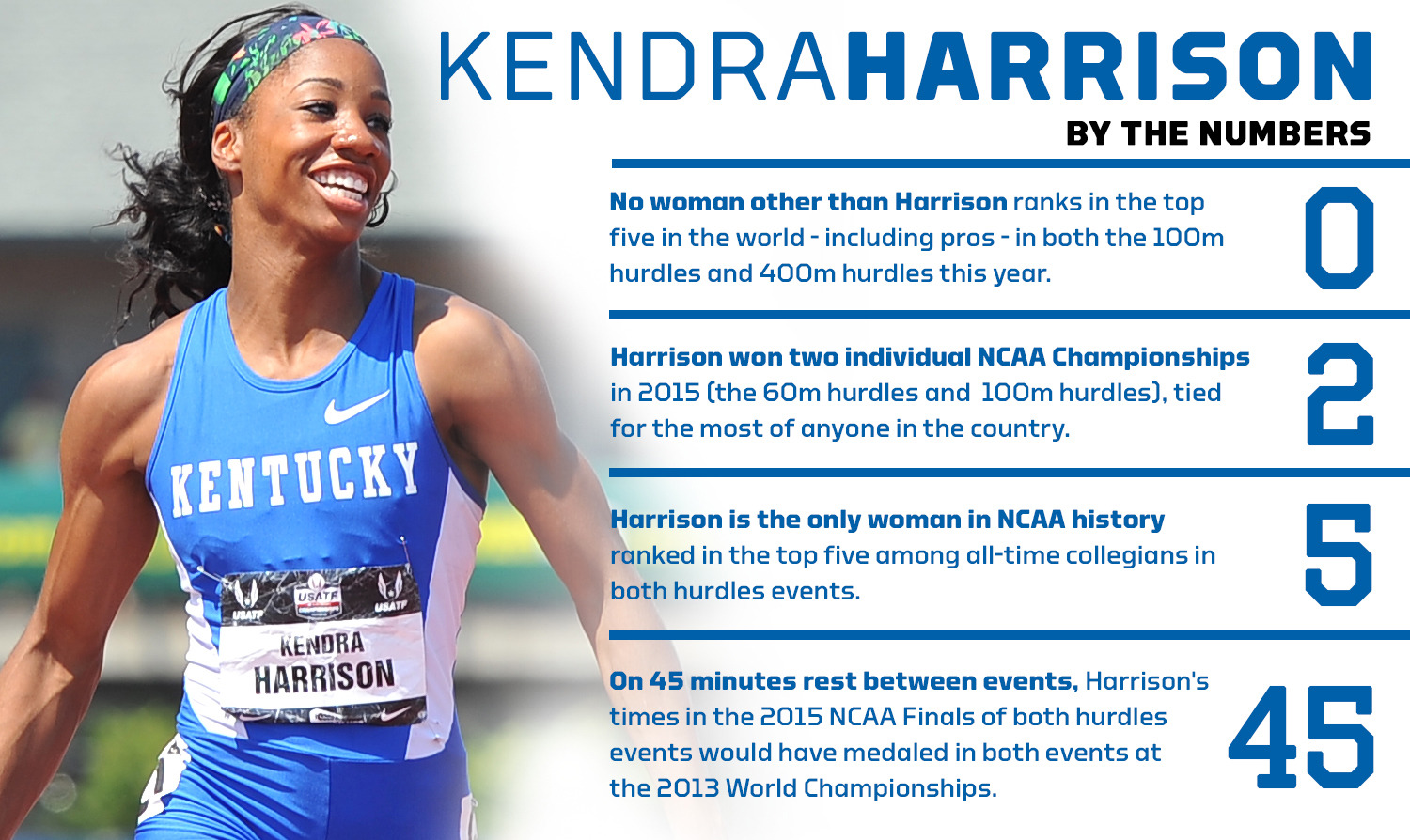 One of the All-Timers? Kendra Harrison's Historic Season in Context
By Jacob Most

July 7, 2015 –
LEXINGTON. Ky. – Kendra Harrison turned in a historically astonishing season in 2015. In fact, her season was so good that it's not yet over.
As a collegiate competitor, she defeated some of the world's best professionals in the 100-meter hurdles at the USA Track and Field Championships to make the American team for the 2015 World Championships– the hardest team to make in sports.
And she did so while going through a full course load at an Academic All-America standard.
Harrison went through the collegiate season without losing a short hurdles race. She won two NCAA Championships, two Southeastern Conference titles and led Kentucky to the NCAA runner-up team finish.
She took the Silver Medal at USAs in the 100m hurdles, outlasting a field of world-class Americans to make the World Championships team in what is considered the U.S.' deepest event.
She lost to just one person – a professional – all season. That person is one of the greatest hurdlers of all time: Dawn Harper-Nelson, the first American 100-meter hurdler to ever win gold at an Olympics and medal in the following Olympics (silver). Nelson, a 10-year professional, just edged Harrison – a collegian – by .01 seconds in the USATF Final.
Harper-Nelson's coach, Bobby Kersee – a legend in the coaching ranks who has coached countless gold medalists and world-record setters – took notice of Harrison's unique season
"She's going to be one of the great representatives for our sport, for our country," Kersee said. "Outstanding person, outstanding personality and hard-working. Believing in a good program; that's what it takes."
But to add fuel to the piping hot fire that was Harrison's 2015 run, she was historically fast in more than one event.







The historic precedent
In 2015, Kendra Harrison came as close as anyone has ever come to "doing a Queen Harrison."

That is to say winning both 100m hurdles and 400m hurdles at the NCAA Championships, which Queen did in 2010. She won the Bowerman Award that season too.

Queen Harrison won her NCAA titles in respective times of 12.67 and 54.55. So Kendra Harrison's 2015 times at the 2015 NCAA Championships were faster in both events.

And Kendra ran those races on the same day (the prelims of both the 100m hurdles and 400m hurdles on Thursday, and the finals of both on Saturday). Queen ran one race per day (prelims and finals) over four days.

Kori Carter – who Floreal recruited and coached while he was at Stanford- also came one place from winning the hurdles double in 2013. She won the 400m hurdles in a collegiate-record 53.21, but then placed second in the short hurdles with a time of 12.79. So the short hurdles time was slower than what Kendra ran this year.




With her 12.50 to win the 100m hurdles at the SEC Outdoor Championships and her 54.09 to finish runner-up at the NCAA Outdoor Championships, she became the only woman in collegiate history to be ranked top-five all-time among collegians in both events.
She is now ranked No. 3 in the 100m hurdles and No. 5 in the 400m hurdles all-time,
underscoring the difficulty of excelling in both events.
And, unlike say sprints or distance events where top competitors regularly excel in multiple events, the two hurdles events are notoriously difficult to double in.
"It's one of the things I've always tried, and I know it's very difficult," Kersee said of Harrison's hurdles double at the NCAA Championships. "It's one of the toughest doubles. It's one of the hardest situations to do particularly in that short a period of time. But it shows once again in terms of believing in the program, having the conditioning, having the confidence and going out there and just thinking about doing what she needs to do."
Accounting for 100m hurdles and 400m hurdles races in 2015, Harrison lost three times (she finished as silver medalist in the 400m hurdles at SECs and NCAAs), to two people total. To illustrate how good Harrison was this year – and the type of performance it took to beat her — both the people that defeated Harrison in 2015 won USATF Titles, and it took world-leading or top-three times in the world.
She still ranks in the top five in the world this season in both the 100m hurdles and 400m hurdles. She's the only person in the world who can say that.
And she's now a serious contender for a World Championships medal in the short hurdles.
"I don't think people understand how difficult it is to be elite in those two events," Harrison's coach, Edrick Floreal said. "They contradict themselves in terms of technique and required strengths. One is all about speed, and the other is about endurance. Those two things don't always go together.
"And to top it all off they're so technically challenging."
That difficulty increased exponentially this year as Harrison had 35 minutes to rest between the two NCAA finals. This year was the first time the finals were held on the same day.
Perhaps the most impressive factor, which made Harrison's season special was that she was competing in collegiate events as an amateur with performances that were consistently better than most of the world's top professionals.
Add to that the pressure of competing at the NCAA Championships in contention for the team title and her historically fast times become more unprecedented.
Harrison's NCAA-winning 100m hurdles time of 12.55 would have equaled the Bronze Medal performance at the 2013 IAAF World Championships. Her NCAA Silver Medal 400m hurdles time of 54.09 would have equaled the Silver Medal Performance at the last World Championships.
Harrison recorded those times within 35 minutes of one another. None of the women in that 2013 World Championship 400m hurdles Final had run a race earlier that day or the day prior.
So whereas almost no professionals run both hurdles events – and the ones that do certainly don't try them on the same day, electing instead to focus on just one – Harrison ranks in the top five globally in both events this year with times that were recorded within 35 minutes of each other.