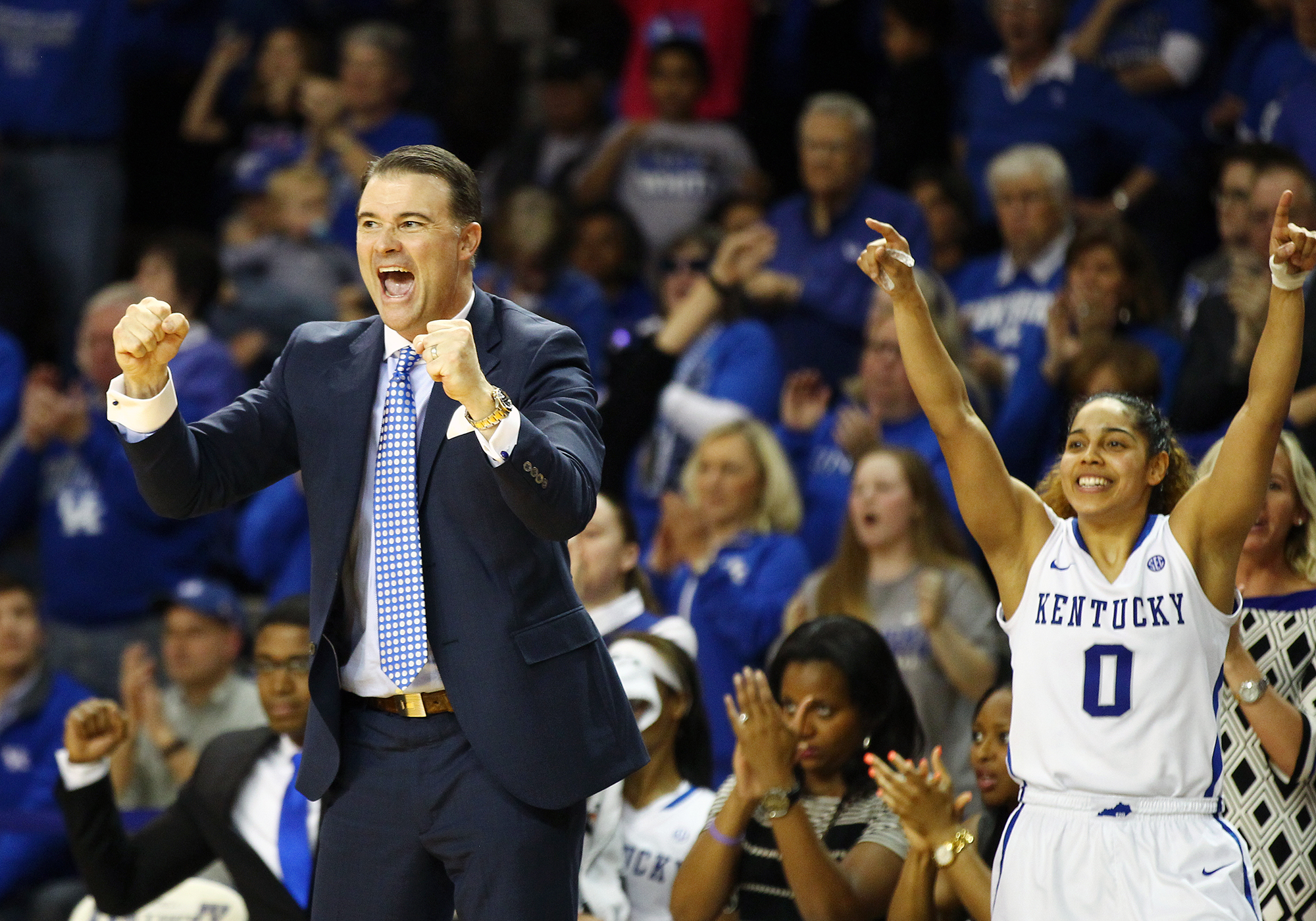 UK Hoops Attendance Ranks Seventh Nationally
July 6, 2015
LEXINGTON, Ky.  – The University of Kentucky women's basketball program finished seventh nationally in average attendance in 2014-15 with 6,379 fans per game, according to the official rankings kept by the NCAA. It marked UK's highest ranking since leading the nation in 1982-83.
The Wildcats have now ranked in the top 25 in average attendance 12 straight seasons, including two consecutive in the top 10. The 108,436 fans in 17 home games marks the third-highest total attendance mark in school history and the 6,379 fans per game is the second-highest average attendance mark.
"Our fans are incredible," UK Hoops head coach Matthew Mitchell said. "I've said this many times but there is no better fan base than the Big Blue Nation. We love the atmosphere they create in Memorial Coliseum and when they pack the house in Rupp Arena it is absolutely electric. They truly are our sixth man."
In the last six seasons, Kentucky has compiled an impressive 90-10 (.900) record in home contests, including four games played in Rupp Arena. On Nov. 17, 2014, a season high of 22,075 witnessed UK's 74-64 upset over No. 8/9 Baylor in the annual "Pack the House" game in Rupp Arena. It was
the second-highest attendance mark in school history.
The Southeastern Conference led the nation in women's basketball attendance in 2014-15 becoming just the second league in NCAA history to top the one million mark.  The total (1,011,451) is the fourth best by any league in NCAA history and only the Big 12 has had more in a single season. In total, nine SEC schools were ranked in the Top 50 for average home attendance with four listed in the Top 25. In the SEC, only South Carolina (No. 1 – 12,293) and Tennessee (No. 2 – 10,375) averaged more than the Cats. UK finished with a 14-3 home record, including a 6-2 mark in league play.
For the latest information on Kentucky women's basketball, follow the Wildcats on Twitter and Instagram at @UKHoopCats and follow head coach Matthew Mitchell at @UKCoachMitchell.