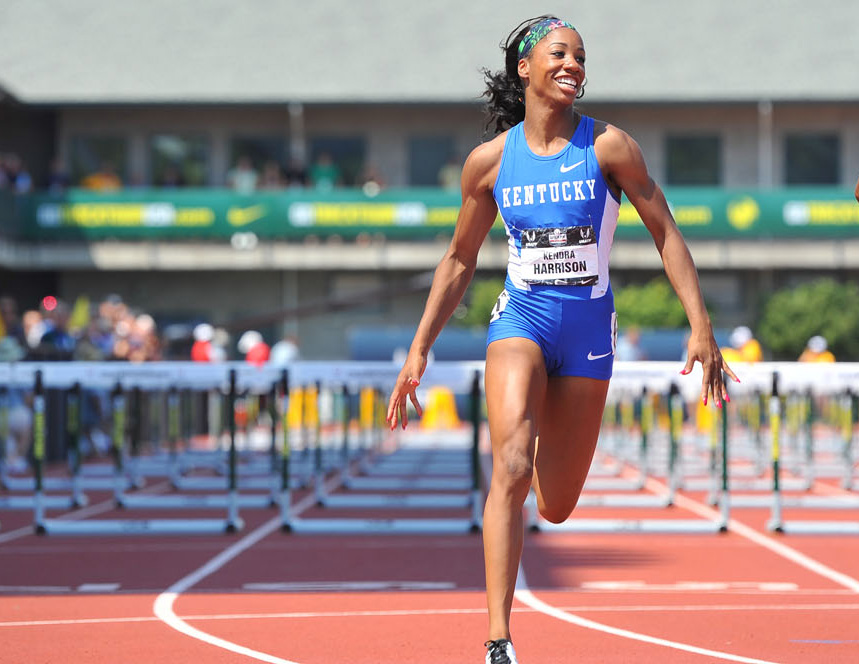 Kendra Harrison Wins U.S. Silver Medal in 100m hurdles
By Jacob Most

June 27, 2015 
Results
|
Meet Central
|
Photo Gallery
EUGENE, Ore. – Kentucky's Kendra Harrison claimed the American Silver Medal in the 100-meter hurdles, at the United States Outdoor Track and Field Championships on Saturday at Hayward Field.
Harrison ran 12.56, finishing in a photo finish .01 seconds behind 2008 Olympic Gold Medalist and 2012 Silver Medalist Dawn Harper-Nelson (12.55).
With the top-3 finish, Harrison qualified to represent the U.S. at the 2015 IAAF World Championships in Beijing.
"I'm becoming more of an elite hurdler, a senior in this event," Harrison – who has the second fastest 400m hurdles time in the world this year despite electing to focus on the short hurdles this week – said. "Each round, I'm able to stay focused and do what I need to do. I think anything is possible now. I'm going to train hard. I'm going to be with the best hurdlers so hopefully I can come out well when I go to China. My outdoor season has been phenomenal, and I'm just happy to make the team."
Harrison's second-place finish ended her undefeated run in short hurdles races both indoors and outdoors this year. Competing in a Kentucky uniform throughout the run – which included NCAA and Southeastern Conference Championships in both the 60m hurdles and 100m hurdles – Harrison has only been beaten by one of the best hurdlers of all-time, and by the narrowest of margins.
"This was her first loss in the 100m hurdles all year," UK head coach Edrick Floréal said. "That means you have to survive all the rounds of USAs and beat all the professional athletes. All the people that do this for a living while you have to go to class and she's an Academic All-American.
"I think in the scope of that year, accomplishing all those things combined with her background: being adopted as one of 11 siblings, winning NCAAs and doing an incredible hurdle double at the NCAA Championships in 35 minutes, deserves a lot of praise. She's overcome life adversity and a lot of things to become a champion. That's truly what I think Keni is. A champion in life."
Saunders makes Team USA in long jump

Sophomore Sha'Keela Saunders apparently fed of the emotions of Harrison's success as she claimed fifth place in the long jump, in a field which included two Olympic Medalists one of whom is the reigning Olympic Champion. She tied her lifetime best mark, 22-feet-1.75 inches/6.75 meters on her final jump of the day, which she took moments after watching Harrison make Team USA.
Notably, she had a consistently strong performance with four jumps better than 21'8" including the 22-footer on her last attempt.
"Throughout the competition I was telling myself how my mom (who's in the U.S. Military) just got stationed in Korea so that's relatively close to Beijing in terms of a flight duration," Saunders said. "That was my hope, that she could come to see me, but I'm okay with another PR. The PanAm Games are next for me. That's still a big competition, but I'm going to be ready to work."
Saunders qualified for the American team that will compete at the Pan American Games in Toronto next month, and she will be an alternate for the World Championships team as the U.S. will send four athletes to Beijing in that event.
"Sha'keela is one spot away from making the World Championships team as a sophomore,"" Floréal said. "Look at what she's accomplished also. Not many sophomores out there have accomplished what she has. She's represented her school throughout the year well, academically taking care of business and being a champion."
"I couldn't be prouder. She has a great attitude, a great personality and is a fantastic competitor."
Kenyattia Hackworth reached a lifetime best mark of 21'4″/6.50m in the long jump, but missed the final by one spot. She finished ninth at the USATF Championships in her first post-collegiate meet.
Bryant moves on in 200m

Dezerea Bryant won her 200m prelim heat to advance to tomorrow's 200m semifinal, which will go off at 3:05 p.m. ET. Her qualifying time of 22.53 was the third fastest of anyone.
"What's most impressive about Dez is her height," Floréal said. "I've heard 1,000 times this week 'I can't believe how little she is.' When you can overcome your shortcomings – your height – all the things people say you don't have that you need to be successful and you still succeed It's kind of cool .
"These young women have overcome life. Dez lost two brothers and is still here with a chance to make the World Championships. She looked fantastic today."
Other UK results from Saturday

Dominique Booker ran 23.43 for fourth place in heat two of the 200m. She did not advance, finishing 22nd overall.
Keilah Tyson ran 23.56 in heat three of the 200m. She was fourth in her heat, 23rd overall and did not advance.
NCAA Bronze Medalist Leah Nugent did not advance out of the 400m hurdles semifinal. She was disqualified for running out of her lane.
Dezerea Bryant will be the only Wildcat to compete at USAs on Sunday.

Saturday Field Events



Rnd



Results


Women Long Jump

Final

5. Sha'Keela Saunders: 22'1.75"/6.75m
9. Kenyattia Hackworth: 21'4"/6.50m

Junior Men's Hammer

Final

4. Logan Bryer: 21'9"/66.98m
| | | | |
| --- | --- | --- | --- |
| Sunday | Sunday Running Events | Rnd | Start List |
| 12:05 PM | Women 200 M | Semis | |
| 2:31 PM | Women 200 M | Final | TBD |

Thursday Running Events



Rnd



Result


Women 100 M

Prelims

12. Dezerea Bryant: 11.07Q (+2.1)
24. Keilah Tyson: 11.37
25. Dominique Booker: 11.39
| | | |
| --- | --- | --- |
| Thursday Field Events | Rnd | Result |
| Junior Women Discus | Final | : 157'2"/47.91m |

Field Events



Rnd



Start List


Junior Women Shot Put

Final

4.
Adriana

Brown: 49'11″/15.21m