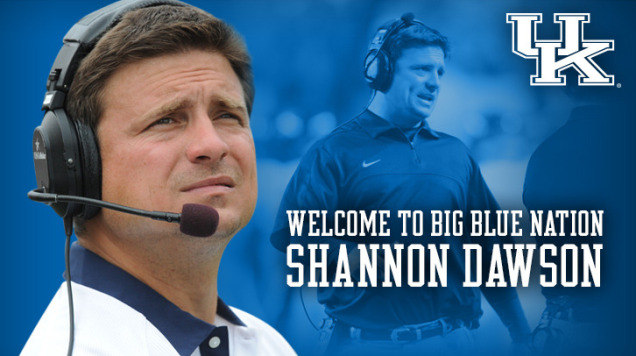 Dec. 19, 2014
LEXINGTON, Ky. – Shannon Dawson, offensive coordinator and quarterbacks coach at West Virginia University, will join the Kentucky football staff in the same roles, Head Coach Mark Stoops announced Friday.
"I'm very excited to bring Shannon Dawson to the University of Kentucky," Stoops said. "He has done a great job in helping build programs to success on every level. I've been impressed with the balance of West Virginia's offense and how difficult they are to defend. I love the continuity he will bring to what we've been doing as we build on the progress we've made so far.
"In learning more about Shannon, I've found out what a strong leader he is and heard nothing but good things about him throughout our profession."
Dawson is in his fourth season at West Virginia, including the last three as offensive coordinator, and will remain with WVU through Dec. 29 when the Mountaineers take on Texas A&M in the AutoZone Liberty Bowl. WVU has a 7-5 record against a schedule currently rated as the nation's 10th most difficult, according to the Sagarin Ratings in USA Today. Among the season highlights was a 41-27 win over Baylor, the Bears' only setback of the campaign.
Running a fast-paced attack averaging 85 plays per game, West Virginia ranks 11th in the nation in total offense, averaging 502.1 yards per game, and is ninth nationally in passing offense with 314.6 yards per contest. The Mountaineers are tallying 33.2 points per game and set a school record by scoring at least 30 points in eight consecutive games.
Averaging more than 44 rushing attempts and 187 rushing yards per game, WVU has been well-balanced with 531 rushing attempts and 489 passes. Three running backs have rushed for at least 450 yards each and four backs are averaging at least 4.6 yards per carry. The Mountaineers have had a 100-yard rusher in six games this season.
Individually, quarterback Clint Trickett has thrown for more than 3,000 yards. Wide receiver Kevin White has caught 102 passes for 1,318 yards and nine touchdowns en route to first-team All-America honors. Another wideout, Mario Alford, was named honorable-mention All-America. White, Alford and offensive linemen Mark Glowinski and Quinton Spain earned All-Big 12 accolades.
Dawson's first season in Morgantown was 2011 when he joined the staff of Dana Holgorsen as inside receivers coach. WVU promptly went 10-3 and was co-champion of the Big East Conference, one of five league title teams Dawson has helped coach during his career. WVU ranked in the nation's top 15 teams in scoring offense, total offense and passing offense that season. The Mountaineers capped the campaign with a 70-33 win over Clemson in the Orange Bowl, setting the bowl's scoring record.
Dawson's role expanded to offensive coordinator in 2012 as the Mountaineers rated top-10 nationally in scoring offense (39.5 points per game), total offense (502 yards per game) and passing (330.1 yards per game). WVU advanced to the Pinstripe Bowl.
Dawson coached the receiving duo of Tavon Austin and Stedman Bailey, who each earned All-America and All-Big 12 recognition and combined to tie or break 26 school records. Austin had an incredible season in 2012, catching 114 passes for 1,622 yards while leading the nation with 25 touchdown receptions. Austin was named the Paul Hornung Award winner for college football's most versatile player and the Jet Award for the top returner in the nation. Bailey also caught 114 balls and topped the 1,000-yard receiving mark while being named a finalist for the Biletnikoff Award as the nation's best receiver. Both players were selected by St. Louis in the NFL Draft, Austin as the eighth pick of the first round and Bailey in the third round, and are currently playing for the Rams.
In addition to his coordinator responsibilities, Dawson coached the quarterbacks in 2013-14 and WVU threw for more than 3,000 yards each season.
A native of Clinton, La., Dawson played his college football at Wingate (N.C.) University as a quarterback and wide receiver. He began his coaching career as receivers coach at his alma mater in 2002.
Dawson linked with former Kentucky head coach Hal Mumme in 2003-04, helping revive a program at Southeastern Louisiana that had been dormant for 17 years. In the second season, SLU went 7-4, and reached the top-25 rankings in Division I-AA (now the Football Championship Subdivision). Dawson also coached with Mumme at New Mexico State in 2005.
Dawson went to Millsaps College in Jackson, Miss., as offensive coordinator and quarterbacks coach in 2006-07. Coming off a 2-7 season in 2005, the Majors won the Southern Collegiate Athletic Conference championship both years Dawson was there, the first back-to-back titles in school history, and quarterback Juan Joseph was two-time SCAC Offensive Player of the Year. Dawson's attack generated more than 4,000 yards total offense each season. Eight players received all-conference recognition and wide receiver Chris Jackson became All-America. Millsaps participated in the NCAA Division III playoffs in 2006.
Dawson moved to Stephen F. Austin University in Nacogdoches, Texas as offensive coordinator and quarterbacks coach from 2008-10. Coming off a winless season and only 16 points per game in 2007, Dawson immediately orchestrated an amazing turnaround in SFA's offensive fortunes. In his first season, the Lumberjacks ranked third in the nation in passing offense, 13th in total offense and 14th in scoring offense.
SFA won or shared the Southland Conference championship the next two seasons, advancing to the Football Championship Subdivision playoffs both years. In 2009, SFA led the nation in passing offense, was second in total offense and sixth in scoring. In his final season, the Lumberjacks again led the nation in passing, ranking No. 6 in total offense and No. 4 in scoring.
Quarterback Jeremy Moses was a two-time All-American, two-time Southland Conference Offensive Player of the Year and won the Walter Payton Award as the FCS National Player of the Year. He set conference career records for completions (1,184), passing yards (13,401), total offense (13,201) and touchdown passes (121).
During Dawson's term at SFA, three Lumberjacks were named All-America and nine were all-conference. Wide receivers Dominique Edison and Contrevious Parks went on to play in the National Football League.
"The opportunity to work with Coach Stoops is awesome and growing up in SEC country, I've always wanted to coach in the league," Dawson said. "I've recruited against Kentucky the last couple of years and have been impressed with how Coach Stoops is building a foundation and has the program going in the right direction. I look forward to helping him and his staff do that.
"I'm also thankful for the opportunity Coach Holgorsen gave me at West Virginia and helped me prepare for the future."
Shannon and his wife, Chelsea, have a daughter, Acelyn. 
Dawson's hiring will be finalized pending the completion of a mandatory university background check. 
Dawson's Coaching History
| Year | School | Responsibilities | Postseason |
| --- | --- | --- | --- |
| 2014 | West Virginia | Offensive Coordinator/Quarterbacks | Liberty Bowl |
| 2013 | West Virginia | Offensive Coordinator/Quarterbacks | — |
| 2012 | West Virginia | Offensive Coordinator/Receivers | Pinstripe Bowl |
| 2011 | West Virginia | Inside Receivers | Big East Co-Champions/Orange Bowl |
| 2010 | Stephen F. Austin | Offensive Coordinator/Quarterbacks | Southland Champions/FCS Playoffs |
| 2009 | Stephen F. Austin | Offensive Coordinator/Quarterbacks | Southland Co-Champions/FCS Playoffs |
| 2008 | Stephen F. Austin | Offensive Coordinator/Quarterbacks | – |
| 2007 | Millsaps | Offensive Coordinator/Quarterbacks | SCAC Co-Champions |
| 2006 | Millsaps | Offensive Coordinator/Quarterbacks | SCAC Champions/NCAA Division III Playoffs |
| 2005 | New Mexico State | Graduate Assistant/Offense | — |
| 2004 | SE Louisiana | Running Backs | — |
| 2003 | SE Louisiana | Offensive Quality Control | — |
| 2002 | Wingate | Wide Receivers | — |