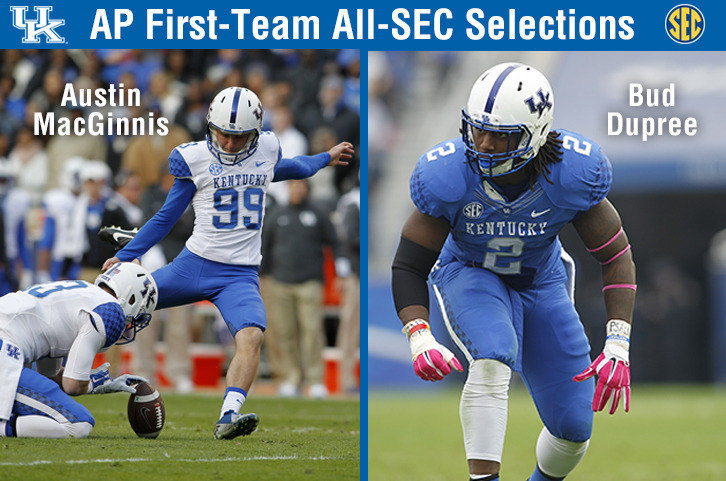 Dec. 8, 2014
LEXINGTON, Ky. — Kentucky senior defensive end Alvin "Bud" Dupree and redshirt freshman kicker Austin MacGinnis were named first-team All-Southeastern Conference by The Associated Press on Monday afternoon.
A native of Irwinton, Ga., Dupree led all SEC defensive linemen with 74 total tackles. He led the Wildcats with 12.5 tackles for loss, including 7.5 quarterback sacks, ranking among the SEC leaders in both categories.  He was named SEC Defensive Lineman of the Week after intercepting a pass and returning it for the game-winning touchdown vs. South Carolina and was chosen National Defensive Lineman of the Week and SEC Defensive Lineman of the Week following the season finale at Louisville.
Dupree completed a decorated career in 2014. A projected first-round pick in the 2015 NFL Draft by ESPN, CBSsports.com, Scout.com and Yahoo.com, Dupree charted the second-most sacks in UK career history (23.5), the most among current SEC players. He finished his career with 247 tackles, 38 tackles for loss, four forced fumbles and five passes defended. Dupree, who has accepted an offer to play in the 2015 Senior Bowl, was named second-team All-SEC as a junior by the AP and Phil Steele's College Football.
A native of Wedowee, Ala., MacGinnis set five school records in his collegiate debut season, totaling 21 field goals, the most in Kentucky history.  He had the most field goals in the SEC this season, also leading all NCAA freshmen. MacGinnis finished with a school-record 104 points – equaling the SEC lead – and is one of only five kickers in the nation with three field goals of 50+ yards.
MacGinnis, who made a UK record 41 extra-point tries without a miss in 2014, set another school mark with the longest field goal in school history, a 54-yard boot at Tennessee. MacGinnis, who earned national placekicker of the week from the College Football Performance Awards after making four field goals at No. 22 Louisville, also set a school record with 25 touchbacks on kickoffs in 2014.
Dupree and MacGinnis are UK's first, first-team All-SEC selections since linebacker Danny Trevathan earned the honor in back-to-back seasons in 2010-11. It is the first time UK had two first-team selections in the same season since Trevathan and all-purpose player Randall Cobb in 2010. MacGinnis is the first UK placekicker tabbed first-team AP All-SEC since Doug Pelfrey in 1991. The most recent Wildcat defensive lineman to be named AP first team was Corey Peters in 2009.