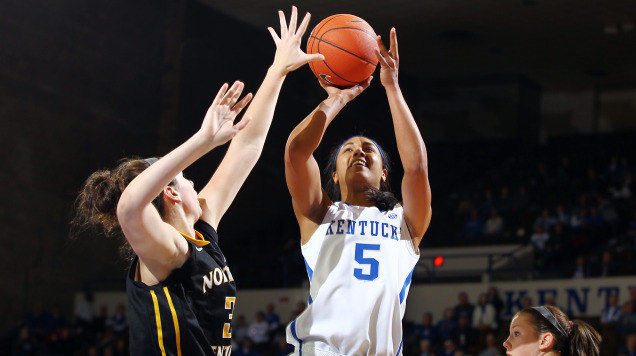 December 3, 2014 - 02:00 AM
Goodin-Rogers' Career Night Lifts Hoops Past NKU
Dec. 03, 2014
Box Score | Quotes | Notes | Photo Gallery 
LEXINGTON, Ky. (AP) – Kyvin Goodin-Rogers scored 19 points, Bria Goss added 16 and No. 13 Kentucky defeated Northern Kentucky 82-64 on Wednesday night.
The Wildcats (7-1) shot 46.7 percent from the field in earning their 47th straight non-conference win at home. Linnae Harper finished with 13 points, Makayla Epps chipped in 11 and Janee Thompson contributed eight with five steals and four assists.
Northern Kentucky (4-4) stayed in reach until Goodin-Rogers, Goss and Epps each hit 3-pointers for Kentucky, closing the first half on a 16-7 run to lead 45-34 at the break. The Norse pulled back within six, but the Wildcats surged away from there as Epps' two layups made it 63-44 with 11:23 left.
Kaitlyn Gerrety paced the Norse with 13 points and seven rebounds. Christine Roush also had 13 points, Molly Franson added 12 and Melody Doss 11 for Northern Kentucky. The Norse shot 42 percent, but had 26 turnovers.