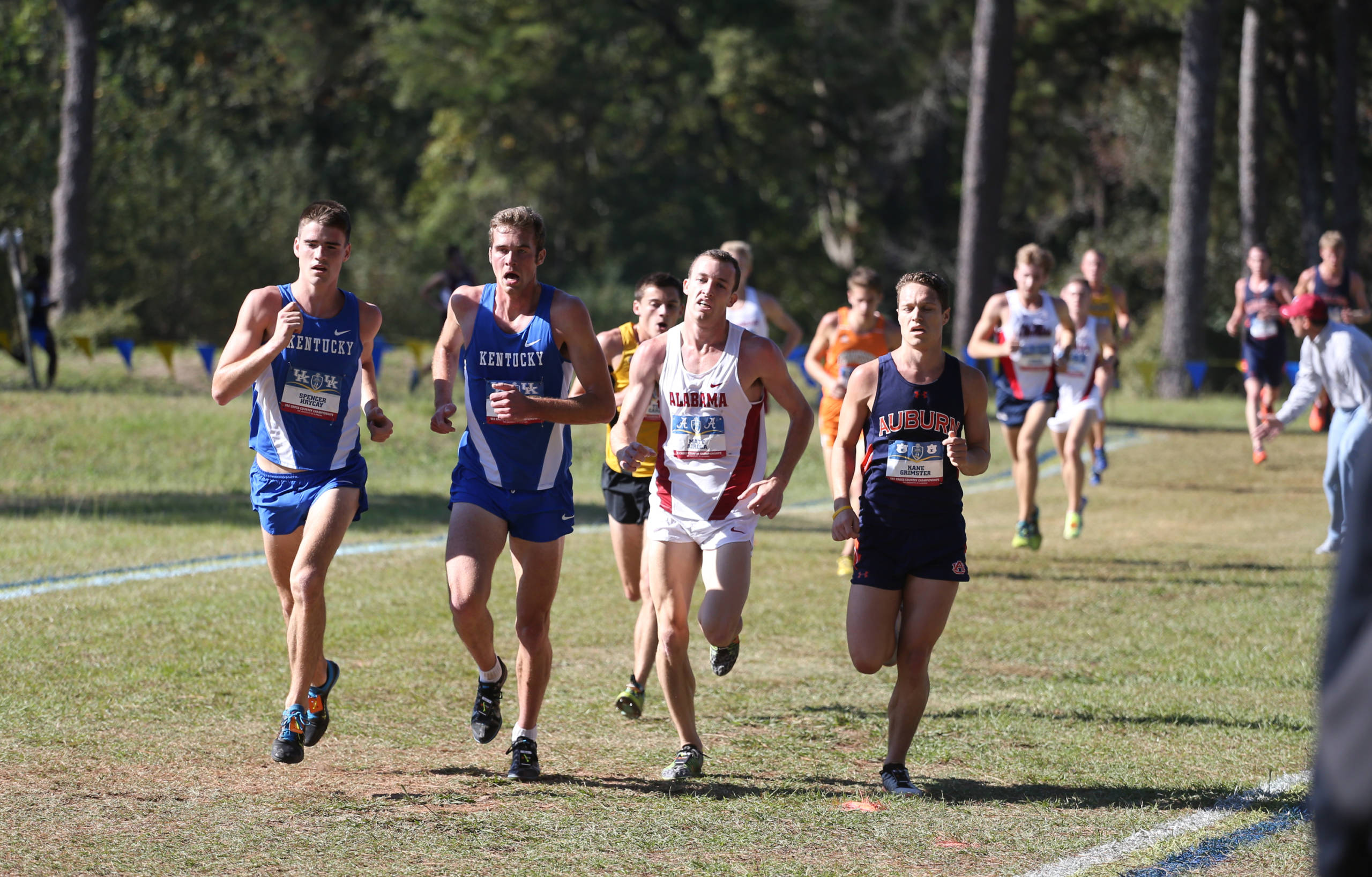 October 31, 2014 - 02:00 AM
Men Fifth, Women Eighth at SEC Cross Country Championships
Oct. 31, 2014
TUSCALOOSA, Ala.  – The Kentucky men's cross country team finished fifth, while the women placed eighth, at the 2014 Southeastern Conference Championships on Friday at the Harry Pritchett Running Course.
The Arkansas men's and women's teams each won the SEC title. Individual Razorbacks also captured both the men's and women's crowns, as Dominique Scott repeated as women's champion, and Stanley Kebenei was crowned men's champion.
The UK men were led by strong performances from Spencer Hrycay and Zack Beavin, as the duo placed 15th and 16th respectively with times of 24:55.7 and 24:58.60.
MacKay Wilson placed 22nd overall with a time of 25:08.5. Keffri Neal and Ryan Polman rounded out UK's scorers, placing 30th and 37th respectively with times of 25:22.4 and 25:29.8.
The men's team finished fifth overall a year ago, which was one spot better than the previous season.
The UK women's team was led by two freshmen who had done well all season and were rewarded on Friday with SEC All-Freshman team honors.
Aundrea Busse was first to cross the finish line for the Wildcats with a 20th-place time of 20:44.6, and she was followed shortly thereafter by her fellow-freshman, Katy Kunc who finished 23rd in 20:49.4.
Cassidy Hale was UK's No. 3 finisher, 46th overall in 21:23.6. Amy Hansen placed 71st in 21:23.6, while Michelle McKinney ran a 74th-place time of 21:55.6.
A post-produced packaged broadcast of the 2014 SEC Cross Country Championships will air on the SEC Network at 9 p.m. ET on Sunday, Nov. 9.
Last season, the UK women's team finished third at the SEC Championships.
UK will next compete in two weeks with a spots at the NCAA Championships on the line at the NCAA Southeast Regional, at "Tom" Sawyer Park in Louisville, Kentucky.
UK Men's Results


Place:
 5  |  Points:
 120  |  Avg Time:
 25:11.0
UK Women's Results
Place:
 8  |  Points:
 215  |  Avg Time:
 21:21.2