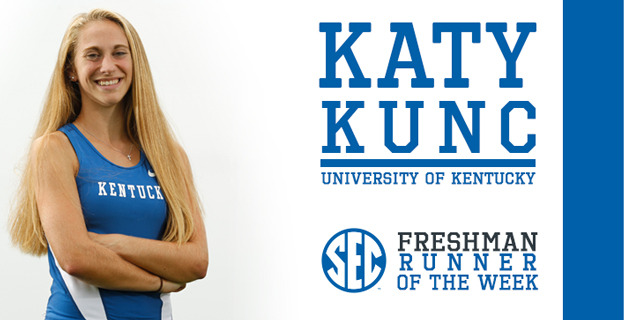 October 21, 2014 - 02:00 AM
Katy Kunc Named SEC Freshman of the Week
By Jacob Most
Oct. 21, 2014 –
LEXINGTON, Ky. – UK cross country runner Katy Kunc was named Southeastern Conference Cross Country Freshman of the Week on Tuesday.
Kunc led the way for a young UK team at one of the most competitive meets of the regular season on Saturday.
She ran a 61st-place 6,000-meter time of 21:43.3 to finish as UK's top finisher at the NCAA Pre-National Invitational in Terre Haute, Indiana – site of the 2014 NCAA Championships.
Her time was more than a minute faster than her previous 6K best of 22:58.60. The time ranks among the SEC's top-30 this season.
UK will compete at the SEC Championships in Tuscaloosa, Alabama on Friday, Oct. 31.