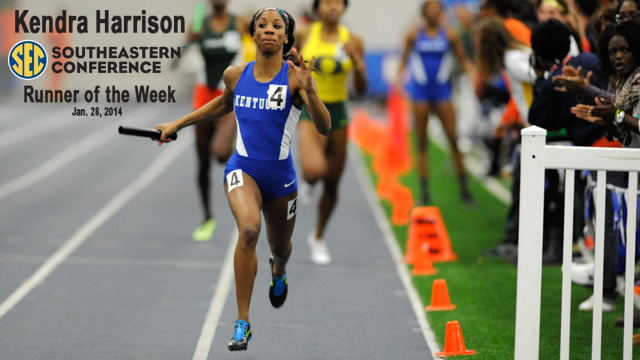 January 28, 2014 - 02:00 AM
Kendra Harrison Earns SEC Runner of the Week
By Jacob Most
Jan. 28, 2014 –
LEXINGTON, Ky. – Kendra Harrison was named Southeastern Conference Runner of the Week after posting two world-leading times last Saturday, the league office announced on Tuesday.
Harrison performed incredibly at the home Rod McCravy Memorial Meet on Saturday.
Her showing was all the more impressive given the fact that it came on just about the most elevated stage  a collegian could be on during late January. The McCravy was named United States Track & Field and Cross Country Coaches Association (USTFCCCA) "National Meet of the Week" as the competition featured three top-10 teams (No. 1 Oregon, No. 4 Florida and No. 6 Kentucky) in addition to No. 19 Baylor, traditionally strong programs like Ohio State, Miami, and Virginia and SEC rivals Tennessee and Missouri.
Harrison posted a time that is tied for the world lead (7.96) in the women's 60-meter hurdles, and anchored the world-leading 4×400-meter relay time (3:33.35) with approximately a 53.0 split during

She also lowered her school-record 60-meter hurdle time to 7.96, winning against a field which included last year's national-runner up in the event, Tiffani McReynolds, as four of the top seven hurdlers in the nation were in the McCravy 60H final.
Her 60H time was just .01 shy of the all-time collegiate top-10.
Harrison and UK's win in the 4×400-meter came against defending NCAA Champion Oregon, a team which returned three of four legs from its 2013 indoor championship lineup.
Harrison was an honorable mention selection for USTFCCCA National Athlete of the Week on Monday.