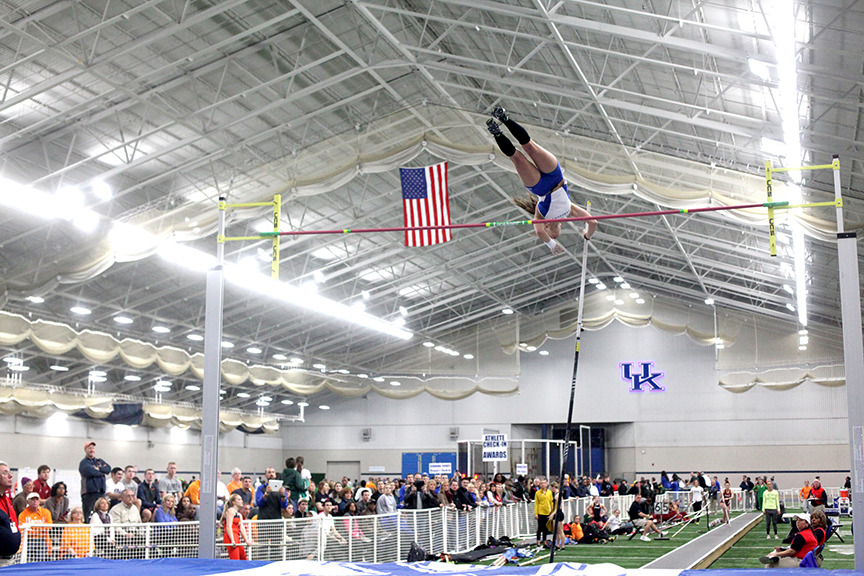 January 24, 2014 - 02:00 AM
Field Events Highlight Thrilling McCravy Memorial Opener
By Jacob Most
Jan. 24, 2014 –

Friday Results



|

Saturday_Heat Sheets


LEXINGTON, Ky. – Kentucky's Rod McCravy Memorial Meet was initially billed as the best track meet anywhere in America all weekend. The level of competition lived up to expectations on Friday, and that excitement will only build with a talent-laden Saturday schedule in store.
Yet on Friday, meet and facility records fell, nation-leading times and marks were posted and fans inside Nutter Field House were treated to a day of track and field as good as any thus far in 2014.
Combined and field events dominated the Friday program with the action culminating in the always-exciting distance medley relays.
UK enjoyed a solid day in both combined events and in the field.
Justin Kretchmer turned in a collegiate-best high jump, clearing 2.14m/7'0.25" on his second attempt for second place, narrowly missing the win on a tiebreaker. Kretchmer's jump was two inches short of Michael Mason's UK freshman indoor record.
Sha'Keela Saunders was comparatively impressive in her long jump debut, finishing third with a top jump of 6.05m/19'10.25", giving UK fans great hope as to the redshirt freshman's horizontal jumping potential.
Saunders finished only behind the nation-leading jump that Oregon's Jasmine Todd recorded: 6.4m/21' and Jenna Prandini's (Oregon) jump of 6.13m/20'1.5", which ranks No. 13 nationally. Saunders' jump is the 22nd best in the country this year.
Michelle Canterna posted an indoor personal-best pole vault clearance of 3.88m/12'8.75" to place 10th in a competition won by the top clearance in the United States this year.
Joanne Imbert started the day with an indoor pentathlon 60-meter hurdles personal-best time of 9.69 beginning a day in which she would post PRs in four individual events as well as in her pentathlon total score. The Valley Stream, N.Y. native finished sixth overall, a solid effort for the recently-converted multi-event competitor.
Ibn Short also turned in an impressive performance in the men's heptathlon; as he sits in second place overall with 2928 points after four events. Nathan Donnellon also got off to a strong start to his UK heptathlon debut.
Two Wildcats placed inside the top-10 in the women's 200m as Morganne Phillips was fifth with a time of 24.37 and Alisha Adair was ninth in 24.58. Dominique Booker placed second as an unattached runner with a time of 24.03.



The day culminated with two thrilling, if not lightning fast, distance medley relays.
The UK men's team entered the weekend ranked second in the national rankings based on its performance at last weekend's Kentucky Invitational, while the UK women have the ability to return three of four legs from the 2013 NCAA fifth-place squad.
Despite the hosts' potential talent to call upon, the Wildcats would take a back seat on this night due in large-part to injuries.
Four of the nation's five fastest times were recorded in the women's distance medley relay as Oregon best took advantage of UK's oversized track. Megan Patrignelli outdueled Florida's 2013 American 1,500m Bronze Medalist Cory McGee down the stretch of the anchor leg.
Oregon's time of 10:56.77 also broke the McCravy Meet and Nutter Field House record.
The men's race provided a worthy second-act as all four of the nation's top times were recorded with Virginia winning in 9:36.11, again smashing the meet and facility records in the process.




Saturday Preview
The Saturday action will begin at 10 a.m. ET. Admission to the weekend's meet is free to the public. Parking will be available in the C-6 lot adjacent to Commonwealth Stadium on Saturday.
The action will ramp up on Saturday as the track will feature some of the most competitive fields for any regular season meet all year.
The women's "Blue" 60-meter hurdles will take center stage first as the preliminary heats include three of the top-five performers in America this season.
Headlining the event is UK junior Kendra Harrison, who set a school-record and nation-leading time, 8.09, last weekend. Florida's Bridgett Owens has the nation's fourth-fastest 60h time, while Oregon's Sasha Wallace ranks No. 5 in the country. UK's Kayla Parker has the nation's eighth fastest 60h time, but she is schedule to race in the "White" prelims.
The men's 60m hurdles will pit defending NCAA Champion Eddie Lovett (Florida) against current national-leader Demoye Bogle of Ohio State. The field will also include the nation's fifth-ranked 60m hurdler Jon Cabral (Oregon), while former UK All-American Keith Hayes will run unattached. Hayes placed seventh at the 2013 NCAA Championships in the event.
The women's 60m is perhaps the meet's most top-heavy event as the nation's top three performers this season are scheduled to face off.
Topping the list is Kentucky's Dezerea Bryant, who broke a UK record and posted the fastest time in America, 7.19, last weekend. Oregon's Jasmine Todd and Jenna Prandini rank Nos. 2 and 3 respectively, and all three of them are in the first preliminary heat together.
The women's 3,000m should also hold fireworks in store as Chelsea Oswald will lead the way for UK as she was All-American in the event during a 2012-13 season in which she earned three All-America honors, two SEC Championships (5k and 10k outdoors), two Honorable Mention All-America honors, thee All-SEC honors and was named SEC Student-Athlete of the Year across all sports.
Florida will enter an impressive distance duo into the event, led by Cory McGee who was SEC 3k runner-up to UK's Cally Macumber in 2013, and was American Bronze Medalist and NCAA Runner-up at 1,500m last season. McGee's fellow Gator Agata Strasa was herself an honorable mention All-American at 1,500m.
Tennessee's Chelsea Blaase finished fourth in the SEC 3k Championships last year.
The men's 800m could turn into a showdown between Kentucky's Keffri Neal, who is undefeated this season and placed sixth in the event at SEC's last year, and Florida's Sean Obinwa, who was a First Team All-American and SEC Champion in the event last season.
The men's 60m will pit the nation's Nos. 5 and 8 performers this year, Antwan Wright (Florida) and Trayvon Bromell (Baylor).
The nation's largest concentration of elite teams has descended upon the Kentucky track and field team's Nutter Field House for the Rod McCravy Memorial Meet this weekend.
Of the 14 teams participating, six are ranked inside the national top-25 (both men's and women's) including No. 3 Oregon men, No. 4 and defending NCAA Indoor Champion Oregon women, defending NCAA Outdoor Co-Champion and 2013 NCAA Indoor runner-up and second-ranked Florida men, No. 3 Florida women and No. 24 Alabama women in addition to the No. 6 UK women's team.
Additionally, the meet will feature seven student-athletes who appeared in the Preseason Watch List for The Bowerman Award, which is the most of any meet this weekend.
Missouri, Tennessee, Virginia, Ohio State, Baylor, Miami (FL) and Illinois are other marquee names in the field.