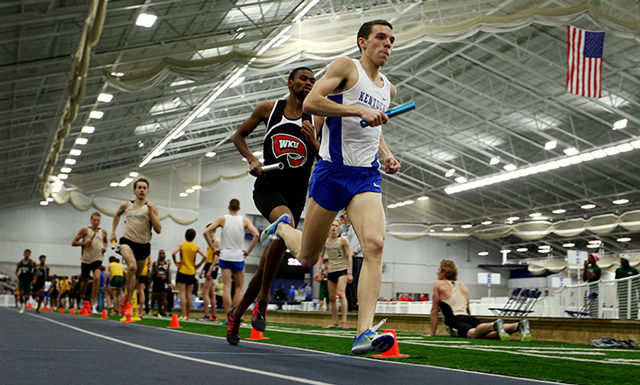 January 17, 2014 - 02:00 AM
Track & Field Sweeps DMR at Kentucky Invitational
Jan. 17, 2014
LEXINGTON, Ky. – Kentucky won both the men's and women's distance medley relays during the first night of the Kentucky Invitational inside the Nutter Field House on Friday.
The UK men's team, made up of Matt Hillenbrand (1,200 meters), Clyde Gross (400m), Robert Scharold (800m) and Adam Kahleifeh (1,600m), ran a time of 9:52.06, which was nation's fastest time this season as of Friday evening.
The UK women's DMR team (Cassidy Hale, Sha'Keela Saunders, Allison Peare and Chelsea Oswald) also impressed running 11:46.56 to easily win its race.
Saturday's action will begin at 9 a.m. with the men's and women's high jump, while the first running event of the day, the women's 60-meter hurdles heats will begin at 11:30 a.m.
Admission to the weekend's meet is free to the public. Parking will be available in the C-6 lot adjacent to Commonwealth Stadium after 3 p.m on Friday and all day on Saturday.
Kentucky Invitational programs, which include heat sheets, will be sold for $1 on Saturday.
Meet Coverage and Fan Experience

For the second consecutive season, Kentucky will broadcast the meet live on http://www.ukathletics.com/allaccess/?media=427551. The live video stream is available with a subscription. Live results will also be available at UKathletics.com
The streaming coverage of UK's home meets is just part of the fan-friendly atmosphere second-year head coach Edrick Floréal has brought to Lexington.
Nutter Field House has taken on a more spectator-friendly layout for the home collegiate meets in 2014.
The new layout includes a high definition video board within Nutter Field House, increased seating on the infield for watching field events, raised runways for jumps events and increased seating along the finish straightaway so fans can be closer to the most exciting action.
Fans can also take in an unparalleled level of in-race analysis from meet announcer Dennis McNulty, who annually calls the NCAA Cross Country Championships in addition to other high profile events in the world of athletics.
Nutter Field House Visitors

The Kentucky Invitational field is comprised of 23 teams in total.
The field will be made up of Ohio State (women's team only), UCF, Wake Forest, EKU, WKU, Arkansas State, Chicago State, Dayton  (women's team only), Jackson State, Kentucky State, Marshall  (women's team only), Northern Kentucky, Shorter, Southern Indiana, Southern Illinois, Troy, Xavier, Bellarmine, Florida A&M, Miami (Ohio) and IUPUI in addition to UK.


Friday Results

Running Events

 

Event

Place/Time

Women Distance Medley Relay (1)

1. Kentucky: 11:46.56

Men Distance Medley Relay (1)

1. Kentucky: 9:52.06




Field Events

 

Time

Place/Mark

Women Weight Throw (3)

11. Rebecca Famurewa: 16.50m/54'1.75"
20. Brandi Walker (unattached): 15.07m/49'5.5"
30. Madison Jacobs: 13.10m/42'11.75"

Men Weight Throw (3)

9. Nicholas Huffman (U):  16.32m/53'6.50"
23. David Cline(U): 13.63m/44'8.75"

Saturday Schedule

Running Events

 

Time

Event

Advancement

Entries

11:30am

Women 60m Hurdles – Semi Finals (7)

8 to Final

Kendra Harrison, Kayla Parker, Leah Nugent, Johna' Whitaker, Joanne Imbert

11:45am

Men 60m Hurdles – Semi Finals (4)

8 to Final

Nick Anderson, Brandon Bagley, Clyde Gorss, Dyarius Tucker, Ibn Short, Daniel Buckles

11:55am

Women 60m – Semi Finals (8)

8 to Final

Dezerea Bryant, Domonique Booker, Morganne Phillips, Alisha Adair, Kayla Parker, Angelica Whaley

12:10pm

Men 60m – Semi Finals (5)

8 to Final

Keith Hayes (unattached), Michael Patterson, Corey Williams

12:22pm

Women Mile run (2)

 

12:37pm

Men Mile run (3)

 

Keffri Neal, Mackay Wilson, Jake Wildenmann, Sean Willard, James Brown, Jared Phillips

12:57pm

Women 60m Hurdles Final (1)

 

TBD

1:02pm

Men 60m Hurdles Final (1)

 

TBD

1:07pm

Women 60m dash Final

(1)

TBD

1:12pm

Men 60m dash Final (1)

 

TBD

1:17pm

Women 400m dash (9)

 

Kendra Harrison, Leah Nugent, Johna Whitaker

1:44pm

Men 400m dash (8)

 

2:08pm

Women 800m run (4)

 

2:24pm

Men 800m run (4)

 

Robbie Scharold, Tim Layten

2:45pm

Women 200m dash (10-12)

 

Dezerea Bryant, Dominique Booker, Morganne Phillips, Angelica Whaley, Alisha Adair, Kayla Parker

3:10pm

Men 200m dash (7-8)

 

None

3:30pm

Women 3,000m run (2)

 

None

3:55pm

Men 3,000m run (2)

 

4:20pm

Women 4x400m Relay (3-4)

 

UK (2 teams)

4:38pm

Men  4x400m Relay (2-3)

 

UK
Field Events

 

Time

Event

Advancement

Entries

9:00am

Women High Jump

 

None

9:00am

Men High Jump

 

9:30am

Women Long Jump (3)

9 to Final – Track Runway

Arantxa King (Bermuda), Joanne Imbert

9:30am

Men Long Jump (3)

 9 to Final – Infield Runway

Michael Patterson, Ibn Short, Corey Williams, Nathan Donnellon, Daniel Buckles

10:30am

Women Shot Put (3)

9 to Final

12:00pm

Men Pole Vault

Infield Runway

Michael Jensen, Charles Moushey, Brooks Divine, Nathan Donnelon

1:00pm

Women Pole Vault

Track Runway

2:00pm

Women Triple Jump (2)

9 to Final – Infield Runway

None

2:00pm

Men Triple Jump (2)

9 to Final – Track Runway

None

2:00pm

Men Shot Put (3)

9 to Final

Brad Szypka, Isiah Kent, Nathan Donnellon, Nick Huffman (U), David Cline (U),