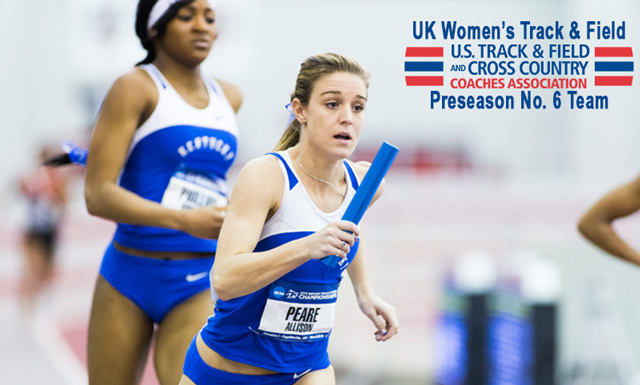 January 13, 2014 - 02:00 AM
Women's Track and Field Ranked Preseason No. 6
By Jacob Most
Jan. 13, 2014 –
LEXINGTON, Ky. – The Kentucky women's track and field team will open the 2014 indoor season as the nation's No. 6 team – the highest rating in school history – as the United States Track & Field and Cross Country Coaches Association unveiled its preseason rankings on Monday.
UK's previous best USTFCCCA ranking was No. 15 early in the 2008 season, the first year of the poll. UK's prior highest preseason ranking was No. 22 in 2009.
UK finished the 2013 indoor season – Edrick Floréal's first as head coach in Lexington – ranked No. 20, earning the same finish at the NCAA Championships. The result was UK's best at Nationals since earning the same team finish in 1994.
Kentucky returns three Wildcats who earned All-America status last indoor season to its 2013-14 indoor squad: Morganne Phillips , Chelsea Oswald and Allison Peare.
Additionally, two more Wildcats earned All-America honors during the 2013 outdoor season.
UK has also been bolstered by the nation's fifth-ranked women's recruiting class (Track & Field News).
Headlining that group are transfers Dezerea Bryant , Kendra Harrison and Leah Nugent, who have earned a combined 17 USTFCCCA All-America honors between them in addition to 16 individual college conference titles.
Kayla Parker, who was a 100-meter hurdles All-America outdoors, produced what was at the time the nation's leading 60m hurdles performance in December, a time which now ranks No. 2 nationally this season.
The national team rankings were compiled by mathematical formulae based on national descending order lists and data taken from previous seasons. For the preseason ranking, data was taken from previous seasons as well as the current season.
The purpose and methodology of the rankings is to create an index that showcases the teams that have the best potential of achieving the top spots in the national team race. Rankings points do translate directly to NCAA Championships team points.
The Southeastern Conference was rated the nation's best as eight SEC women's teams were ranked among the top-25, including six in the top-10. Texas A&M is No. 2, Florida is No. 3 and Georgia is No. 5. UK (No. 6), Arkansas (No. 7) and LSU (No. 8) also are ranked inside the top-10. Other ranked SEC teams include No. 11 South Carolina and No. 15 Mississippi State.
UK's home-opening meet, the Kentucky Invitational, begins Friday, Jan. 17 and continues Jan. 18.