UK Athletics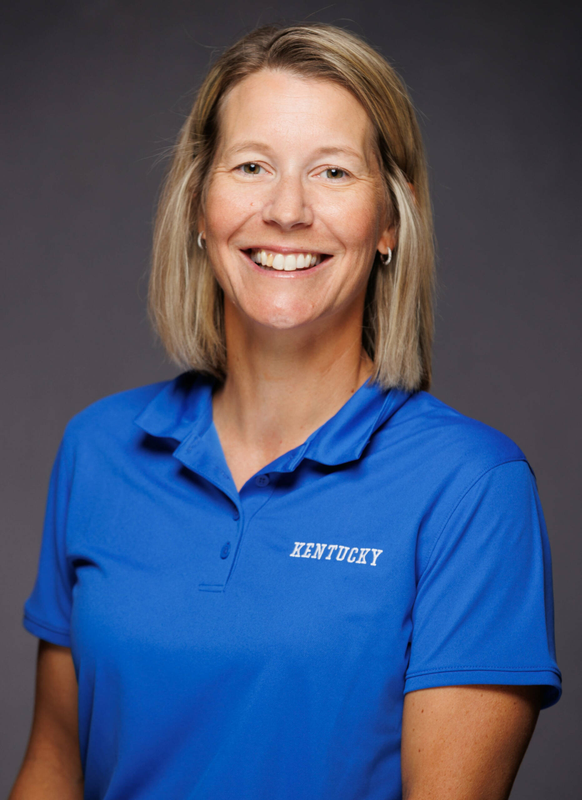 Golda Borst has taken the University of Kentucky women's golf program to new heights in her 13 seasons on the job. In addition to earning nine NCAA Regional appearances and eight team championships, the team also broke through with a NCAA Championship Finals berth in 2021, the program's first since 1992.
She enters her 14th season at the helm of the program in 2023-24.
The Wildcats are coming off a historic performance in 2022-23, guided by Borst and her new hire assistant coach Will Sallee. The sensational season featured 11 school records (seven individual school records and four team school records), two team championships and one medalist honor. Those team school records include setting the single-season scoring average at 289.6 (33 rounds, 9,560 strokes), setting the 54-hole tournament total (-34, Illini Women's Invitational) and setting the top two low 18-hole rounds (-17, NCAA Pullman Regional Round 3 and -13, Illini Women's Invitational Round 1).
UK's two team championships in 2022-23 came back-to-back to close out the fall schedule.
The Wildcats won their first tournament championship of the season in early October, topping a 15-team field on a school-record, 34-under-par 830 at the Illini Women's Invitational. In pursuit of that triumph, the Cats recorded three of the top-four team rounds in program history at the time, including their school-record, 13-under-par 275 pieced together in the first round at Medinah Country Club.
Kentucky then topped the field at the Ruth's Chris Tar Heel Invitational at the Governors Club Golf Course (par 72, 6,203 yards) in late October, earning a 1-under-par 287 in the final round and a 4-under-par 860 tournament total to garner its second straight triumph. In the process, UK collected a couple of ranked wins, including toppling No. 1 Wake Forest by five strokes and No. 8 Duke by more than 20 strokes.
Jensen Castle, a senior at the time, was crowned the individual champion at the Ruth's Chris after carding rounds of 74, 67 and 68 for a 54-hole tournament total of 7-under-par 209.
That season culminated with numerous individual accolades in 2022-23. Castle and Frye were named to the 2023 All-SEC Second Team, which marked the first instance since 1996 that at least two UK women's golfers were named to the All-SEC. Moreover, Frye was named to the WGCA All-America Second Team, Golfweek All-America Third Team, College Sports Communicators Academic All-America First Team and earned the prestigious Edith Cummings Munson Award Winner. Castle was named to the WGCA and Golfweek All-America Honorable Mentions teams.
Castle's and Frye's All-American honors marked the program's first since 1989.
Last season is evidence that Borst's teams have rewritten the school record books time-and-time again, building an even stronger foundation for the future. Under Borst, UK has posted all 10 of the top 10 single-season team scoring averages in program history, with her recent teams stacking at the top of the list.
Her teams have also claimed 25 of the top 25 lowest 18-hole rounds, which is highlighted by their school-record, 13-under-par 275 from the Illini Women's Invitational.
Furthermore, all 20 of the top 20 single-season player scoring averages in program history are in the Borst era. In fact, the two players that hold the top five spots on that list are still current student-athletes with remaining eligibility in 2023-24 (Castle and Laney Frye).
Moreover, all 25 of the top 25 marks for most single-season, par-or-better rounds took place with Borst at the helm. Frye, a rising senior in 2023-24, just set the school record at the end of 2021-22 thanks to an impressive 14 rounds of par-or-better (through 30 rounds), then she reset that mark again in 2022-23 on 20 rounds of par-or-better (through 30 rounds).
Academically, the program has been just as good as the on-the-course performances. The Wildcats have racked up 36 Women's Golf Coaches Association All-American Scholar Team honors, and the program consistently finishes among UK's team grade-point average leaders, including a 3.593 GPA last semester in Spring 2023. UK has also earned six straight NCAA awards under Borst for finishing in the top 10 percent of all women's golf teams in the Academic Progress Rate, which measures academic eligibility, retention and graduation (APR paused due to COVID-19).
The program is stronger than ever with Borst leading the way, and that was evident after its NCAA Championship finals appearance in 2021. With virtually the same team back from its record-setting 2019-20 group, the Wildcats navigated through a difficult schedule and placed fourth at the NCAA Columbus Regional to earn a spot in the national finals for the first time in 29 years. There, in Scottsdale, Arizona, Kentucky tied for 18th and recorded its best score in program history at the national championship. Individually, Frye, then a freshman, made the Southeastern Conference All-Freshman Team and Rikke Svejgård Nielsen won SEC Scholar-Athlete of the Year, Kentucky's third all-time winner and the first since 2009.
The NCAA Championship Finals breakthrough was two years in the making. In 2019-20, with a mix of the strongest recruiting class in program history and a balance of talent and experience, the Wildcats won two tournaments in the fall and finished the season ranked No. 25 in the Golfstat rankings. UK was poised for a strong NCAA run but the postseason was canceled due to the COVID-19 pandemic.
The back-to-back championships in 2019-20 marked the first multi-win season since 1997-98 and were the first consecutive titles since 1990-91, when Kentucky would go on to win a school-record four tournaments. The 2019-20 group shattered the school scoring record by nearly seven strokes while freshman sensation Jensen Castle posted the best 18-hole scoring average in program history and became UK's first All-SEC First Team pick since 1989.
Borst hit the ground running in her first year in 2010-11 and hasn't looked back. In addition to lowering the program's stroke record on a near annual basis, Kentucky has won eight team titles under Borst, claimed 11 individual tournament titles and posted 40 top-five team finishes, including five in 2022-23.
Kentucky nearly broke through with its first NCAA Championship finals appearance under Borst in 2014-15, when the Wildcats finished in seventh place at the 2015 NCAA South Bend Regional, one spot and four strokes behind the cut. Although the team just missed out its much-anticipated breakthrough, Isabelle Johansson earned a slice of history by becoming the first Wildcat qualifier for the national championships since 1998. Johansson would go on to tie the school's 18-hole record low at the time two seasons later with a 64 at the 2017 UCF Challenge.
Johansson included, Borst has coached and mentored a number of Kentucky women's golf greats, including 2019 All-SEC Second Team pick Leonie Bettel. The transfer from NC State set a number of marks in her two seasons at UK — including the best 54-hole round in program history and the most rounds of par or better in a season with 14 in 2018-19 — but her crowning achievement was three individual titles in her senior season, just one shy of the school record.
Borst came to Lexington from LSU, where she served as assistant women's golf coach from 2007-08 to 2009-10. During her stay in Baton Rouge, Louisiana, LSU advanced to NCAA Regionals in each of Borst's three seasons, highlighted by a 12th-place finish at the 2009 NCAA Championship finals. The 2009 season also saw LSU victories at the Bryan Park National Collegiate and Mercedes-Benz Championship, as well as two individual titles.
A four-year letterwinner for the women's golf team, Borst graduated from Tennessee in 2006 with a degree in communication studies. At Tennessee, Borst served as team captain in 2005, earned All-SEC Second Team honors in 2006 and was named a three-time SEC Academic Honor Roll member. Borst's top collegiate finishes came when she placed second in both the 2005 Bryan Park National Collegiate and 2006 Dr. Donnis Thompson Invitational. Borst and the Lady Volunteers advanced to the NCAA Women's Golf Championship Finals during the 2004-06 seasons.
A native of Visby, Sweden, Borst competed for the Swedish National Golf Team from 1999-2003. With Borst, the team claimed medalist honors at the Girls Team European Championship in 2000, second at the Lady's Team European Championship in 2001 and third in the Lady's Team European Championship in 2002.
Borst, formerly Golda Johansson, is married to Steve Borst. They have two daughters, Lillian and Elsa.
Read more