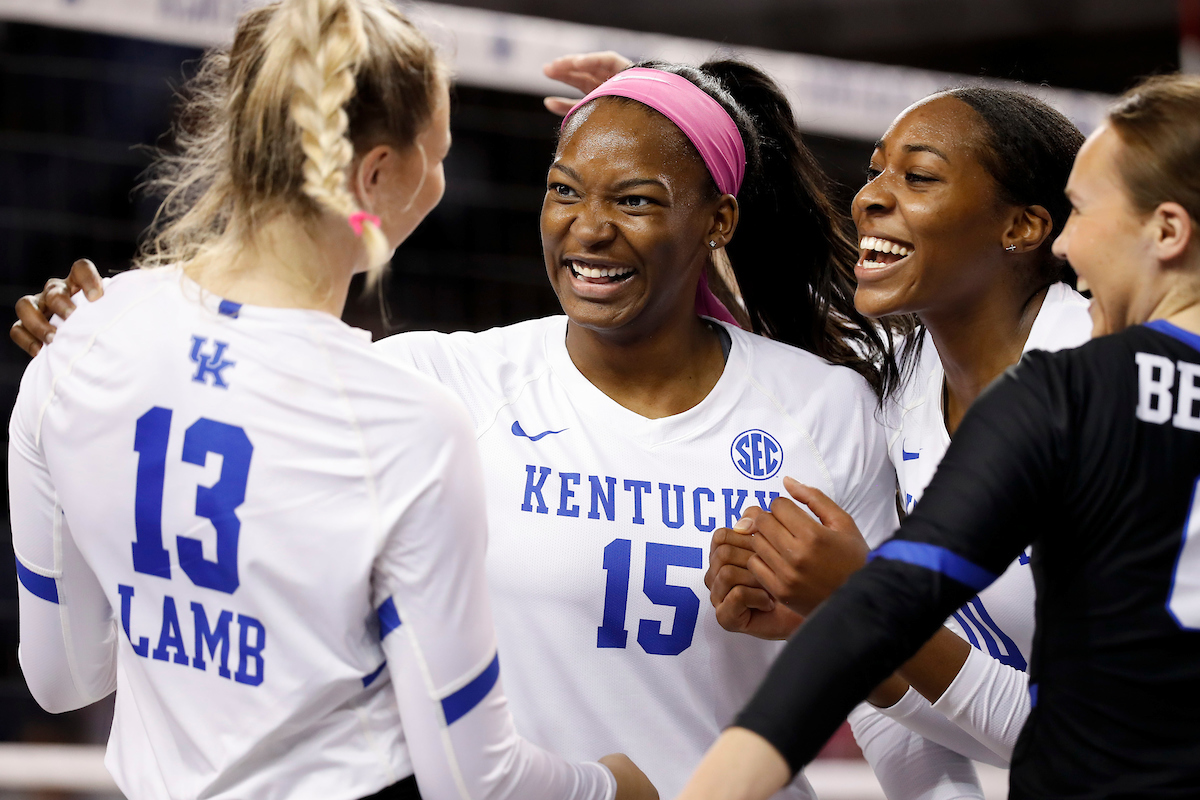 August 24, 2023 - 10:40 AM
Azhani Tealer Hoping for One More Magical Season
At the end of the 2022 season, Kentucky volleyball standout Azhani Tealer went through Senior Day festivities with her classmates. Tealer wanted to go through the ceremony with that group because they had spent four years together in Lexington, including the 2020 national championship season.
But Tealer knew she was not done playing volleyball. And she knew she was not done being a part of the Kentucky volleyball family. So, she decided to return for her COVID season in 2023. What factors went into that decision?
"One, for school (finishing degree in broadcast journalism in December)," Tealer said. "Two, I can't really think about doing anything else. Kentucky volleyball has been my life for four years and it's been the best four years of anyone's life, ever."
So, what is it about Kentucky that makes it so special to someone who grew up in Texas?
"The best thing about this place is the people," Tealer said. "I always say, when I'm speaking to groups, you're not ever going to remember the day practices and all of the games. You're going to remember all of the people and the outside of the gym relationships. Those are the things that are going to remember, when we're getting married and watching each other's kids."
Being the competitor that she is, Tealer also hopes to finish her career with a bang.
"We haven't really done what we wanted to do the past few years," Tealer said. "I think we can do that this year and I want to be a part of that."
Tealer and the Cats face a daunting schedule that includes the likes of Pitt (twice), Nebraska and Louisville, in addition to the Southeastern Conference slate. The veteran thinks that tough slate could pay dividends at the end of the season.
"I think we have two of the Final Four teams from last year (on the schedule)," Tealer said. "It's going to prepare us to be playing our best volleyball the weekend of December 15, Final Four weekend, and that's where we want to be. Trying to figure out what's best for us and how we can get to playing that high level volleyball is going to be huge for us. We're excited about it."
This year's Kentucky team will face another challenge – playing almost all of its games away from home. With Memorial Coliseum undergoing renovations, the Cats have just 10 home matches. Tealer knows that the Cats have embraced being on the road in the recent past.
"You look back, historically, road games did become a thing for us," Tealer said. "We'll have to settle in but we were kind of road warriors last year."
Being on the road can also bring a team closer together.
"This team is already a pretty tight-knit group. With 17 people, that's not what you would expect," Tealer said. "Getting to spend a lot of time together will be a lot of fun. That's always the best part of the season."
Tealer will be the veteran leader of this year's Kentucky team. And she's hoping for one more magical run at the place that has become her second home.