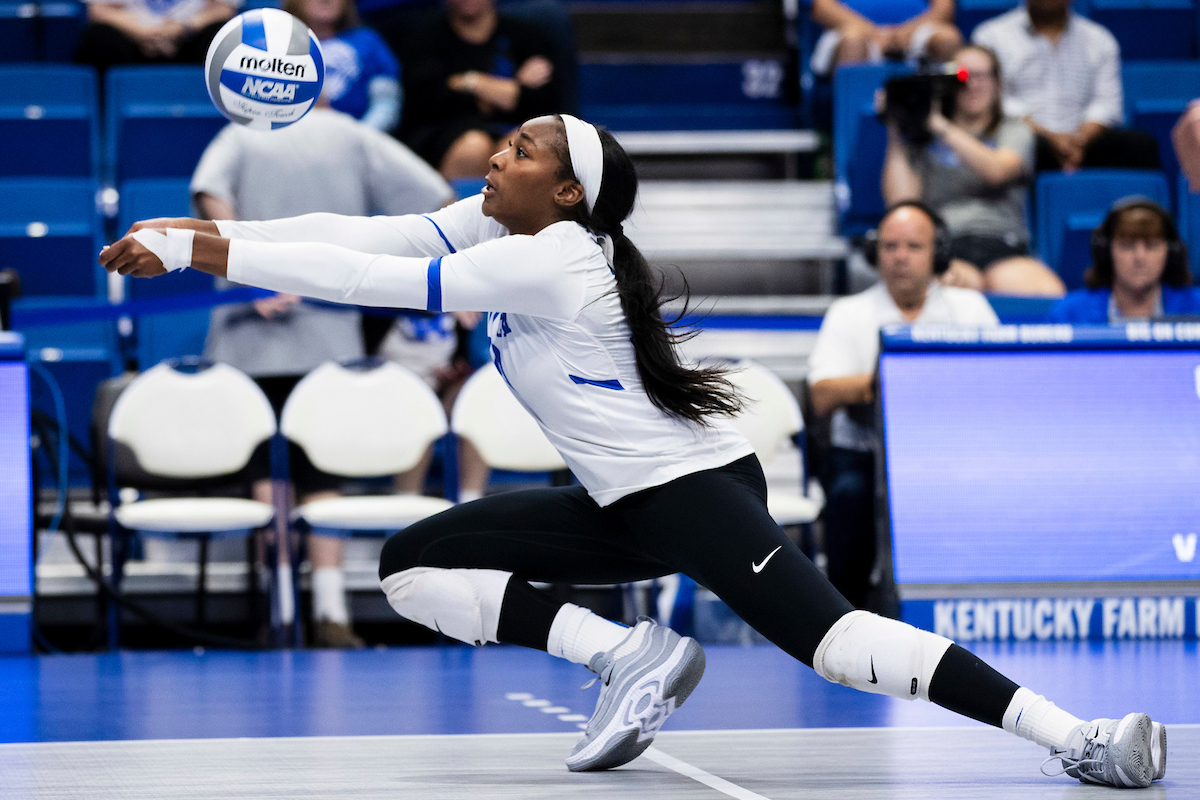 August 22, 2023 - 11:38 AM
Reagan Rutherford Hopes to Lead 'Road Warriors' in 2023
With Memorial Coliseum currently under renovations, the Kentucky volleyball team will only play 10 home matches this season. All of those will happen inside Rupp Arena.
The Cats, including senior Reagan Rutherford, are looking forward to the opportunity to play in Rupp this season.
"I'm very excited. A new environment, a really exciting environment," Rutherford said. "I've been to basketball games before and the atmosphere is absolutely amazing. So I'm ready for our fans to experience that. So, I hope a lot of people come out."
Rutherford knows that Rupp is a new environment to the Cats but she hopes it's one that can quickly turn into a home court advantage.
"Definitely. We may not practice here but it's going to be fun," Rutherford said. "Being in the locker rooms and having the fan experience and being in an arena."
The remainder of the team's matches will be at neutral sites or in an opposing team's gym. Rutherford sees that as an opportunity rather than a challenge.
"I believe so. We have some serious competitors," Rutherford said. "Especially on the road, we come in with a mindset and we're just ready to go. I would say we're road warriors for sure."
Rutherford was a first-team All-Southeastern Conference selection last season. But she's not resting on her laurels. The Texas native has spent the offseason honing her skills to be even better in 2023.
"I think there's always an area in my game I can expand on," Rutherford said. "So, just becoming a terminator, a top attacker, a top blocker. I feel like I can expand my game so much."
Rutherford knows that, playing at the highest level, even the smallest details can make a huge difference.
"Just little things. Blocking eye work, passing angles. I want to be better on the outside," Rutherford said. "Just expanding my game in little ways."
Rutherford also knows that, as a senior, she will have a lot of younger players turning to her for advice and guidance. It's a role that she is prepared to handle.
"Ever since I was a freshman, I've been held to such a high standard," Rutherford said. "So, just holding them to a high standard and trusting them and having confidence in what they're capable of."
Rutherford got to learn from a special senior class when she was a freshman. That class, which led UK to the NCAA championship, included Gabby Curry, Madison Lilley and Avery Skinner. Rutherford thinks that learning from that group paid huge dividends.
"The seniors when I was a freshman were big on never lacking effort," Rutherford said. "Whether that's effort in school, effort in self care or effort in practice."
Rutherford will do her best to instill these values and practices in UK's talented 2023 freshman class. And she will have ample opportunity as the Cats spend a lot of time on the road this season.