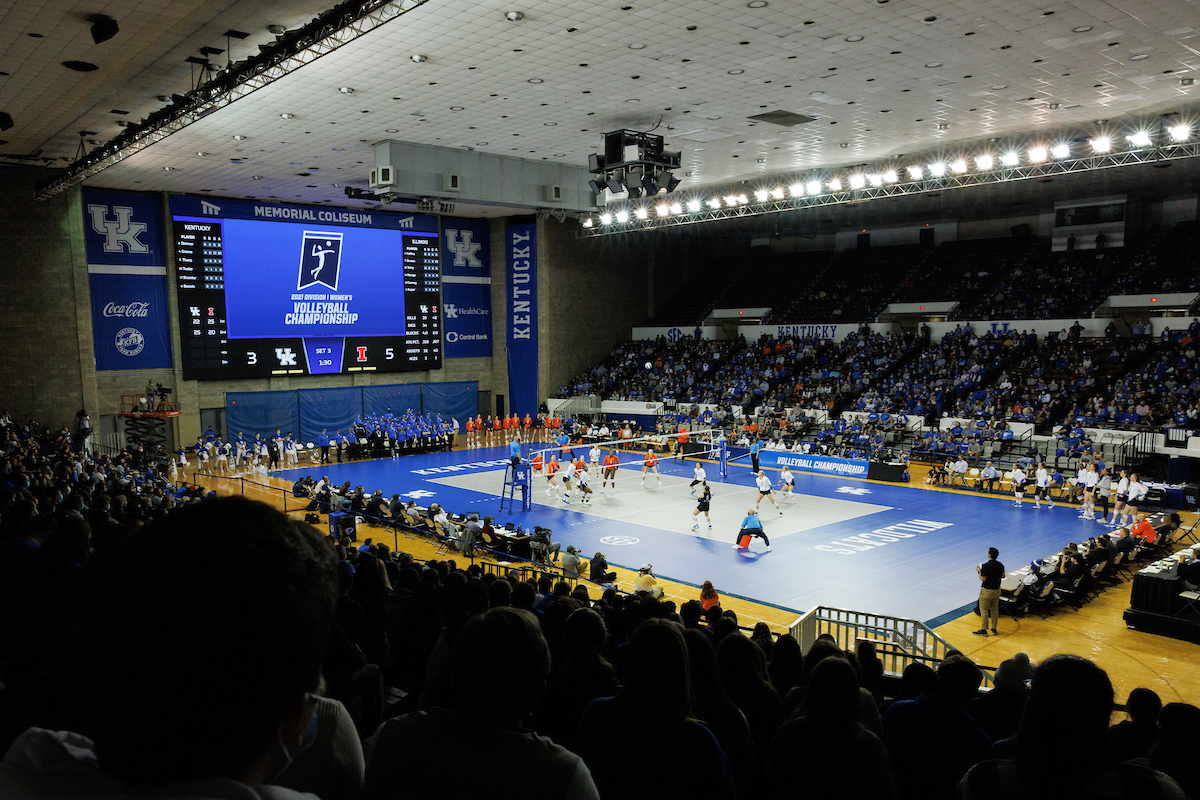 August 1, 2023 - 03:53 PM
Kentucky and Pitt to Compete in 2023 Volleyball Series
LEXINGTON, Ky. and PITTSBURGH – The Kentucky and Pitt volleyball teams, two programs that have combined for three Final Four appearances in the last three years, announced Tuesday they will both compete in a volleyball series with a focus on in-arena attendance, with the first match coming Sept. 1 inside Rupp Arena and the second match coming Sept. 3 at Pitt's Petersen Events Center.
Kentucky has qualified for 18-straight NCAA Tournaments under the direction of head coach Craig Skinner, including a 2020 National Championship and National Semifinal appearance. The Wildcats have won six-straight Southeastern Conference championships dating back to 2018 and return three All-Americans for the 2023 season including setter Emma Grome, opposite Reagan Rutherford and middle blocker Azhani Tealer.
Pitt enters 2023 coming off of back-to-back National Semifinal appearances in the NCAA Tournament and a 31-4 season a year ago. Head coach Dan Fisher is in his 11th year at the helm of the Panthers and has won four Atlantic Coast Conference championships, including as recently as 2022. Pitt returns two 2022 All-Americans in outside hitter Valeria Vasquez Gomez and setter/right side Rachel Fairbanks.
Both teams will be aiming to set program attendance marks in an effort to celebrate women's collegiate athletics. More details on the event will be unveiled during the lead-up to the event.
Tickets for Sept. 1 in Rupp Arena
Single-match tickets will be on sale Tuesday, August 8 for Kentucky Volleyball matches at Rupp Arena in 2023. Fans should check UKathletics.com and the Kentucky Volleyball Twitter and Instagram accounts for the most up-to-date information.
To be guaranteed a seat to the Kentucky vs. Pitt match in Rupp Arena, fans can purchase a 2023 season ticket by accessing this link.
If fans would like to be contacted by the UK Ticket Office when single-match tickets go on sale for this match on Tuesday, August 8, you can use this link.
Tickets for Sept. 3 in the Petersen Events Center
Season tickets are on sale now and can be bought at this link. Single-match tickets for the Pitt vs. Kentucky match in the Petersen Events Center can be found here while a mini plan for both matches in the PEC is available at this link.
Kentucky Volleyball in Rupp Arena
UK Athletics announced earlier this spring that Rupp Arena at Central Bank Center will serve as the primary home venue for the Kentucky gymnastics, volleyball and women's basketball teams for the 2023-24 season while Memorial Coliseum undergoes an $82 million renovation.
For the latest on UK Volleyball, follow the Wildcats on Twitter and Instagram at @KentuckyVB.