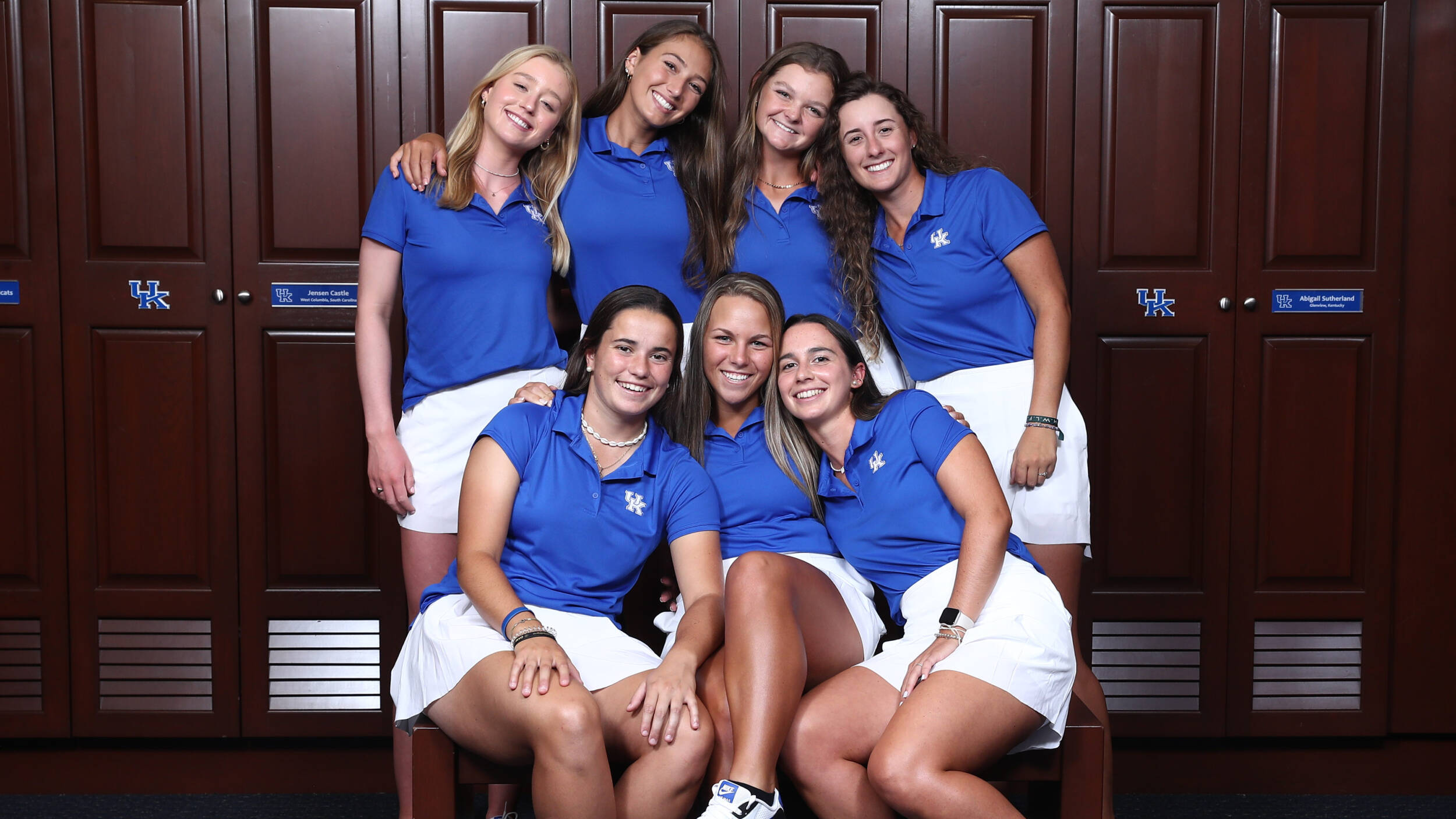 Laney Frye Breaks Three School Records, Kentucky Breaks Two, To Conclude Historic Season
PULLMAN, Wash. – Laney Frye, a junior from Lexington, Kentucky, broke the 18-hole school record (63, -9) in the final round of her junior season at the NCAA Pullman Regional on Wednesday. In the process, the University of Kentucky women's golf team also broke the 18-hole school record (271, -17) to give the cutline a scare down the stretch.
"It's bittersweet," said head coach Golda Borst. "I am extremely happy and proud, but I am also sad because the season came to an end. It's tough. They left it all out there, and that's what we asked them to do. We made a great run, and I am beyond proud of them."
The Wildcats finished in sixth place on a 16-under-par 848, just three shots behind the five-team cutline. However, the score marked the 'Cats' best 54-hole outcome in all 20 of their NCAA Regional appearances.
Despite coming up short, the final round was filled with numerous school and personal records; a cherry on top of the Cats' most successful season yet. Among reaching a handful of milestones throughout the season, one that tops the list is the 'Cats 289.9 stroke average, setting the school record, which was earned across 33 rounds of golf in 2022-23.
(Kentucky had a 289.53 stroke average in 2019-20, however UK did not play a full season because of COVID-19).
Frye played a large part in that feat, turning in a school record of her own… or two, or three.
The All-Southeastern Conference Second Teamer had a bogey-free scorecard en route to the 18-hole school record this evening. She recorded seven birdies in the final round, in the span of just nine holes, and then earned an eagle on her final hole of the tournament, the par-5 No. 9, which was the second time she eagled that hole this week. Overall at the NCAA Pullman Regional, she put together a 10-under-par 206, which tied her career low, finishing T8.
Before her 63, her previous career best was a 67, which she had reached four times in her career and three times in 2022-23.
The Wildcat paired her final round with a first-round 71 and a second-round 72. That helped her improve her other school record of par-or-better rounds this season to 20. She tied that school record last season with 14, but then came back this season, breaking it before the end of the regular season.
Her 63 in the final round also improved her single-season stroke average to 70.9, which is also a school record.
Frye wasn't the lone 'Cat to have a stellar round, as four of the five players in the lineup recorded a par-or-better round.
Marissa Wenzler put together a 4-under-par 68, which tied her career low, too. She went 2-under on her first nine, recording three birdies and just one bogey, then she went 2-under on her second nine, going bogey free. For the tournament, she finished in a tie for 37th place on a 1-over-par 217.
Two Wildcats, Jensen Castle and Ivy Shepherd, had 2-under-par 70s in the final round.
Castle, a senior from West Columbia, South Carolina, who had five birdies on the round alone, tied for second in the field in birdies this week with 16. She finished in a tie for 26th place after three straight rounds of par-or-better, producing a 2-under-par 214.
Shepherd, a graduate from Peachtree City, Georgia, began her round 2-over through six holes. She turned it around, though, with four birdies over her next five holes, including three straight from Nos. 16-18. Competing in the final tournament of her collegiate career, she finished in a tie for 32nd place on a 1-over-par 217.
María Villanueva Aperribay, a senior from San Sebastián, Spain, earned a 1-over-par 73 on Wednesday, finishing in a share of 42nd place with a 2-over-par 218.
All three seniors in the UK lineup, including Castle, Wenzler and Villanueva Aperribay, will be returning to Kentucky for a fifth season in 2023-24.
Scorecard
T8 Laney Frye 71, 72, 63 … 206 (-10)
T26 Jensen Castle 72, 72, 70 … 214 (-2)
T32 Ivy Shepherd 70, 76, 70 … 216 (E)
T37 Marissa Wenzler 74, 75, 68 … 217 (+1)
T42 María Villanueva Aperribay 74, 71, 73 … (+2)
For the latest on the Kentucky women's golf team, follow the team on Twitter, Facebook and Instagram, as well as on the web at UKathletics.com.