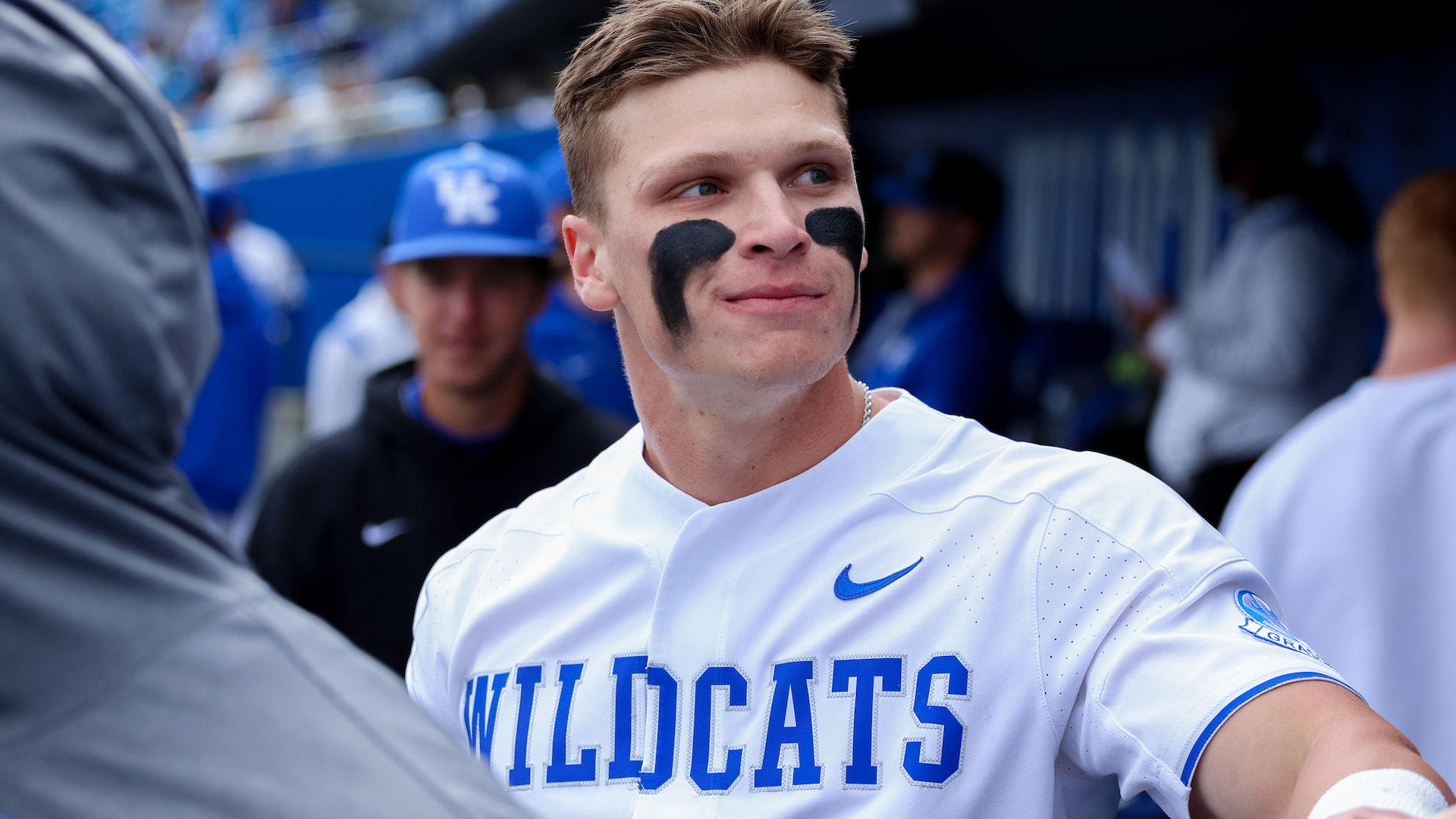 Jackson Gray homered, hit a bases loaded triple and reached base four times to lead No. 11 Kentucky to an 8-1 bounce back victory over Texas A&M on Sunday afternoon at Kentucky Proud Park.
No. 11 Kentucky reached 30 wins overall, are 30-9 overall and 11-7 in Southeastern Conference play. The win salvaged a weekend in which it was one out from winning the series.
The Wildcats scored a pair of single runs in the first and second innings before Gray blew the game open in the seventh with his base-clearing triple into the right field corner. Left-handed pitcher Evan Byers did incredible work on the mound to get out of a sticky situation and outfielder Ryan Waldschmidt made several highlight reel defensive plays in left field to dissolve potential Aggie threats.
NOTES
UK Coach Nick Mingione is in his seventh season at the helm and now owns a 206-138 career record.

Mingione is 92-45 at Kentucky Proud Park.
UK is 49-50 in the month of April under Coach Mingione.
Mingione now is 5-7 vs. Texas A&M.

UK has scored in 337 of 344 games under Coach Mingione.
UK has outscored its opponents 148-45 in the 5th through 7th
Outfielder Jackson Gray went 3-for-3 with two runs, four RBI, with a triple, a home run and a walk.

It was Gray's first home run since his grand slam at Western Kentucky on March 28.
He now has four triples this season, the most in a season for a UK player in the Nick Mingione era (seven seasons).
He reached all four times he came to the plate.
He has a season-high eight-game hit streak.

Outfielder Ryan Waldschmidt went 2-for5 with a double.

He made two incredible catches in left field, one that began a double play.

Pitcher Evan Byers earned his second win of the season.
ON DECK
Kentucky hosts Louisville on Tuesday at 7 p.m. ET.  The radio call will be on the UK Sports Network (630 AM WLAP, locally) and it will be aired on the SEC Network.