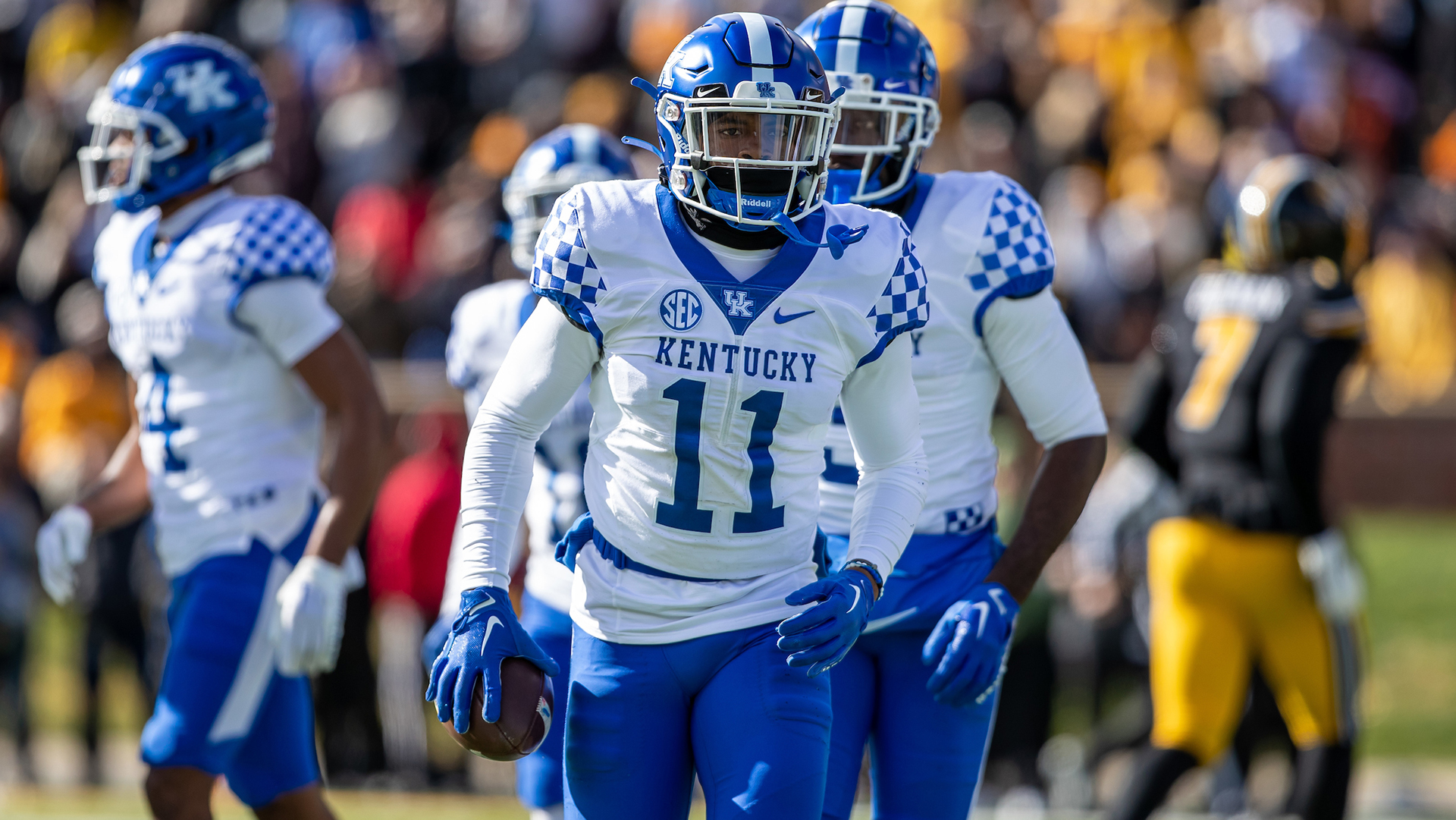 As a sophomore last season, Kentucky defensive back Zion Childress got off to a bit of a slow start. But by the end of the season, he had worked his way into being a solid contributor for the Cats in the defensive backfield. This season, he will return as among the most experienced players in UK's secondary.
Childress played in all 13 of UK's games last fall and earned his only start against top-ranked Georgia. In that game, he had a career-high nine tackles against the Bulldogs. He would have five tackles, including a sack, in the Cats' win over Louisville. Then, Childress had three tackles and a pass breakup against Iowa in the Music City Bowl.
Kentucky defensive coordinator Brad White didn't attribute Childress' improvement to any one particular thing – other than perhaps just being more comfortable.
"I just think he gained a comfort level within the system," White said. "He was around a strong group of guys – Ty Ajian, Jalen Geiger, Jordan Lovett – and they embraced him quickly and he felt comfortable to mature within the system."
White liked that Childress was not immediately counted on for big production. He was also pleased that Childress progressed as the season moved forward.
"For Zion, he didn't feel like he had to be thrust into the day one starting role," White said. "And now, he gained confidence through the reps he got. Then he got more, then he was starting by the end of the season and now, that confidence is through the roof. We need to keep it there."
The spring has been a continuation of Childress' progress, according to White.
"I'm really pleased with where he is," White said. "There are things we need to continue to work on, from a technique for man kind of stuff."
Childress played two full seasons at Texas State before transferring to Kentucky. He had a nose for the ball while there, accounting for nine pass breakups and an interception. Those things were what first caught White's eye when UK was recruiting Childress.
"He's shown a great willingness to tackle," White said. "Even at Texas State, the thing that got me really excited was that he had a penchant for ball production, stripping, punching, he's got a natural feel for that. We need that kind of playmaker on the field to create some turnovers for us."
Childress figures to be a key player in the defensive backfield for the Cats this season. He's one of the players who White mentioned last week when asked about which players are becoming leaders on this team. Childress' continued improvement bodes well not only for him but for Kentucky's entire defensive unit.