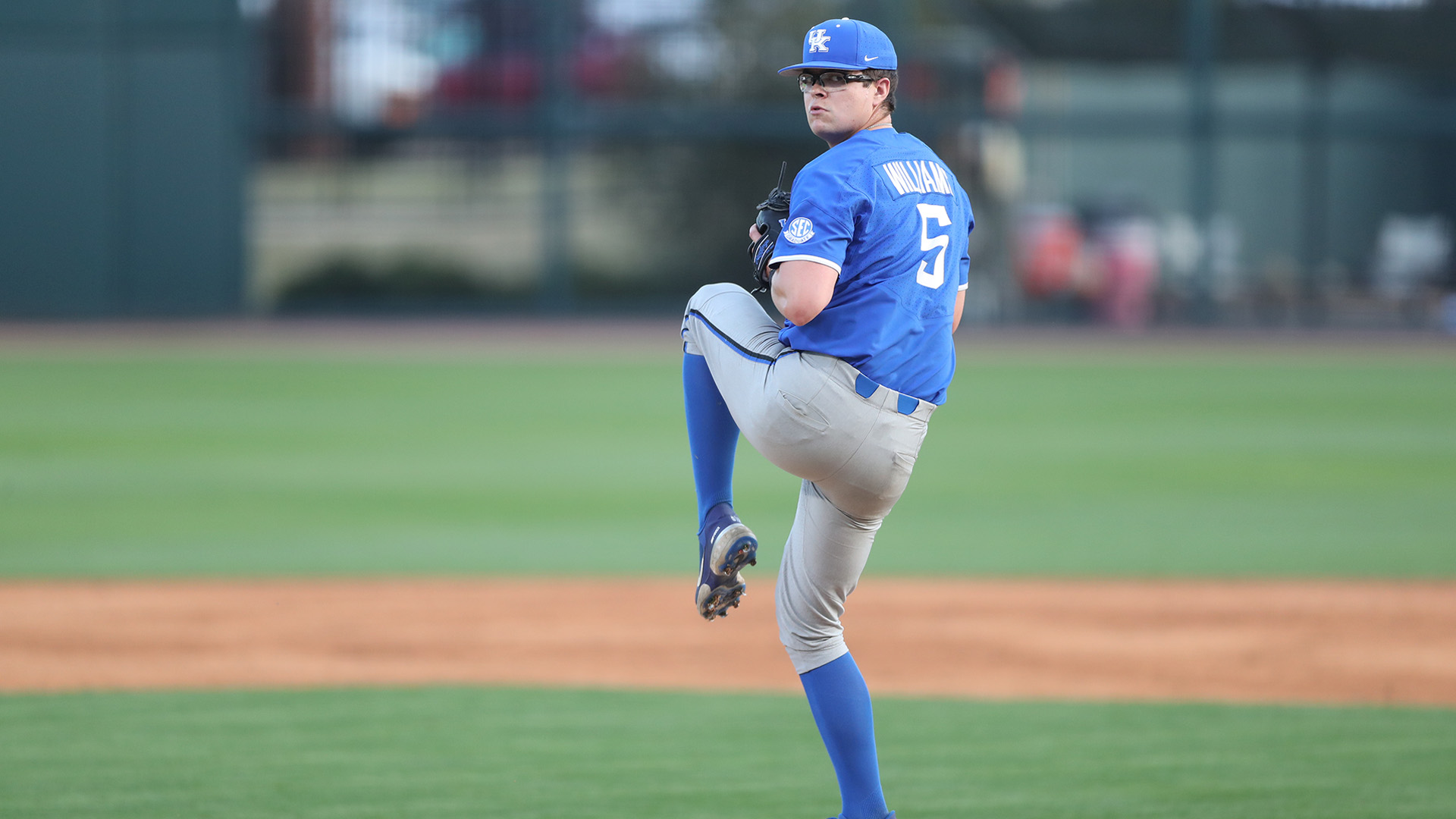 TUSCALOOSA, Ala. – Grant Smith raced home on a wild pitch to score the game-winning run and life No. 22 Kentucky to a 4-3 victory over No. 25 Alabama in 12 innings on Friday night at a windy Sewell-Thomas Stadium. It was UK's 16th consecutive victory, extending the nation's longest active streak.
The Wildcats (20-2, 4-0 SEC) never trailed and did not fold after giving up a two-run lead in the ninth inning. Smith drew a hit by pitch in the 12th and advanced to third on outfielder Jackson Gray's perfectly executed hit-and-run. Smith then dove headfirst into home on a wild pitch to put the Cats back in front. Ryan Hagenow shut the door with a perfect 12th and gave UK its third-straight Friday night extra-inning win.
UK jumped out to a 3-0 lead through four innings and led 3-1 going into the ninth but the Crimson Tide (18-5, 1-3) rallied, with the aid of a throwing error and wild pitch, to tie the score with one out in the ninth. Reliever Seth Chavez composed himself and struck out a pair to leave the bases loaded and extend the game.
Kentucky will go for a series victory on Saturday afternoon.
NOTES
Kentucky has won 16 consecutive games, currently the longest active win streak in DI.

It is the Cats' longest win streak since starting the 2012 season 22-0.

UK's 20-1 start to the season also is its best since 2012.

Kentucky is 27-5 over its last 32 games dating to last season.

UK is 13-6 in its last 18 games vs. SEC opponents.

UK Coach Nick Mingione is in his seventh season at the helm and now owns a 196-131 career record.

UK is 82-33 in the month of March under Coach Mingione.
UK is undefeated this March (14-0).
Mingione now is 4-3 vs. Alabama.

UK is 3-0 in extra innings this season, each coming on the last three Friday nights.
UK pitchers had 12 strikeouts and have struck out 215 through 22 games.
UK pitchers have limited opponents to three or fewer runs in 17 of 22 games.
UK has scored in 321 of 327 games under Coach Mingione.
The Cats stole two bases and now are 39-of-50 on the season.

First Baseman Hunter Gilliam had an RBI single that ran his hit streak to 15 games and he now has reached safely in all 21 games in which he's played.
Catcher Devin Burkes went 2-for-6 with a run.

Burkes logged his eighth multi-hit game of the season.

Infielder Grant Smith has started all 138 games of his collegiate career.

With a double Smith extended his hitting streak to 10 games.
Smith scored the game-winning run on a wild pitch.

Infielder Emilien Pitre has reached base safely in 20 consecutive games.
Outfielder Jackson Gray was hit by a pitch for the 13th times this season, which ranks top 10 nationally.
Infielder Ryder Giles executed a sacrifice bunt in his first plate appearance of the season.

He is the Division I active leader with 35 career SAC bunts.

Pitcher Logan Martin returned to his Friday night starter role and tossed two hitless innings, striking out two.
Pitcher Darren Williams threw 5.0 masterful innings of relief, yielding one run on three hits and striking out four, all looking.
Outfielder Jackson Gray was hit by a pitch for the 13th times this season, which ranks top 10 nationally.
Pitcher Zach Hise earned his first victory in a UK uniform with two spotless innings.
Pitcher Ryan Hagenow picked up his first save of the season.
ON DECK
Kentucky go for win no. 17 straight on Saturday at 3 p.m. ET at Alabama. The game will be streamed on the SEC Network+. The radio call will be on the UK Sports Network (630 AM WLAP, locally).