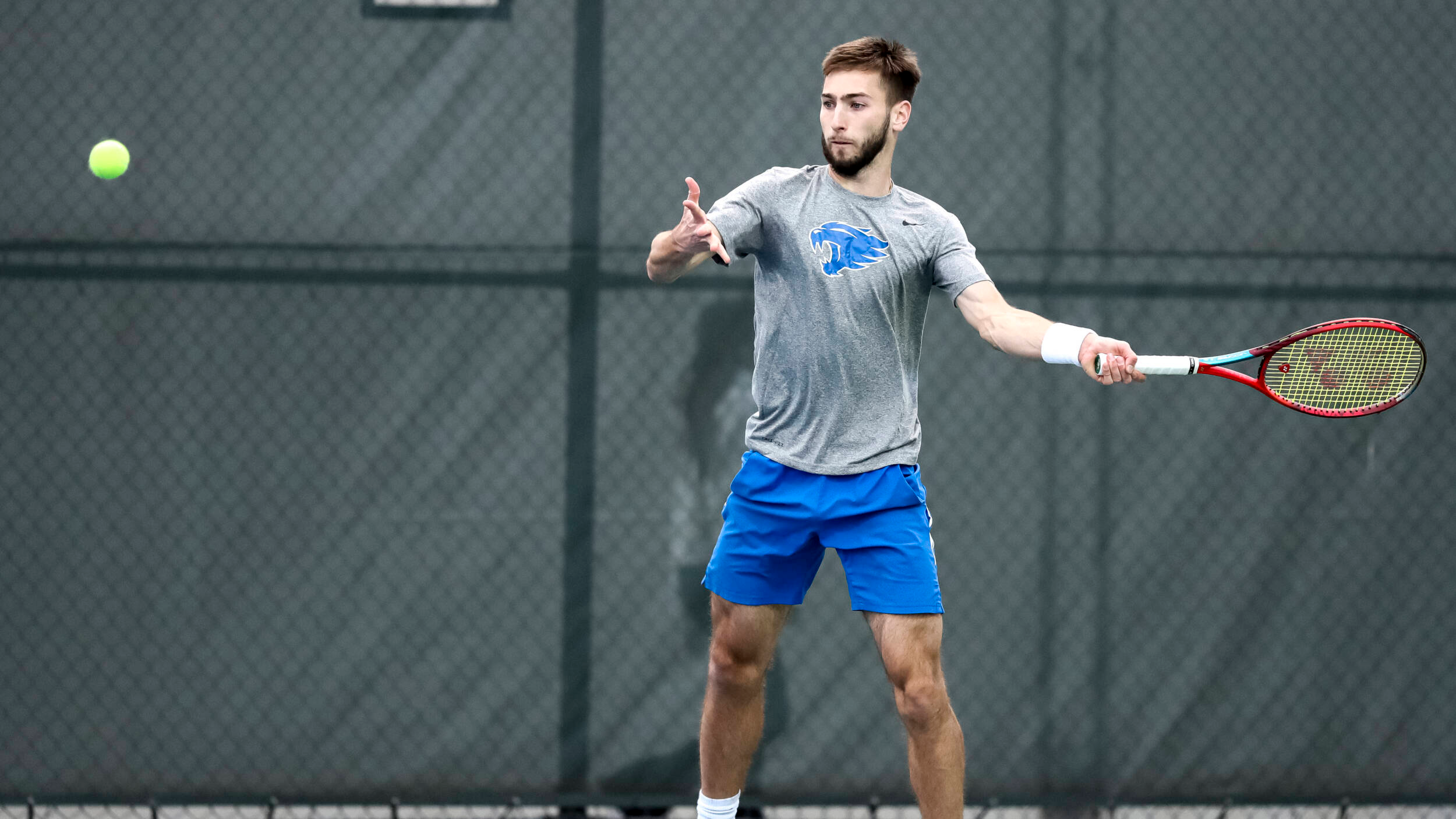 March 23, 2023 - 11:41 AM
No. 6 Kentucky Carries Five-Match Win Streak into Weekend Set
LEXINGTON, Ky. – The sixth-ranked Kentucky Wildcats (17-2, 5-1 SEC) seek to add to their five-match win streak when the team plays host to Ole Miss (12-4, 2-2 SEC) and No. 12 Mississippi State (15-3, 3-2 SEC) this Friday and Sunday at the Boone Tennis Complex.
Friday's match will begin at 5 p.m., while Sunday's affair is scheduled for a 1 p.m. start. Admission to both matches is free to the public. Fans can also follow the action through live streaming and live stats.
Kentucky has won five consecutive SEC contests, defeating Auburn and Alabama on the road last weekend. The Cats are 5-2 on the year against top-25 opponents and 9-1 on their home courts. Senior captain Liam Draxl and junior Joshua Lapadat lead the Wildcats in singles play, each with a record of 14-3 in dual matches. The two are among three Kentucky players ranked by the ITA in singles alongside grad-transfer Alafia Ayeni. This week's ITA doubles rankings feature two Kentucky pairings, the first-time this season such has occurred. Ayeni and partner Taha Baadi lead the way at No. 25, while Lapadat and JJ Mercer are up to No. 38. UK has seen improved doubles results of late, having earned the doubles' point in all five matches during the team's current win streak.
The Rebels come to Lexington at the .500 mark in conference action, having lost their last two matches to Florida and Auburn. Ole Miss has gotten strong play from the top of its singles lineup with Nikola Slavic (first singles) and John Hallquist Lithen (second singles) both boasting dual records of 11-2. Slavic enters as the No. 63 singles player in the country and is also ranked at No. 62 in doubles along with partner Lukas Engelhardt. The senior is a 2022 ITA All-American as well as a First-Team All-SEC selection.
Mississippi State is fresh off an upset win over No. 2 South Carolina last Sunday. The Bulldogs have knocked-off four top-25 opponents overall and are 3-2 in the SEC. Nemanja Malesevic, a Second-Team All-SEC selection last year, is 8-7 in the first singles spot, while freshman Benito Sanchez Martinez leads the team with 14 wins. Malesevic (No. 123) and Carlos Hernandez (No. 108) each appear in the ITA singles rankings and are also Mississippi State's top-ranked doubles pairing at No. 44. The Bulldogs will take on Vanderbilt on Friday before arriving in Lexington.
For the latest on UK Men's Tennis, follow the Wildcats on Twitter and Instagram at @UKMensTennis.