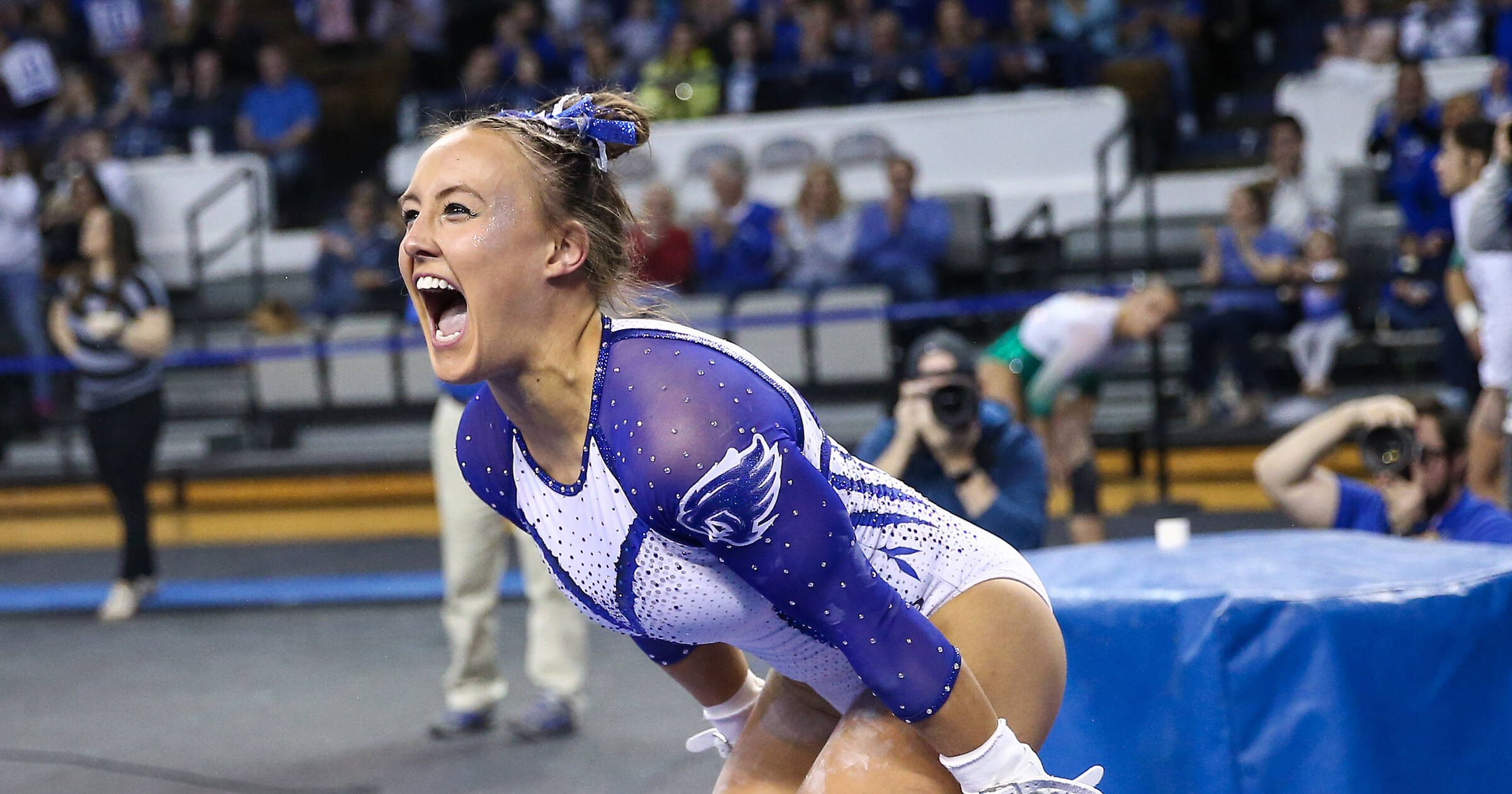 March 15, 2023 - 12:56 PM
Raena Worley Named 2023 AAI Award Finalist
LEXINGTON, Ky. – Senior Raena Worley has been named a finalist for the 2023 American Athletic, Inc. (AAI) Award which honors the top senior gymnast in the nation. Worley is one of six finalists for the prestigious award, the organization announced on Wednesday.
The Christiansburg, Va. native is one of the most accomplished gymnasts in program history. She has tallied 19 all-around victories in her four years at Kentucky with her highest total earned, 39.775. In her senior season alone, Worley has won the all-around title six times.
"Raena being named an AAI Award finalist is an incredible honor," Head Coach Tim Garrison said. "But not a surprise to me or anyone in our program. She genuinely loves gymnastics and thrives doing what she loves."
In addition to her 19 all-around wins, the gymnast has also earned a first-place finish 10 times on vault, with eight on the uneven bars, nine on the balance beam and 15 on the floor exercise.
Her career-best scores include a 9.950 on vault, which she has earned three times, 9.950 on bars eight times, a near-perfect 9.975 on beam in the most recent meet at Illinois and a 9.975 on floor four times.
Competing in nearly every meet of her collegiate career, she also represented the University of Kentucky gymnastics program at the 2022 NCAA Championships finishing the all-around competition in 12th place.
Throughout her collegiate career, Worley has been named a Women's Collegiate Gymnastics Association (WCGA) All-American four times with three second team appearances and one first team honor. She has also received numerous Southeastern Conference awards including All-SEC, six SEC weekly honors and three Winter Sports Honor Roll nods. In addition to academic and athletic success, the senior has also been named to the SEC Community Service Team.
"Whether she's winking through a floor routine, or singing on beam, her genuine joy is easy to see," Garrison stated. "She never seeks the spotlight, it finds her and highlights what those around her already know – she's a star."
Worley will graduate with a dual degree in both Communication and Kinesiology.
Fans can watch Worley and her teammates in the upcoming SEC Gymnastics Championship this Saturday in Deluth, Ga. Kentucky is a three-seed for the first time in program history. Session I will feature seeds 5-8 at 3:30 p.m. ET, and Session II will feature seeds 1-4 at 8 p.m. ET. Both sessions of the championships will air live on SEC Network.
Tickets for the championships can be purchased by clicking here.
For the latest on the Kentucky gymnastics team, follow @UKGymnastics on Twitter, Facebook and Instagram, as well as on the web at UKAthletics.com.