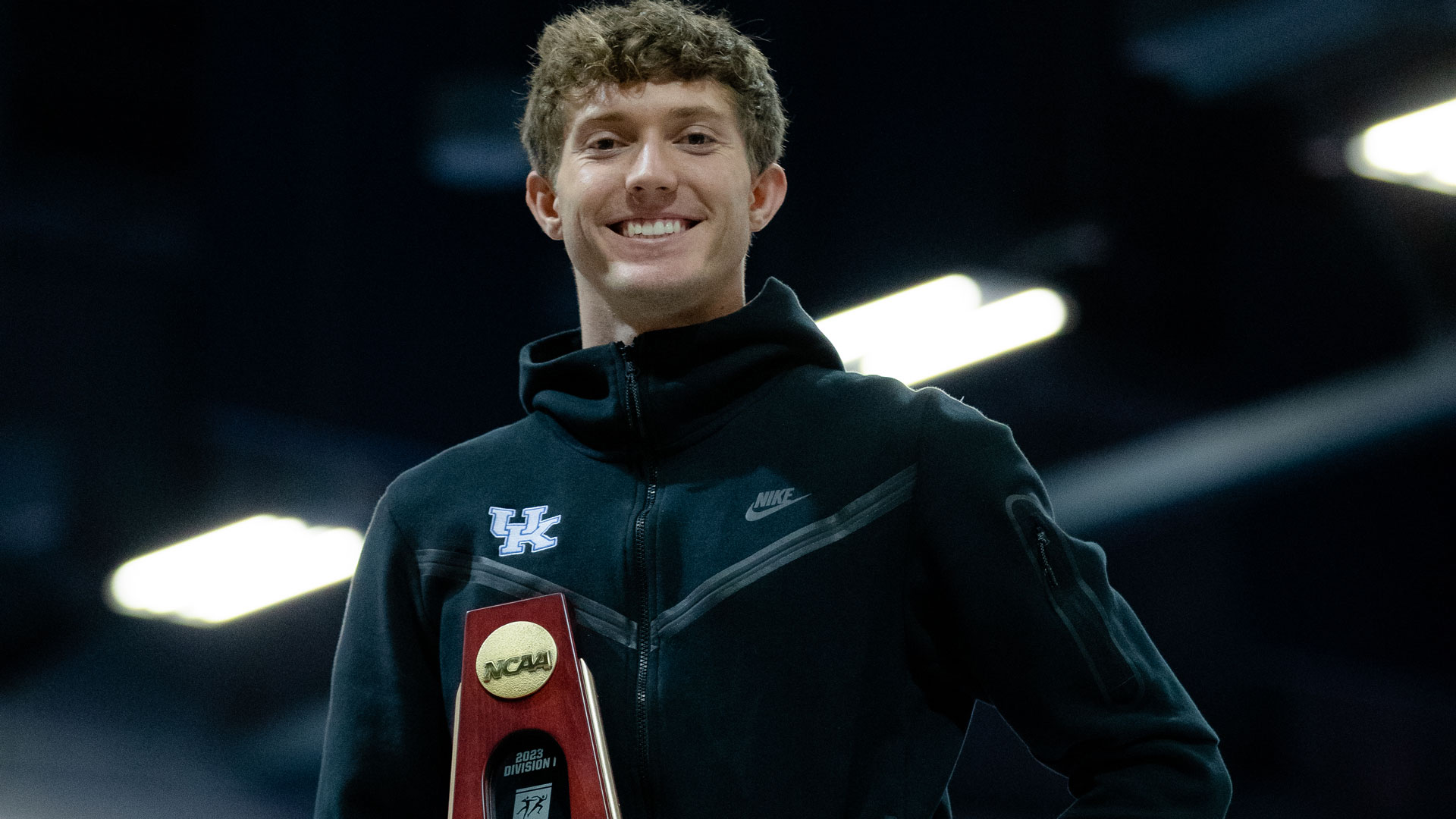 March 11, 2023 - 03:06 AM
Keaton Daniel Secures Points On Opening Day of NCAA Indoor Championships
ALBUQUERQUE, N.M. — Keaton Daniel's points finish was one bright spot for the Wildcats on what was a rather frustrating opening day of the NCAA Indoor Championships for the program.
Daniel's seventh-place finish at 18'3"/5.56m in the pole vault competition was good enough for two team points, the only points scored by a Wildcat today, and places the team in 25th entering tomorrow.
Pentathlon
Running on the momentum of winning the first Southeastern Conference gold medal of her career two weeks ago, Annika Williams traveled to New Mexico looking to accomplish the feat of winning a national title.
It, unfortunately, was not a great start to the competition as a 16th-place finish (8.88) in the 60-meter hurdles put her at the back of the overall pack after the first event.
Williams, who was managing an injury after the opening event put together a high jump of 5'7.75"/1.72m for 879 points and a shot put throw of 43'8.25"/13.32m for 749 points in the following two events before having to withdraw from the remainder of the competition due to injury.
Friday's Qualifiers
Despite suffering two recalls to start the event, the day got a bit brighter for the Wildcats when Masai Russell jolted across the line with a time of 7.78 in the prelims of the 60-meter hurdles and earned an automatic bid to tomorrow's finals at 6:40 p.m. ET/4:40 p.m. MT.
Jordan Anthony made the most of his NCAA Indoor Championships debut as he earned a bid into tomorrow's 60-meter finals after setting a new career-best time of 6.54 in the prelims. His qualifying time beats the record he set earlier this season of 6.55 at the TTU Red Raider Open in January and sets a new UK freshman record. He also currently sits tied on the all-time performer's list with Olympian Tim Harden who set the record back in 1995.
Friday's Finals
Kennedy Lightner placed 16th in the 200-meter prelims with a time of 20.71 while Anthaya Charlton placed 10th in her NCAA Indoor Championships debut with a long jump of 20'7.25"/6.28m.
The distance medley relay team consisting of Sydney Steely, Karimah Davis, Jenna Schwinghamer, and Tori Herman placed just outside of the points at ninth with a time of 11:08.98.
The final day of the NCAA Indoor Championships competition for UKTF will start at 6:40 p.m. ET/4:40 p.m. MT with the finals of the 60-meter hurdles. The event will be live streamed on ESPN+.
Follow Kentucky Track and Field and Cross Country on Facebook, Instagram, Twitter, and at UKathletics.com.
2023 NCAA Indoor Championships Pentathlon: Friday, March 10: ALL TIMES IN MOUNTAIN TIME
Pent. 60 Hurdles
9:50 a.m.
Final
16. Annika Williams: 8.88 | 935 points
Pent. High Jump
11:00 a.m.
Final
11. Annika Williams: 5'7.75"/1.72m | 879 points
Pent. Shot Put
1:00 p.m.
Final
5. Annika Williams: 43'8.25"/13.32m | 749 points
Pent. Long Jump
2:15 p.m.
Final
Annika Williams: DNS
Pent. 800 Meters
3:40 p.m.
Final
Annika Williams: DNS
Pentathlon Total
Annika Williams: DNF
2023 NCAA Indoor Championships: Friday, March 10: ALL TIMES IN MOUNTAIN TIME
Women's Long Jump
4:00 p.m.
Prelim/Final
10. Anthaya Charlton: 20'7.25"/6.28m
Women's 60 Hurdles
4:55 p.m.
Semifinal
2. Masai Russell: 7.78Q
Women's DMR
5:45 p.m.
Final
9. Sydney Steely, Karimah Davis, Jenna Schwinghamer, Tori Herman: 11:08.98

Men's Pole Vault
6:00 p.m.
Final
7. Keaton Daniel: 18'3"/5.56m | 2 points
Men's 60m
7:15 p.m.
Semifinal
4. Jordan Anthony: 6.54q | personal-best
Men's 200m
8:25 p.m.
Semifinal
16. Kennedy Lightner: 20.71
2023 NCAA Indoor Championships: Saturday, March 11: ALL TIMES IN MOUNTAIN TIME
Women's 60 Hurdles
4:40 p.m.
Final
Masai Russell
Women's 4×400 Meter Relay
5:20 p.m.
Final
Karimah Davis, Masai Russell, Christal Mosley, Dajour Miles
Men's Triple Jump
6:45 p.m.
Prelim/Final
Luke Brown

Men's Shot Put
7:00 p.m.
Prelim/Final
Josh Sobota
Men's 60m
7:10 p.m.
Final
Jordan Anthony