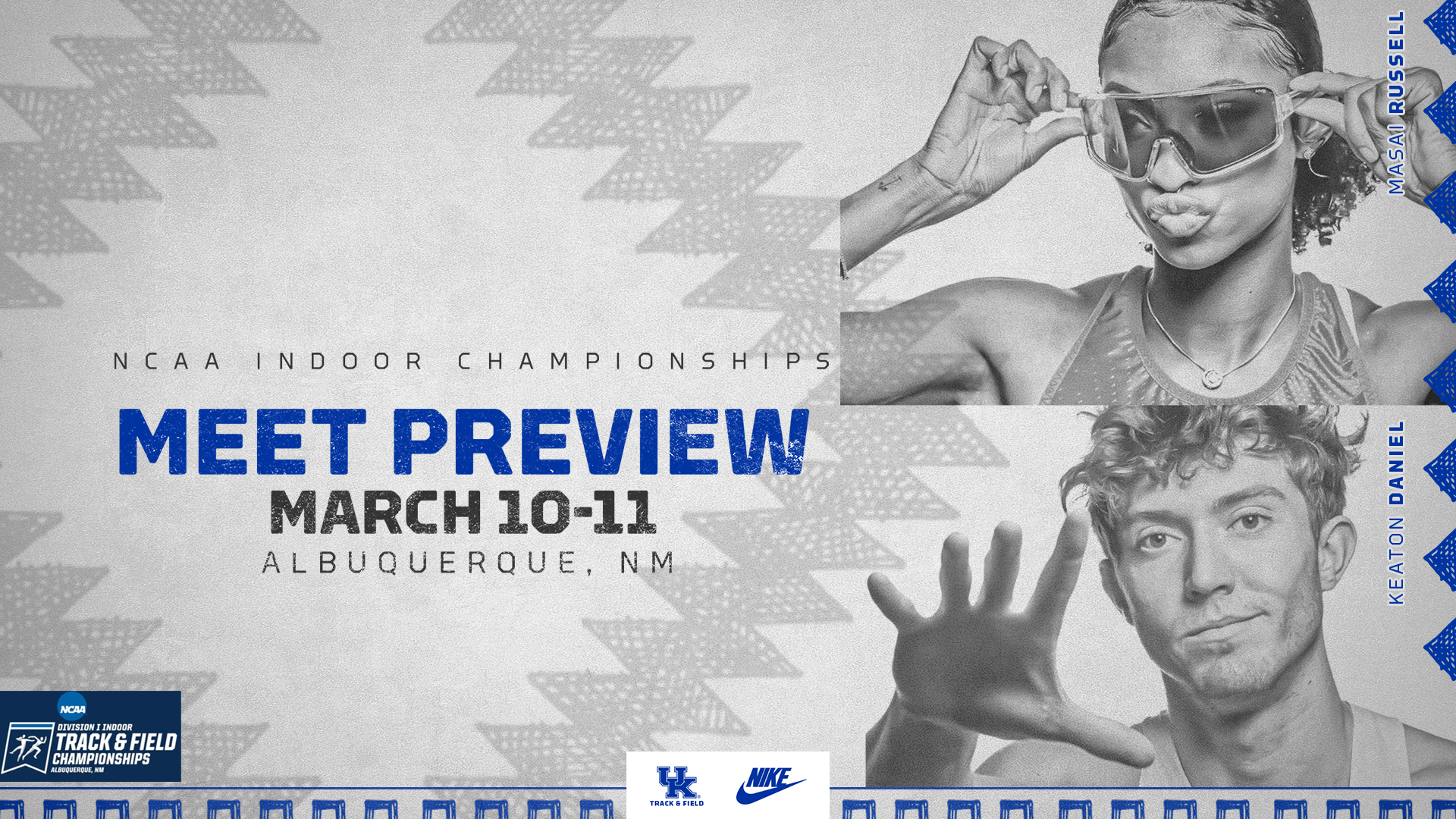 UKTF Ready For NCAA Indoor Championships
LEXINGTON, Ky. — Seventeen members of the track & field team are set to compete in the NCAA Indoor Track & Field Championships in Albuquerque, New Mexico at the Albuquerque Convention Center this Friday, March 10 to Saturday, March 11.
The competition begins at 11:30 a.m. ET/9:30 a.m. MT on Friday with the men's heptathlon, but Southeastern Conference Champion Annika Williams will get UKTF started 20 minutes later with the first event of the women's pentathlon, the 60-meter hurdles at 11:50 a.m. ET/9:50 a.m. MT. The final event for the team on Friday is the men's 200m semifinal at 10:25 p.m. ET/8:25 p.m. MT, with Kennedy Lightner, set to compete.
UKTF will resume Saturday's events with the women's 60-meter hurdles finals at 6:10 p.m. ET/4:10 p.m. MT, should Masai Russell qualify. The team will conclude the meet with the men's 200-meter finals at 9:50 p.m. ET/7:50 p.m. MT, should Kennedy Lightner qualify on Friday. Luke Brown and Josh Sobota both will compete in the triple jump and shot put, respectively on Saturday beginning at 8:45 p.m. ET/6:45 p.m. MT and 9:00 p.m. ET/7 p.m. MT.
Live results can be found at flashresults.com.
The meet can be streamed live on ESPN+ beginning at 11:30 a.m. ET/9:30 a.m. MT on Friday and 1:30 p.m./11:30 a.m. MT on Saturday. A replay of both day's events will be broadcast on ESPNU on Sunday at 6 p.m. ET/4 p.m. MT and Monday at 7 p.m. ET/5 p.m. MT.
Kentucky NCAA Indoor Championship History
The Kentucky women equaled their best team finish in the national competition in 2022 when they placed third with a school-record of 44 points.
The Bowerman winner Abby Steiner won gold in the 200m and earned a silver in the 60m to propel the team to their best finish since the 2018 indoor season.
The men will look to recapture their best finish in 25 years after their 14th place finish in 2021 was the highest team finish in 25 years since the men placed seventh with 22 points in 1996. The men placed 21st overall in 2022.
Seven of the 17 Wildcats that qualified for this year's indoor championship meet also competed in last year's indoor NCAAs for Kentucky, including Luke Brown, Keaton Daniel, Karimah Davis, Tori Herman, Dajour Miles, Masai Russell, and Jenna Schwinghamer.
Jordan Anthony, Josh Sobota, and Anthaya Charlton will be making their NCAA Indoor Championships debuts this week.
Follow Kentucky Track and Field and Cross Country on Facebook, Instagram, Twitter, and at UKathletics.com.
2023 NCAA Indoor Championships Pentathlon: Friday, March 10: ALL TIMES IN MOUNTAIN TIME
Pent. 60 Hurdles
9:50 a.m.
Final
Annika Williams
Pent. High Jump
11:00 a.m.
Final
Annika Williams
Pent. Shot Put
1:00 p.m.
Final
Annika Williams
Pent. Long Jump
2:15 p.m.
Final
Annika Williams
Pent. 800 Meters
3:40 p.m.
Final
Annika Williams
2023 NCAA Indoor Championships: Friday, March 10: ALL TIMES IN MOUNTAIN TIME
Women's Long Jump
4:00 p.m.
Prelim/Final
Anthaya Charlton
Women's 60 Hurdles
4:55 p.m.
Semifinal
Masai Russell
Women's DMR
5:45 p.m.
Final
Sydney Steely, Christal Mosley, Jenna Schwinghamer, Tori Herman, DeAnna Martin

Men's Pole Vault
6:00 p.m.
Final
Keaton Daniel
Men's 60m
7:15 p.m.
Semifinal
Jordan Anthony
Men's 200m
8:25 p.m.
Semifinal
Kennedy Lightner
2023 NCAA Indoor Championships: Saturday, March 11: ALL TIMES IN MOUNTAIN TIME
Women's 60 Hurdles
4:40 p.m.
Final
Masai Russell
Women's 4×400 Meter Relay
5:20 p.m.
Final
Karimah Davis, Masai Russell, Christal Mosley, Dajour Miles
Men's Triple Jump
6:45 p.m.
Prelim/Final
Luke Brown

Men's Shot Put
7:00 p.m.
Prelim/Final
Josh Sobota
Men's 60m
7:10 p.m.
Final
Jordan Anthony
Men's 200m
7:50 p.m.
Final
Kennedy Lightner