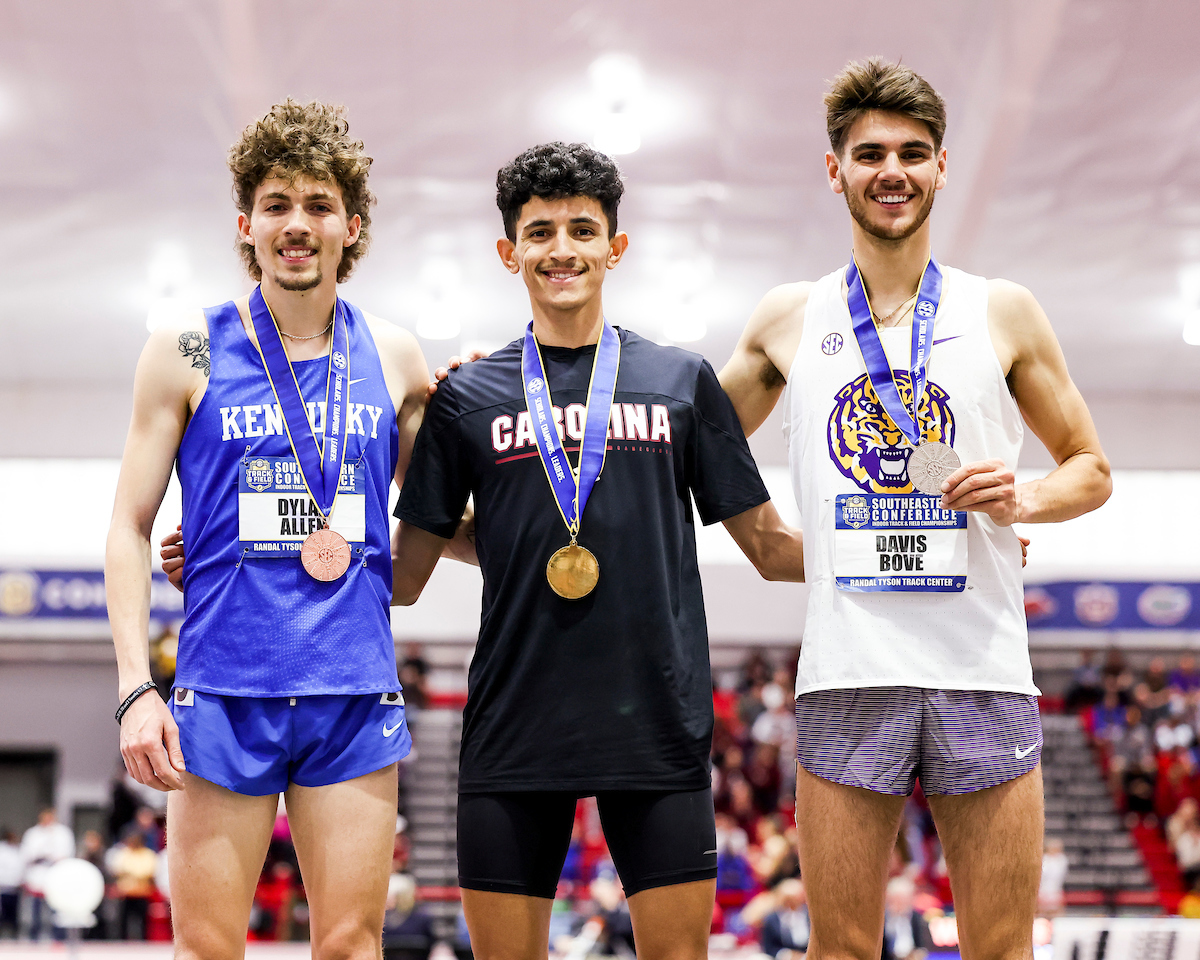 February 28, 2023 - 02:05 PM
Eight Wildcats Earn Indoor All-SEC Honors
LEXINGTON, Ky. — The Southeastern Conference has named eight Wildcats from the Kentucky track & field program to All-SEC teams after a successful 2023 SEC Championships for the Wildcats.
Three Wildcats are first-team All-SEC while the remaining five are All-Second team.
First-team All-SEC is awarded to those who won gold medals at SEC Championships while second-team All-SEC is awarded to those who won silver and bronze medals.
Kentucky's three first-team All-SEC student-athletes are Keaton Daniel, Masai Russell, and Annika Williams, who recently won gold medals at the SEC Championships.
Kentucky's combined two silver medalists and three bronze medalists are all second-team All-SEC, including Dylan Allen, Jordan Anthony, Anthaya Charlton, Tori Herman, and Siobhan Szerencsits.
First Team All-SEC Honorees
The most notable first-team All-SEC honoree is Russell. Her winning time of 7.77 was .02 off the collegiate record she set in late January in Lubbock, Texas but was enough to break the SEC Championships and Facility Records en route to her first conference 60-meter hurdles title.
Keaton Daniel won his first SEC Indoor Pole Vault title to go along with his two outdoor golds in 2021 and 2022. Daniel cleared 17'8.5″/5.40m for the win. The Wildcats have won three of the last four SEC Indoor Pole Vault titles as Matt Peare claimed the crown in 2020 and 2021. Dave Franta was the only other Wildcat to win the SEC Indoor Men's Pole Vault in 1960.
Annika Williams scored 4,346 women's pentathlon points to win the first Southeastern Conference gold medal of her career, shattering her personal best by 173 points.
Williams broke Precious Nwokey's 12-year-old school record by 161 points. Williams turned in personal bests in the final two of five events, the long jump and grueling 800 meters, and had season bests in the first three events, the 60m hurdles, high jump, and shot put.
Second Team All-SEC Honorees
Freshman Jordan Anthony earned silver in his first SEC final, running a time of 6.57. He was .02 seconds off his personal best time of 6.55.
Siobhan Szerencsits earned her first SEC medal, a pole vault silver, clearing 14'1.75"/4.31 meters.
Dylan Allen dug deep on the bell lap of the men's mile to beat the rest of the chasing pack for the bronze medal with a time of 4:05.26.
Anthaya Charlton claimed bronze in the women's long jump with a personal best of 21'5.25"/6.53m while Tori Herman earned bronze in the 3k running 9:12.21, a season-best.
Follow Kentucky Track and Field and Cross Country on Facebook, Instagram, Twitter, and at UKathletics.com.