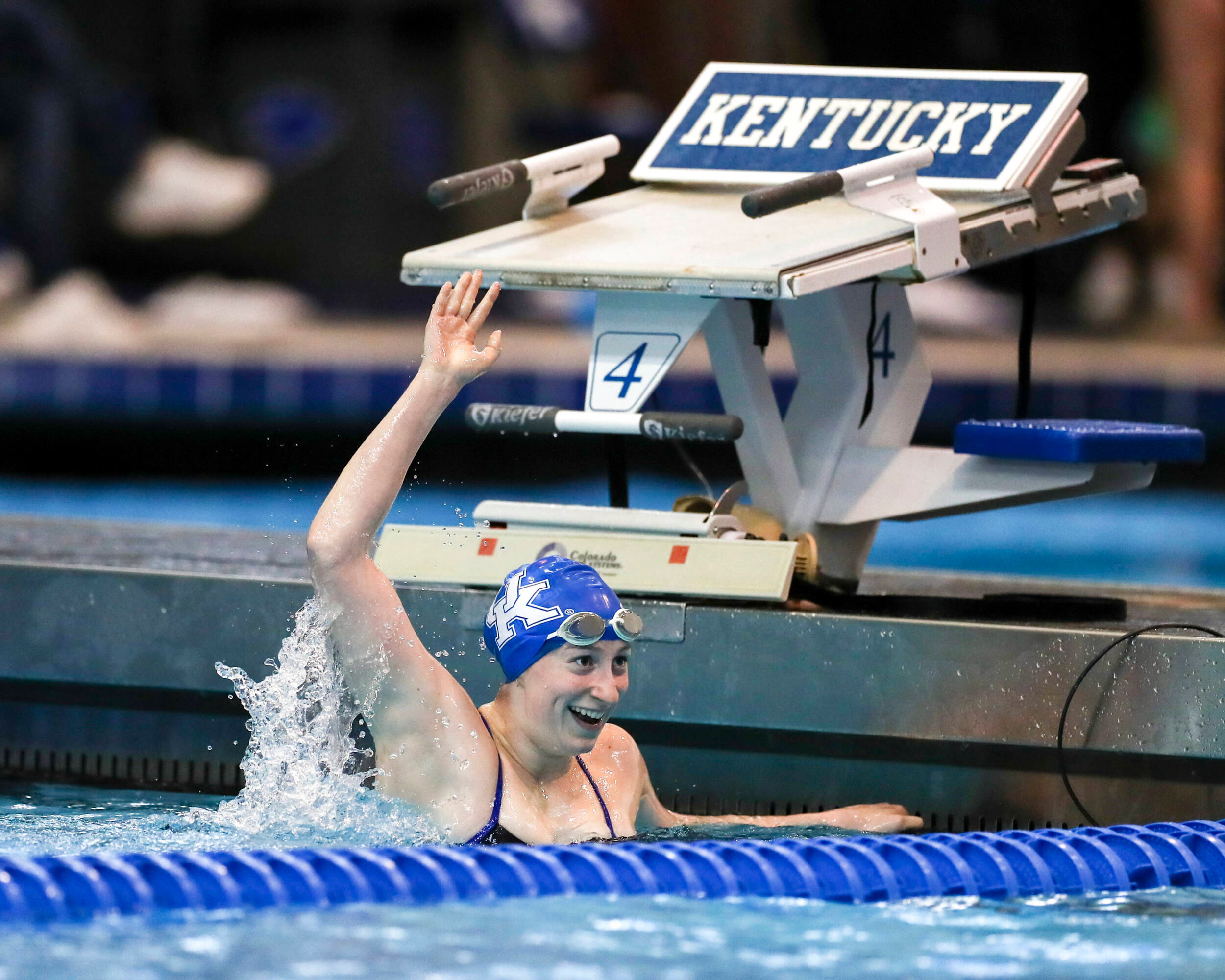 December 19, 2022 - 02:52 PM
UK Women Defeat Georgia for First Time as Wildcats Split with No. 9/10 Bulldogs
LEXINGTON, Ky. – Kentucky swimming and diving earned a split with No. 9/10 Georgia on Monday at Lancaster Aquatic Center as the UK women defeated the Bulldogs in a dual meet for the first time in program history, 166-134. The men were defeated 185-108, despite a sweep by Sam Duncan in the diving events.
"It was a good day for the Cats," head coach Lars Jorgensen said. "We've got a lot of respect for Georgia and the historic program that they are. I'm proud of the women and the way they fought in a really close meet. We just have to keep getting better over the next couple of weeks as we prepare for SECs. We'll have a good little Christmas training camp and go on and hopefully be better next semester."
Kentucky's women entered today's meet with an 0-15 record all-time against UGA but were able to knockoff the No. 9 ranked Georgia squad, winning a total of nine events as a team. Fifth-year Izzy Gati led the way for the Cats with 27 points, winning the 200 freestyle, 200 fly and 500 freestyle on the day. Senior Caitlin Brooks pitched in 22 points of her own, claiming first in the women's 100 backstroke and 100 fly, while also placing second in the 200 back. Freshman Lydia Hanlon edged her teammate for the win in the 200 backstroke, swimming a personal best time of 1:55.49.
The Wildcats achieved a total of five NCAA B-standards on the day, led by a pair from Brooks in the 100 and 200 back. Gati (200 fly), Hanlon (200 back) and Gillian Davey (200 breast) also managed B-standard times.
UK diving contributed a podium sweep in the women's 3-meter springboard with Kyndal Knight taking first, Morgan Southall, second and Abby Devereaux, third.
"I am very happy with how the meet went today," Gati said. "The team atmosphere was incredible. We brought a lot of energy and it really showed in our races. A lot of people stepped up and won races that were going to be super close and it was good to end the [calendar] year with a win against a good SEC team."
For the men, Duncan was the day's top point scorer winning both the 1-mtr and 3-mtr competitions. Duncan set a new personal best on the three-meter springboard with a score of 409.13, moving the junior into fourth on the UK all-time top ten in the event. Levi Sandidge was the other event winner for Kentucky as the freshman paced the field in the men's 1000 freestyle, clocking a time of 9:06.22.
The Cats will have some time off for the holiday break before returning to action at home against Louisville, Jan. 21. The meet will begin at 1 p.m. at Lancaster Aquatic Center.
UK Event Winners
Levi Sandidge – Men's 1000 Free (9:06.22)
Izzy Gati – Women's 200 Free (1:47.85), Women's 200 Fly (1:59.13), Women's 500 Free (4:50.81)
Caitlin Brooks – Women's 100 Back (53.07), Women's 100 Fly (54.22)
Sam Duncan – Men's 1 mtr Diving (409.13), Men's 3 mtr Diving (353.10)
Lydia Hanlon – Women's 200 back (1:55.49)
Gillian Davey – Women's 200 Breast (2:09.18)
Kyndal Knight – Women's 3 mtr Diving (363.00)
Izzy Gati, Torie Buerger, Kaelan Daly, Grace Frericks – Women's 400 Free Relay (3:23.69)
For the latest on UK Swim & Dive, follow the Wildcats on Twitter and Instagram at @UKSwimDive, and on Facebook at Kentucky Swimming and Diving.