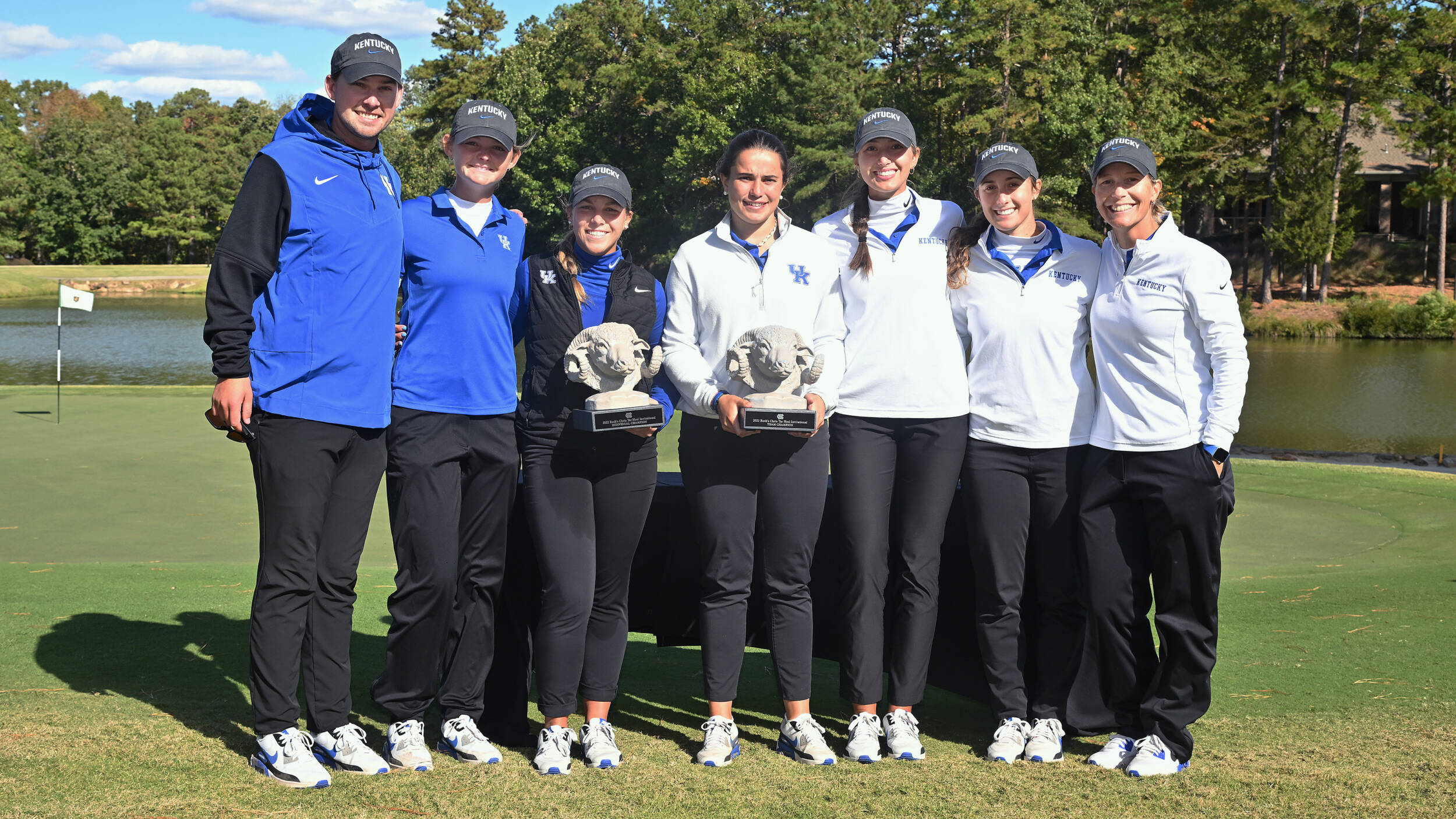 October 18, 2022 - 04:32 PM
Women's Golf Wins Second Straight Tournament, Jensen Castle Crowned Individual Champion
CHAPEL HILL, N.C. – For the second time in as many weeks, the University of Kentucky women's golf team claimed a tournament championship. The Wildcats topped the field at the Ruth's Chris Tar Heel Invitational at the Governors Club Golf Course (par 72, 6,203 yards), earning a 1-under-par 287 in the final round and a 4-under-par 860 tournament total to garner its second straight triumph.
Baaaccckkk-to-backkkk. 😎

Ladies & gents, one week removed from winning the Illini Women's Invitational, your Ruth's Chris Tar Heel Invitational CHAMPS. ✨ pic.twitter.com/FFX7WRMaS4

— Kentucky Women's Golf (@KentuckyWGolf) October 18, 2022
In the process, UK collected a couple of ranked wins, including toppling No. 1 Wake Forest by five strokes and No. 8 Duke by more than 20 strokes. The Demon Deacons finished in second place on a 1-over-par 865, while hosts North Carolina Tar Heels finished in third place on a 13-over-par 877.
Jensen Castle was crowned the individual champion after carding rounds of 74, 67 and 68 for a 54-hole tournament total of 7-under-par 209. In fact, Castle jumped 20 players on the individual leaderboard in order to finish in first place, sitting at tied for 20th place after the first round and tied for seventh place after the second round.
Jensen Castle won her playoff with a par on No. 9 to be CROWNED the individual champion at the Ruth's Chris Tar Heel Invitational. 👑✨🤍@jensen_castle pic.twitter.com/Toi4gMCxpp

— Kentucky Women's Golf (@KentuckyWGolf) October 19, 2022
Her 209 marked the fourth-best tournament total in her career.
The senior made 13 birdies for the event, including three straight birdies to kick off the final round Tuesday. She completed her charge to the top of the individual leaderboard with an eagle on her 53rd hole, the par-5, No. 17 (510 yards). A one-hole playoff was necessary to break a tie between Castle and Duke's Phoebe Brinker, with Castle emerging victorious after making par to Brinker's bogey on No. 9 (par 3, 163 yards).
While Castle has gotten close time and time again, the Ruth's Chris Tar Heel medalist honors mark the first individual championship in her collegiate career.
Joining Castle in the top five is teammate Laney Frye, who recorded a 6-under-par 210 for third place. Her scorecard tied for the second-best tournament total in her career, relative to par. She put together scores of 68, 71 and 71. It marked the third tournament of four total tournaments this fall that she has recorded three straight rounds of par-or-better.
Her final round was highlighted by an eagle on the par-4 No. 5, when the junior holed out from 212 yards.
Both Frye and Castle have recorded under-par tournament totals in three of four events this fall. Meanwhile, both Cats are shooting lights out, as each of them have recorded five rounds in the 60s so far this season. That is 41.7 percent of their rounds, respectively, in 2022-23 (5-of-12).
Like the rest of the lineup, Maria Villanueva Aperribay has improved as the season carries on. The senior was even par going into the final round, giving her some wiggle room Tuesday. She put together a 4-over-par 76 in her last 18 holes, producing a 4-over-par 220 tournament total to tie for 16th place. It is her best finish since tying for 14th place in the season opener in 2021-22.
Rounding out the lineup that brought Kentucky's second straight tournament title, Ivy Shepherd recorded a 10-over-par 226 for a share of 40th place, while Marissa Wenzler scored an 11-over-par 227 to tie for 43rd place.
In all, 14 teams competed at the Ruth's Chris Tar Heel Invitational, including eight teams ranked inside Golfstat's Top 50. The Wildcats were the only team in the field to finish under par, totaling 50 birdies and two eagles for the event.
The key to the Cats' success was their 3.13 scoring average on par 3s, a number that surpassed the elite field.
Kentucky has won at least two tournaments in one season on seven instances. All but one of those instances were rallied before the new century, while the solo instance in the 2000s came in the head coach Golda Borst era in 2019-20.
The back-to-back triumphs concludes  a strong fall season for the team. Kentucky is on pace to breaking the school record for the best team round scoring average in program history, sitting at 286.1 through four tournaments and 12 rounds in 2022-23. The school record is currently 289.5, which was set in 2019-20.
The team is scheduled to resume competition at the UCF Challenge, Feb. 5-7, in Orlando, Florida.