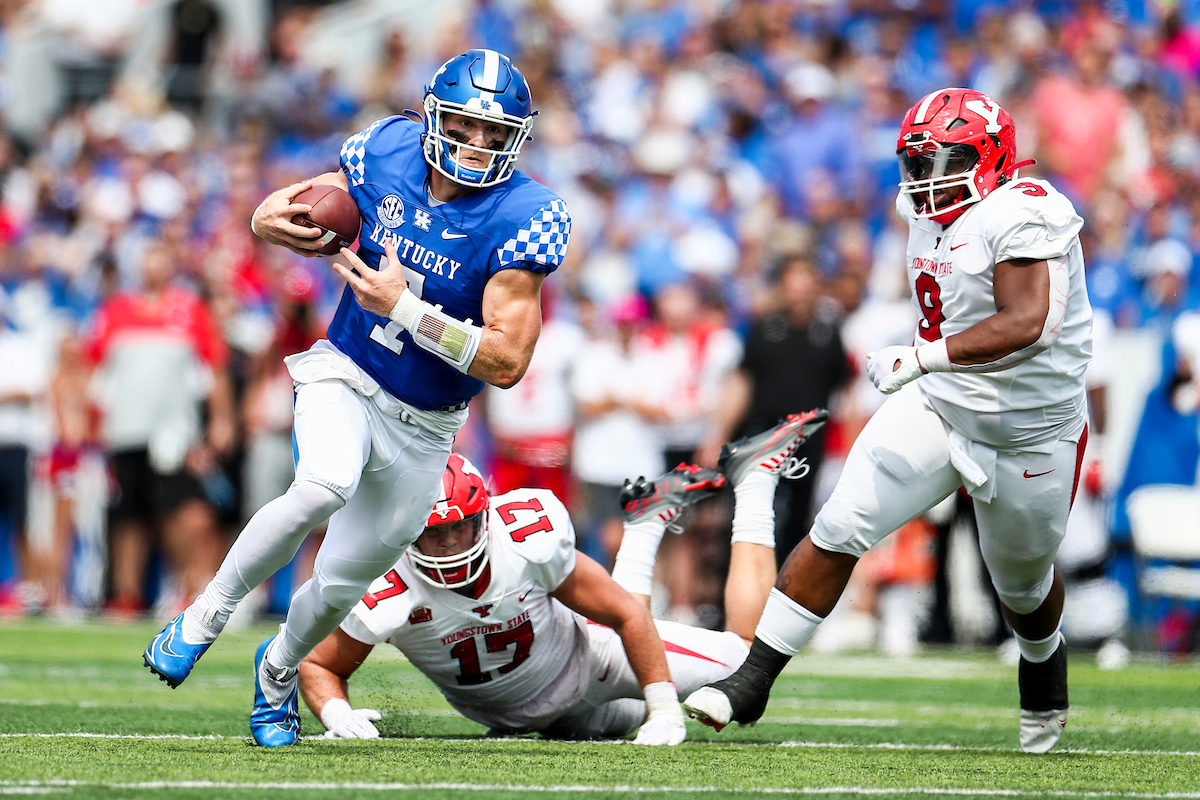 Last week, the Kentucky offense looked like a team that was playing with a first-time starter at quarterback. The Cats were only able to produce 14 points in Kaiya Sheron's first career start, as he played in place of incumbent starter Will Levis.
UK offensive coordinator Rich Scangarello put the blame for his unit's performance squarely on his own shoulders.
"We didn't do a good enough job," Scangarello said of the Cats' offensive performance in the 24-14 loss to South Carolina. "And, obviously, that falls on me."
Scangarello knows that, no matter who is behind center, the Cats need to step up and make things easier on that signal caller. That includes on the offensive line and at skill positions.
"Pass protection is always going to be a big part of it," Scangarello said. "And you've got to make plays. Last week, we had guys open, we had things happen and for one reason or another, we didn't execute."
Speaking of that pass protection, offensive line coach Zach Yenser knows that his unit has some things that it could be doing better.
"Some good things, but we've got to clean some things up in pass protection," Yenser said. "I think our guys are continuing to play hard. We're working through some injuries."
Yenser knows the one particular thing that his linemen must continue to improve.
"We've got to cut down on the getting beat one-on-one," Yenser said. "It's not missed assignments, it's just the one-on-one stuff that we've got to get better at."
Still, with things not going great over the past two games, Scangarello knows that this offense is really close to being really good.
"I felt like momentum was pushing for this offense and it was about to break out," Scangarello said. "Will gets hurt, we are sloppy last week, we probably forced some things with some ideas because we're trying to cover up for the quarterback. But I know we were trending the right way against Ole Miss, it just takes focus, a little more effort and detail and better coaching on our part."
Having someone like Levis behind center can make the entire unit better, which is why it was obvious that the Cats missed him last week.
"Great quarterbacks raise the level of play of the people around them," Scangarello said. "All of the little things, that comes from the quarterbacks and that elevates the players around you. When you've got good players around you, it's your job to distribute to them and let them make plays and that makes a great offense. Obviously, when Will's in there, it's a lot easier and it's a lot more effortless for all of us because he's an experienced, great football player who can make that come alive."
As for Levis' status for this weekend, Scangarello offered an update.
"He's day-to-day right now," the UK offensive coordinator said. "He was back out there today and trending the way we hoped he would trend."
Having Levis back behind center would be a huge boost to an offense that's still licking its wounds after last week's loss to South Carolina.