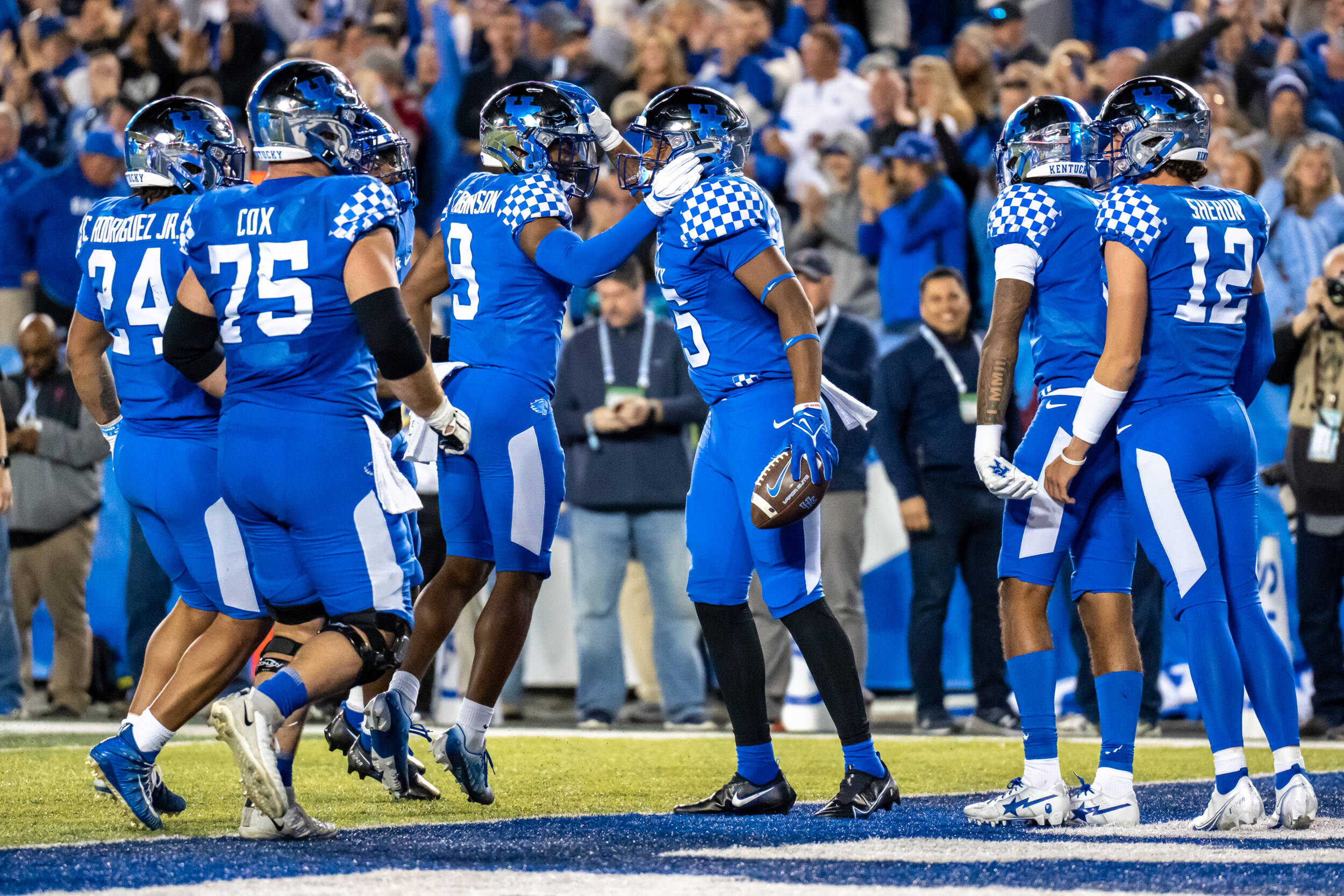 University of Kentucky Football Media Conference
Saturday, October 8, 2022
Lexington, Kentucky, USA
Head Coach Mark Stoops
Press Conference
Kentucky – 14, South Carolina – 24.
MARK STOOPS: Okay. It wasn't a good effort. You know, top to bottom. Didn't start good. I don't feel like we did a great job putting a first-time starter in a position to be successful.
I don't think our team played with the normal competitive character that we generally play with. Even after the tough start, we come in at halftime and somehow manage to tie it up and commence 7-7.
And then we talked about, you know, again, the competitive nature that our team generally plays with and sustained intensity that we generally play with, and I don't feel like we really did that.
And that's, obviously, the job of a head coach, to get the team prepared and to put them in position to be successful. And, you know, that wasn't done. I got to do a better job.
We didn't do a good job, top to bottom. And that's it. And, you know, as I told the team, you better buckle up because nobody feels sorry for you. And it's about us responding. We generally have.
And we got to do a better job. We got to get them ready. We got to have a great week. And we got another top-25 team coming in here next week. So, we better regroup in a hurry.
On the first play from scrimmage …
MARK STOOPS: Not very good thinking, John. Probably on me. You know, I — we were running it in — late in the week and some — it wasn't the opener. And I said that looks good, you know, that we might be able to get him in a predictable defense. And they didn't. They changed it up and pressured.
So, I probably put that thought in Rich's (Scangarello) head. So not good at all. You know what I mean? And I know better. So, you know, that wasn't a good opening play.
Aside from that one, you had some more kind of self-inflicted, whether procedural, is that — it's back-to-back weeks, what can you kind of contribute those to?
MARK STOOPS: You know, the detailed focus that we generally play with. And it goes back to, you know, the intensity that we play with, the intensity that we practice with. And, you know, the competitive nature that we generally have. And, you know, those are self-inflicted things that are — we can't have and there's no excuse for them.
Mark, how do you assess how Kaiya (Sheron) played?
MARK STOOPS: He did some good things when he had time, I thought, when we put him in a position to be successful. I don't think we played very good around him.
So, it's one thing that, you know, I put on all of us; myself, the coaches, and the team. And I told the team that. I don't think we responded and played very well around him. I thought we played as poorly as we have all year at certain positions around a first-time starter.
And I don't think that's right for that young man. And there's things that he did very well. And there's areas where we didn't do a good enough job around him.
(Question concerning explosive plays – No microphone.)
MARK STOOPS: Yeah, I think late in the game — you know, again, there's no excuse for it. The competitive, you know, character that we generally play with, you know, wasn't there. I think we missed a tackle.
Again, I said it all week, I mean, he's a tremendous back, I think it was MarShawn (Lloyd) that broke it, if it wasn't him. And then on the reverse, we got — you know, we got blocked. It was a good play.
And in that moment, you know, it was good at the end there and hit the explosive at the end on the reverse and cracked us on that. So, yeah, uncharacteristic of us. But, again, not good. No excuse.
Mark, do you believe this is a one game thing for Will (Levis) or is it possible that he could be back next week?
MARK STOOPS: I'm not sure. You know, I really don't. It's — it's been day-to-day and it's day-to-day. So I can't tell you how that's going to respond.
Mark, did you have any idea early in the week you wouldn't have him? And did you have enough time to get Kaiya ready?
MARK STOOPS: Well, we had to get Kaiya ready most of the week because Will was trying and he was getting better. But it's hard. You know, those — the injury that he has, it's just hard to tell.
You know, so I'm not trying to play any games with anybody. You know, it's just — it's an injury that when he can play, he will play.
Mark, six more sacks allowed tonight. Even when Will comes back, how do you build an offense where it's so unreliable protecting the quarterback?
MARK STOOPS: You know, in the first half, you know, the start was horrible. Then we got the run game going. And with the run game, that's kind of how — who we got to be if Will's out of there and continue to be physical and the play passes.We hit the Y pop out of the play action. But, you know, that's who we've got to be. I mean, drop-back passing and predictable pass is not where we want to live.
Late in the game when you're down — I don't know how many of them were late. And, again, I'm not making an excuse, but we're not good in general. But you're certainly not going to be good in predictable pass late in the game when you're down with a red shirt freshman quarterback. That's not where we want to live.
We've got to play really good, you know, as a team. And that's my biggest disappointment. I don't feel like we rallied. And it — not just in a goofy cliché when I say this: But, like, for us we've been — you guys have watched us, we're not great in any area. We've got to be good as a team.
The strength of our team is generally as a team. We weren't good in that today. We weren't good in a lot of different pieces. And that's not good.
Chris (Rodriguez Jr.), obviously, ran the ball very well. Did you feel like you utilized him about as much as you wanted to?
MARK STOOPS: Well, probably not because the game — you know, just the way the game broke out with the fumble on the first play and just late playing from behind. Probably not. I mean, there's probably some plays that, you know, we got negative yardage plays that we'd like to have over.
Yeah, you were, like, 3 for 12 on third downs. Got a lot from behind the chains. Is that the game plan or the execution?
MARK STOOPS: Well, certainly not the game plan. Because as you mentioned, when we're taking sacks and negative yardage plays on the sweep and, you know, just getting behind the chains, I mean, that's — you know, we can't live in that world right now. You know, it's hard.
We overcame one, you know, screen — (technical interruption with microphone) — guys that were buried on one of them. But in general, it was hard for us to overcome with a redshirt freshman quarterback. We can't put him in that position.
You know, we've got to play like you've seen us play where we pound the ball, get four yards, five yards, rip off a run and, you know, keep it comfortable. And we didn't do a very good job at times with that.
Mark, we talked about not letting one loss spiral into two. That has been an issue in previous years. Do you think that was at play tonight?
MARK STOOPS: I mean, it has to. You know, I have to face the music. I have to agree. You know what I mean? I have to look at it. I mean, I try like hell. I mean, I addressed it and I tried to tweak a couple things and really get their energy up. We didn't respond.
(No microphone.)
MARK STOOPS: No, I think we tried to get back on track. I mean, it wasn't always a thing of beauty, that's for sure, when we were going backwards and penalties and things of that nature. It wasn't great. But, no, I think we got back on track. You know, we tried to get back on track pretty quick.
(No microphone.)
MARK STOOPS: Yeah, I really — it's hard to tell. I mean, I felt like, you know, the first half we were playing really good defense. You know, we gave them that — the seven. And outside of that, we were really playing pretty solid. You know, had the turnover — two turnovers in the first half and kept us in the game and played pretty solid.
As I mentioned, I just don't think we sustained that intensity. And we got to find ways to win like we've found ways to win over the years. And we didn't do that tonight.
With the missed field goal, you know, coming off of the game last week, could you tell if there was an issue with the snap or the kick on that play?
MARK STOOPS: Yeah, I mean, it's hard to tell. I think he — you know, he hit the upright I believe, right? Again, just fractions off. What's it, six inches, eight inches? So just got to get back. And you know, I believe in Ruff (Matt Ruffolo) and he'll hit them. And, you know, we didn't play good, you know, in a lot of areas tonight.
All three of your starting receivers might have been banged up by the end of the game. Are you concerned about the long term?
MARK STOOPS: Yeah, it's a tough point in the season. I told the team that. You know, it is what it is. So, you know, we got to get back and — (technical interruption with microphone.)
You know, nobody's going to feel sorry for you. So, you know, we got to get back up. I told them — challenged them. Get in the ice tub, get in the training room, get healed up and we got to get back at it. You know, we play a really good team coming in next week and we have to regroup and we got to get back to who we are.
Mark, a big part — a strength of this team has been the vertical passing game. I know you don't have Will. Were you prepared? Did you have plays for Kaiya to go deep?
MARK STOOPS: We did. And, you know, even on a mass protection, we got pressure. Which is inexcusable. You know, we got to do a better job. I don't — I just — again, I'm not putting it on — you know, I don't think we played very good. You know what I mean? On the perimeter either.
I don't think we played very good at wideout. I don't think we protected very good. You know, we ran the ball successfully at times.
But, you know, we got to help him out. We got to give him some time and we got to make some competitive catches. And I don't think we played our best football tonight.
Was it just — you mentioned the wide receivers. Was it just, like, the drops or were there other things you saw from them?
MARK STOOPS: Not — you know, drops — whether it's specifically drops, assignments, whether it's being competitive, whether it's making tough catches. I mean, you got a guy out there that's making his first start and we got to play to the way we can play.
I think with Will's personality, it's clear he wants to play whenever he can. But with as many hits as he's taken, do you have to consider his future in protecting him at any point?
MARK STOOPS: I mean, we — that's a silly question. You've been around here a long time. I respect you. That's — I love that guy and I love every player on this team. Don't go there.
Mark, with Will's injury, was it an ankle, was it a toe? I mean, are you guys —
MARK STOOPS: Yeah, it's a foot — it's a lower — it's a foot injury. Yes.
FastScripts Transcript by ASAP Sports
KENTUCKY FOOTBALL POSTGAME QUOTES
KENTUCKY VS. SOUTH CAROLINA  
KROGER FIELD – LEXINGTON, KY.
OCTOBER 8, 2022
UK Student-Athletes

#2, Barion Brown, WR
On limping off the field on the final play and how he's feeling …
"I'm feeling good I just got my legs tangled up but I'm fine."
On how frustrating the game tonight was offensively …
"Honestly, we know we need to just get back to work. Big shout out to Kaiya, he came out there and did his thing. We just need to fix a few mistakes."
On if things were different without Will …
"Of course, with any quarterback change but he did what he could do."
#13, J.J. Weaver, LB

On what went wrong after first half stops that weren't made in the third quarter… 
"Our energy was down, we've just got to bring the energy all game – nobody had no juice to them. 
On being one of the older and trying to light the fire…  
"Telling them keep y'all head, next play after next play. They're gonna obviously get good shots, they're gonna run the ball hard, it's the SEC… you just gotta bring the energy"  
On Stoops' comment about the lack of intensity on both sides of the field…  
"That's true, that's true, like I just told you (there isn't any) energy. Nobody had no energy on the sideline, and everybody was laid back and stuff like that. I don't like that.
#24, Chris Rodriguez Jr., RB
On not letting one loss turn into two …
"You just, you take this feeling. Do you want to feel like this next week? Especially when you're playing a better team, you don't want to feel like that, nobody wants to feel like that."
On moving forward …
"Yeah, you know, we're going to go out there and play, you know? We just gotta go and be who we are. There's goals that we have that we can't accomplish those goals without winning the next game."
On the offensive game plan …
"Yeah, I mean Coach Scangarello had a plan, and his plan was to get me the ball, and then in the second half it is what it is."
#12, Kaiya Sheron, QB
On if the game was moving too quick …
 "It was pretty easy with guys like C Rod (Chris Rodriguez), Eli (Cox) and older guys on the line all helping me out and having confidence in me and building me up along the way for every drive no matter how we finished out the last drive."
On when he knew he would get the start …
 "I didn't know until today, but all week they were like Will (Levis) might not be able to go. You got to prepare as the number one, so I took it as I am going to be the number one. So, that's how I approached this week and that's how I prepared for this week."
On if he was nervous …
"I get nervous sometimes, but I am like the cool guy, I don't get too high, I don't get too low. So, that is something I pride myself on, so kind of but not really. After the first snap, it all went away."
South Carolina Head Coach Shane Beamer
Opening Statement …
"When y'all asked me this week if some weeks are bigger than others, I lied to you. I told you it was just another opportunity, but this was a really big night for us in so many ways. First of all, I hope—we obviously were missing a lot of guys tonight, from an injury standpoint and we want them to get healthy—that Will (Levis) and the rest of their guys that missed tonight as well can get healthy also. I'm just so proud of our team; we told them that it would take all three phases, and it did—special teams, defense, and offense. I'm sure that y'all heard that locker room in there; that's a joyous locker room. I'm just so happy for our players and our fans. It's a great night for all Gamecocks and I just told the team in there that two years ago, when South Carolina came up [to Lexington] and there were a bunch of players on this team that were here that night, it's not lost on my that that was certainly a low point for this program. The coach had been fired and they came up [to Lexington] and during that game–I am sitting there watching it on television in Norman, Oklahoma—is when [South Carolina Athletic Director Ray] Tanner and [Senior Deputy Athletic Director] Chance [Miller] reached out. I'll never forget when Coach Tanner called me and he said, 'Are you ready to do this?' and I told him, 'I've been waiting my whole life for you to say that.' The players came in that night and picked up their phones and saw the news—[TE] Jaheim [Bell], I knew in high school because I recruited him, and BK I knew because I recruited him; everyone else probably thought who in the heck is Shane Beamer and he's our new head coach. For those guys to go from that point where they were less than two years ago, to this night is pretty, pretty special. We were shorthanded as well; I know they had injuries, but so did we; we were playing without two of our three top safeties tonight, as well. Our guys just battled. Kentucky is a heck of a program—heck of a team. To come up here, on the road, and find a way to win the football game—we told them at halftime, no disrespect to Kentucky, that this did not need to be close in the second half. If we just play a little better on offense and keep it up on defense and special teams, this thing will be over. I've been in locker rooms at halftime where things didn't look great. We are a team that prides ourselves on getting better as the game goes and that is certainly what we did tonight. It was a hell of a win, but we can certainly play a whole lot better as well."
On tonight's game being a culture-defining win …
"I think so. To beat a team like this—[South Carolina Associate Athletic Director] Justin King was telling me that this was the first time we have won three straight games in like five years or something; we haven't won a road game [in the SEC] since I have been the head coach and [have not] beaten a ranked team on the road in however long it has been. I think so. We continue to get better. It is not always pretty out there, but certainly—I know y'all heard it—to see the joy in that locker room. We're not shocked; this was as confident a football team coming in here as any game that I have coached while I have been here at Carolina. We had the best week of practice, by far. Our guys expected to win the football game. The first thing I said on Tuesday when I walked in that team meeting room was, 'If you don't expect to win the game, get out right now.' We did not need to come in here hoping we were going to play well and all that stuff. We needed to know we were going to win the football game. It was going to take a heck of an effort to do it and we did that. Tuesday, when we tracked GPS numbers from what we did at practice, the GPS numbers were literally through the roof. It was the hardest our players had worked in a practice all year. They screwed up because they showed me that they had been holding back a little bit, I guess. I know what they can do. Our maturity showed up on this trip, and it did all week."
On the halftime message and adjustments …
"We talked about how we needed to show our poise and confidence throughout and that they were going to make some plays. Winning in the SEC is hard. [Kentucky] is a good football team; there is no question about it. They had the returning leading rusher in the SEC. I know they were missing their quarterback, but we won seven games last year with four different starting quarterbacks, so I feel Coach Stoops' pain. They are good enough around him because of their culture to play really well and they did that tonight in so many ways. We needed to go take it from them and, certainly, I did not feel like we played great in the first half, especially after blocking that punt and not getting any points out of that; that was not good. I think that is when we gave up the sack and [South Carolina quarterback] Spencer [Rattler] fumbled. We came in here at halftime and we told the team that it did not need to be super close in the second half–no disrespect to Kentucky, but I did not think that we had played our best on offense. I felt like our defense was controlling the game. I think [Kentucky running back Chris] Rodriguez had almost 100 yards at halftime, but our defense came up here in the second half and did a great job. We just kept getting better. If you've covered us all year, it's not always pretty. It's ugly at times; there were times in the first half where it was ugly, but it was not like we were getting our butts kicked. I just felt, offensively, that we were not finishing drives. There was confidence at halftime. We pride ourselves as a second half team and we needed to show that tonight and I feel like we did."
USC Student-Athletes
#91, Tonka Hemingway, DL
On how personal the win was to the head coach and team …
"Yeah, we always like it was more competitive. Everybody's going at each other, you know, we worked hard, and we just competed."
On how the team had been struggling on defensive sacks …
"It feels good. Coach (Jimmy) Lindsey (defensive line coach) hit on it on Friday, saying how many we missed, and one-steps and everything, and he said this week can be the week. And we went out there and proved it."
On what the talk was like coming into the challenging game …
"We responded really well, you know, the coaches helped us, pushed us. It starts in the D-line. So, stop the run, and the sack thing he (Coach Jimmy Lindsey) mentioned 'you never finish them' so we finished them tonight."
#44, Sherrod Greene, LB
On how sweet it was to finally beat Kentucky in Game cock career …
"Feels real, real real good. And you know, since I got here, we haven't beaten Kentucky. So, pulling out the win today shows a lot. Shows the world that we really can, you know, play SEC football. That's what we're trying to prove, and I think we did."
On how important it was to stop Kentucky's run game …
"It was a pretty big deal early in the week. One of our things that we really focused on this week was the game talk with number 24 (Chris Rodriguez). But, we know he was a big back. He'd run most of his yards, you know, after contact. So that was our main focus – tackling him and force Kentucky to throw the ball."
On if this win is a turning point for the rest of the year …
"I believe so. You know, this was like a big confidence boost for us. I think that we really needed, I needed it, so I feel good you know, get this bi-week and come back better than ever."
#1, MarShawn Lloyd, RB
What do you think has been such a big factor for you this year coming back from your injury and all…
"Honestly, just the O (Offensive) line, our O line had been doing, they've been amazing. It's finally showing what they can do. You know, at first everyone was saying, Okay, we played South Carolina State and Charlotte like that, maybe that was the reason why they were blocked so good. But they showed today that on the road that they could play with anybody. And that's exactly why we did so good because the P five up front did what they were supposed to do."
Were you watching the first play Kentucky had, what was going through your mind …
"I honestly was not even paying attention. Everyone was screaming. I turned around and they were like, get on the field. Then I looked at the Jumbo-Tron and I see that there was a fumble, so that was really cool, you know, being able to heap on starting early, and that was the earliest you can start, honestly. So, it just felt great, being able to communicate and just start pretty early."
#7, Spencer Rattler, QB
What was your approach …
"First half, you know, we had opportunities to score. We should have capitalized. They brought a blitz that we didn't see, and I didn't feel on that. They brought the safety and he hit me, and I got to hold onto the ball on that one. That was a tough one. Then with the pick, you know, I should have put more on it, it was the right decision. Just got to put more into the ball. We had opportunities, so we were happy we were in those positions. Obviously special teams made a lot of big plays. Defense was stepping up, so that's good to see. But just coming in half time, we all knew, we weren't tripping. We came in here and locked in. We went out there and executed and felt like we couldn't be stopped and left some more points on the table."
You mentioned that Texas game you played, how did that feel like and what was kind of that conversation like …
 "Yeah, I mean, you guys saw the score today of that game, and, you know, we got a big win, so it was a pretty good day, I guess. It's crazy how things work, you know? But yeah, it was a big win for our team. You know, I know, it's the first SEC road win here in a while, so that's big time."
How sweet was it for you guys to get this win in, how much it meant to him …
 "Heck yeah. It was, it is a big thing for him. You know, he's an emotional coach. He loves to play hard, you know, have us with him and we believe in everything he's saying and doing. So, if he's serious about something, we're serious about it. So, he emphasized this game this week and we came in here expecting to win this game. Not just hoping to win, expecting to win."
#3, Antwane Wells Jr., WR 
On if this win will propel the team/season to another level… 
"Definitely. Our goal is to take it game by game. With this win it's definitely gonna boost our confidence. We're gonna go in every game and try to dominate- that's the goal, that's what we're gonna do."  
On the being committed to Coach Beamer and the staff and game playing out the way it did… 
"It's pure joy, just seeing everybody happy, we go through a lot, it's a news team we trying to get the pieces together. To see everything click tonight and how the defense stood on their business- it was wonderful. When they had that turnover in the first play of the game, that just boosted everything up. Just after the game it was just pure happiness- this the happiest I ever been.  
On the biggest difference noticing Spencer (Rattler) from the first half to the second half… 
"He's more conservative, he's not gonna take no more risky throws- he's gonna sit back, scrabble, make plays with his feet instead of just throwing the ball."