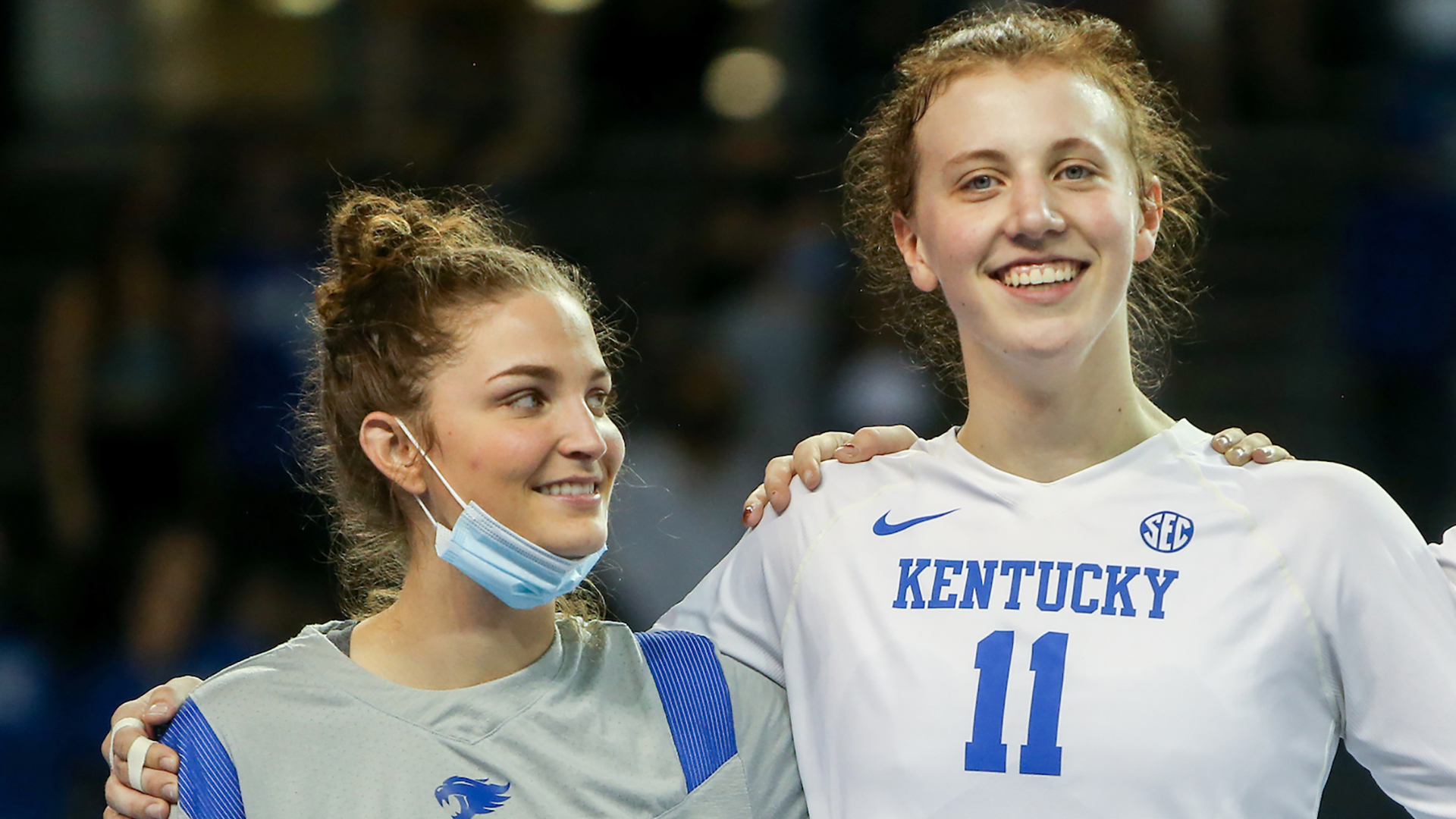 August 19, 2022 - 10:29 AM
UK Volleyball Junior Class Prepared to Assume Bigger Roles
For the past two seasons, the Kentucky volleyball program has had very strong player leadership. The 2020 team had National Player of the Year Madison Lilley and All-American Gabby Curry. Last season's team had another All-American, Alli Stumler, along with Lauren Tharp.
This year, the Cats have four seniors, but the junior class knows that they will need to take on their share of leading this year's team as well.
The group of four includes Bella Bell (who is technically a senior, but classifies as a redshirt junior), Elise Goetzinger, Reagan Rutherford (more on her tomorrow) and Riah Walker. And they are all prepared to lead in their own way.
Bell, who had 102 kills and hit .416 last year, thinks becoming a leader is the next phase in her development.
"I think the next step for me is filling in that leadership role," Bell said. "Being a little more outspoken and leading other girls."
It's not something that comes naturally for Bell, but she's trying to step outside of her comfort zone.
"It's not my personality but that's why I want to work on it," Bell said. "I need to be that leader for the team."
Goetzinger had 95 kills and hit .325 during her sophomore campaign last year. Known as "Mel" to her teammates, Goetzinger knows that the team needs her class to lead this season.
"I think my class is stepping up more than we had to last year," Goetzinger said. "We didn't really have to (lead) our first years. This year, it's going to be really important that we do."
And it's not something that Goetzinger finds difficult to do.
"I'm definitely not someone who is going to shy away from being a loud voice to tell someone, let's get in the gym and get some extra reps," she said.
Walker, who had 154 digs and 18 aces last season, thinks she can be a leader by teaching the younger players how things work within the UK program.
"There's a lot of new faces," Walker said. "Even our fifth-year seniors, even though they are older, they don't know the culture and how Kentucky volleyball works."
And what does that mean?
"It's a lot of intangibles," Walker said. "Showing up to practice at least an hour early. In the gym 30 minutes earlier than anyone else. Being at least five to 10 minutes early to everything. Showing up to tutors early, classes early, everything like that."
As for what's happening on the court, this trio continues to work on improving themselves, thus improving the team.
"Mostly just blocking because, at this level, the game is so fast, I don't feel that you can ever do enough blocking," Bell said. "I've also been working on my serves a lot because I want to be able to play some back row this year."
Goetzinger, who like Bell plays middle blocker, thinks that their individual group makes each other better.
"There's definitely a competition between us because I think each one of us brings a different thing," Goetzinger said. "I see Z (Azhani Tealer) making really good out of system moves that I'm trying to look like, but someone else is probably thinking the same thing about something I do. But we're also really cohesive. We want our group to be the best in the country."
Walker knows that doing the little things is very important.
"This spring and summer, we've been working out in the weight room a lot, getting stronger and faster," Walker said. "We've been pounding in the fundamentals in practice."
The junior class will be called upon for even more this season, and they are prepared to do just that.